The Christmas Department Store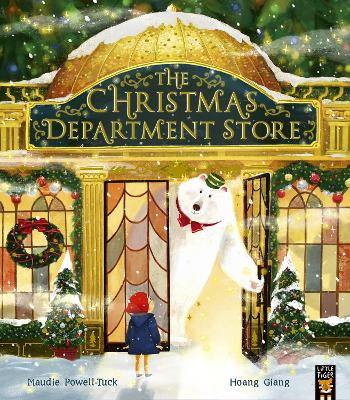 By Author / Illustrator
Maudie Powell-Tuck, Hoang Giang
Genre
Family & Home
Age range(s)
3+
Publisher
Little Tiger Press Group
ISBN
9781801040129
Format
Paperback / softback
Published
13-10-2022
Synopsis
"A warm, golden picture book about treasuring joyful feelings and the people closest to you."- The Guardian.  This stunning, magical Christmas tale, from the author of the hugely popular Last Stop on the Reindeer Express, celebrates the joy of giving and the importance of love and family at Christmas.
Christmas for Benji has lost its magic. This year his family can't afford a tree, or even a turkey. But then he stumbles upon the most extraordinary department store, where polar bears talk and the presents are out of this world. But maybe the real magic of Christmas is waiting for him at home . . .
Children will love discovering the true meaning of Christmas with this delightful seasonal story. The Christmas Department Store is the perfect Christmas gift for fans of Julia Donaldson and Victoria Sandoy's The Christmas Pine, Dr Seuss's How the Grinch Stole Christmas and Chris Van Allsburg's The Polar Express.
Find out more from illustrator Hoang Giang
Reviews
Emma
The Christmas Department Store is the kind of book that you read on the run-up to Christmas. It is beautifully illustrated with lots of gold, green and red; warm colours that are often associated with the festive period.
The story unfolds with Benji who believes that Christmas has lost its magic, his family can't afford the luxuries of gifts, a tree, or a turkey, but all of this changes when he comes across a department store where the animals talk and the presents are wonderous. Inside, the department store is filled with wonder and delight and all of Benji's hopes for a magical Christmas are restored.
This is a perfect story to share with children aged 4+ as the moral behind the story is that you don't have to have a lot of money or have the most presents to have a special time at Christmas. I'd definitely share this with my Year 3 class as well, as too often children can get wrapped up with Christmas lists and stating they 'want' a gift rather than they would 'like' a gift. The book shares the true meaning of Christmas, that is, time spent with your family.
Picture book / Ages 4+ / Reviewed by Emma Nelson, teacher
Suggested Reading Age 5+
Other titles