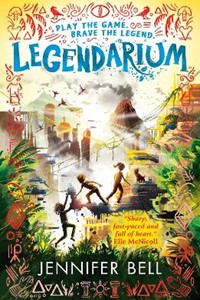 About Author
The follow-up to Jennifer Bell's Wonderscape, which has enthralled her fans, is now available! Return to the Wonderscape in Jennifer's new book, Legendarium, for more thrills, excitement - and danger!
Londoner Jennifer Bell worked as a children's bookseller at a world-famous bookshop before becoming an author. Her debut series, The Uncommoners, was an international bestseller and has been translated into 16 languages. She is also the author of Agents of the Wild, a wildlife-rescue series for younger readers, and the time-travel adventure, Wonderscape. Her latest novel, Legendarium, is now available.
Jennifer Bell's Website  / Follow her on Twitter @JenRoseBell / Instagram @JenBellAuthor
Interview
Legendarium  (Walker Books)
May 2022
Return to the thrilling future reality world of Wonderscape in Jennifer Bell's follow-up adventure, Legendarium, where three children must overcome challenges if they are to return to their own time. In this Q&A, we asked Jennifer how gaming helps inspire her stories, how she builds her worlds, and the legendary characters she would want to meet in real life!
Read a Chapter Extract from Wonderscape
Read a Chapter Extract from Legendarium
Competition to win a set of Wonderscape & Legendarium!
Q&A with Jennifer Bell
1.   What brought you into writing for children, have you had other careers?
Before I became an author, I worked as a children's bookseller in a world-famous bookshop. My favourite part of the job was listening to young people talk about their favourite books and sharing recommendations of my own. Being surrounded by so many amazing books was really inspiring and I started writing my debut novel in the staffroom during my lunchbreaks.

2.   What kinds of books do you like to write?
I enjoy writing fast-paced adventure stories with an element of science-fiction or fantasy. The more fun, the better!

3.   What do you feel has been your best idea for a novel to date?
I think my best idea is the book I'm currently working on, but it's top secret at the moment!

4.   Can you tell us a little about your Wonderscape book and your follow-up, Legendarium?
Wonderscape is the story of three friends who accidentally get blasted four hundred years into the future, where video games have evolved into in-reality adventure games. In order to get home, they must play their way through one such game before time runs out.
Legendarium follows the same three friends as they are catapulted hundreds of years into the future once again, where a brand new in-reality adventure game, featuring famous legends from around the world, is the new gaming obsession. But the friends soon uncover a sinister plot by a mysterious raider called Deadlock, who wants to re-create dangerous time-way technology.
With the fate of the universe in their hands, the friends must enter a treacherous 'isports' tournament, that will take them from the lost city of Atlantis to Viking battlefields and volcanic Incan tunnels. But can they stop the evil Deadlock and play their way home before it's too late?

5.   Why do your characters, Arthur, Ren and Cecily, work together so well?
Although Arthur, Ren and Cecily go to the same school, they don't know each other very well when they first meet at the beginning of Wonderscape. It's only by surviving the challenges of Wonderscape and Legendarium that they grow to be friends.
I wanted to write about three characters with very different backgrounds and interests, who could each offer something unique to the story. They have conflicting personalities, but complimentary skills and they always seem to bring out the best in one another.

6.   How much does your own enjoyment of gaming feed into these books?
I love playing video games for the same reasons that I love reading books. Both experiences offer me a chance to escape from reality; to walk in another person's shoes; to follow a story from beginning to end and to discover new worlds and characters.
My favourite kinds of video games are those that are rich in storytelling. They might be action-adventures like the Uncharted series, about a treasure hunter who travels around the world solving historical mysteries; or spooky whodunnits like What Remains of Edith Finch, a collection of strange tales about the deceased members of a cursed family; or even The Last of Us, a thrilling survival story about two characters questing across a post-apocalyptic America.
With Wonderscape and Legendarium, I wanted to write stories that felt every bit as immersive as a video game and offered the same kinds of spectacular action scenes, plot twists and edge-of-your-seat excitement.

7.   How carefully do you need to plan your rules for your 'in-reality' games - especially as these books are set in an unknown future world?
There's always a lot of planning involved when I'm worldbuilding for any story. For Wonderscape and Legendarium, I researched the emerging technologies of the 21st century and tried to imagine where they might lead by the 25th century. After deciding upon a few basic elements (type of game, theming etc.), I worked out the mechanics of each game and the rules for every player.

8.   For Legendarium, what inspired the idea of a virtual reality world peopled by legendary characters?
I just thought it would be cool. When I was a child, I remember being fascinated by legendary figures such as Robin Hood and King Arthur, and also legendary places like the lost city of Atlantis. Legends have an aura of mystery and exploration about them. It seemed like the perfect fit for an in-reality adventure game.

9.   Which of your favourite legendary characters would you like to have the chance to meet?
I'd love to meet some of the legendary highwaymen that are featured in Legendarium like John Nevison and Claude Duval. I've no doubt they'd be able to tell some thrilling stories and it would be interesting to learn whether they were anything like their reputations.

10.   How well would you do if you found yourself in Wonderscape and Legendarium?
I think it depends who I had with me! If I was in a team with my closest friends, I think we'd do okay. We're a bit like Arthur, Ren and Cecily in that we have very different skills.

11.   Of all the gadgets and tech you've invented in these worlds, which one would you like to bring into real life?
The make-up visor from Legendarium would speed up my morning routine!

12. Where and when do you write, and how long does it take to finish a novel?
I write at home, in coffee shops and on trains. I try to start early, at 6am, and then keep going until my brain feels like mush. It usually takes me about six months to write a 70,000-word novel from the seed of the idea to the first draft.

13. If you couldn't do gaming or reading, what would you do to fill your time?
I go to the cinema at least once a week. I love watching movies on the big screen. There's nothing else like it.

14. Any big adventures planned for 2022?
I'm going to deliver the first draft of my next book and then start another one. Every book is a new adventure.
Author's Titles