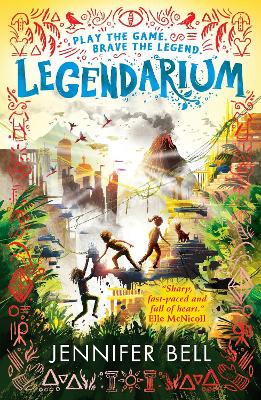 By Author / Illustrator
Jennifer Bell
Genre
Adventure
Age range(s)
9+
Publisher
Walker Books Ltd
ISBN
9781406391732
Format
Paperback / softback
Published
05-05-2022
Synopsis
From the bestselling author of Wonderscape and The Uncommoners comes this fast-paced gaming adventure through the universe's greatest legends.

PLAY THE GAME. BRAVE THE LEGEND.  Arthur, Ren and Cecily are stuck in Legendarium in the year 2493, where the secretive villain Deadlock has discovered dangerous time-travel technology.  To save the universe, the friends must enter the deadly Irontide Tournament, where legends are real and one wrong move could cost them their lives...

"A wonder of an adventure - Jennifer's storytelling has everything I want; excitement, power and heart." Jasbinder Bilan.  "Sharp, fast-paced and full of heart ... Arthur, Ren and Cecily are adventuring once more in this warm and witty pageturner of a sequel. I love it!" Elle McNicoll.   "Legendarium does not disappoint. In fact, it grabs you from page one. With a furious pace and mind-boggling concepts, it's the very definition of a BLOCKBUSTER." Phil Earle
See Book 1: Wonderscape
Find out more in this Video & Q&A with author Jennifer Bell
Reviews
Jennifer
Legendarium takes the three heroic schoolchildren from Wonderscape and sends them off, once again, into a whole different reality. This time, Arthur, Ren and Cecily are transported through time and space into a gaming galaxy of thrills, puzzles and perils, called Legendarium . As its name suggests, this world is built around infamous legendary figures galore - but the world also holds a mysterious enemy called Deadlock. The time travelling trio are more confident and assertive this time around. Their friendship has clearly blossomed and is stronger than ever. It is a pleasure to be back with the gang and with Cloud, the transforming robot dog.
Author Jennifer Bell again shows such attention to the most minute details in her amazing world-building within this book. Even the breakfast cereal Zoorflakes ( purple confetti looking rice krispie style ) create an image in the readers minds as they put this curious landscape together.
Legendarium takes the form of a quest adventure for the children; they must enter the Irontide ISport tournament to track down the time key they need in order to return home. They must embrace the dubious fame that being one of the teams gives them. The games themselves are brilliantly and cleverly created. There is almost a Hunger Games nod here with the descriptions of the styles and designs of the tournament. Teams have carefully designed outfits and personas and there is a TV show that celebrates and hypes up the competition.
This all creates a futuristic, sleek science fiction adventure for a younger reader. The scenes are vividly described and characters' personalities very deftly created. Creepy, lizard-headed TV presenter Lazarus Stone is a brilliantly sly and suspiciously charming character.
Legendarium is fast and lively and brings its readers' own gaming experiences into the forefront, when the characters must play familiar designed games - like Mario, we see Arthur, Ren and Cecily leaping across voids onto platforms against the clock, gathering precious items they will need. It is fun, exciting and incredibly creative.
320 pages / Reviewed by Jennifer Caddick, teacher
Suggested Reading Age 9+
Other titles