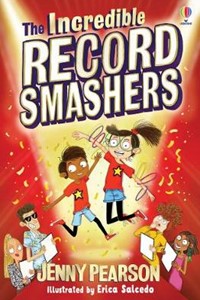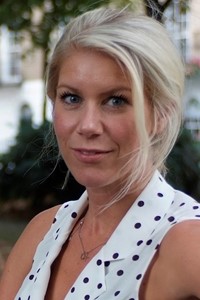 About Author
Jenny Pearson is a primary school teacher based in north east England. She loves her job and her debut book, The Miraculous Journey of Freddie Yates, about a group of three boys on a make-or-break adventure, draws on many of the children she has taught.
Jenny also loves swimming - she was the European Backstroke Champion for 35-39 year olds - going for long bike rides and long countryside runs, playing netball and having fun with her children.
Author link
https://www.jennypearsonauthor.com/
Interview
The Incredible Record Smashers (Usborne)
April 2021
Jenny Pearson introduces her brilliant new book, The Incredible Record Smashers (Usborne). Look out for unexpected friendships, a thief or two, a fabulous adventure, and one or two broken records.... Watch her video here:
Assembly for The Incredible Record Smashers (Powerpoint)
Q&A with Jenny Pearson:
1. Can you tell us what your new book, The Incredible Record Smashers, is about?
The Incredible Record Smashers is the story of Lucy and her best mate Sandesh. Lucy likes fixing things but the one thing she can't 'fix' is her mum. After finding an old photograph, Lucy gets it into her head that Paul Castellini, former 80s singing sensation and now head judge of a show called Record Smashers, is the answer to her mum's happiness.
Lucy decides she has to get on the show to meet him, but to do this she must first break a World Record. She and Sandesh then set out to find a record she can smash and she discovers that breaking a world record and fixing her mum might both be more difficult than she realised.
2. How did writing The Incredible Record Smashers compare with writing your first book, The Super Miraculous Journey of Freddie Yates?
I think that I was very lucky because I had written over half of Record Smashers before I got the book deal for Freddie Yates. I didn't have the second book terror which might have paralysed my pen (I saved that for book 3). So, really, I loved writing it.
That's not to say it was easy, but winning the battles with the keyboard is part of the fun. Now, however, it is hard not to worry about how it will be received. The doubt-demons are strong. Fortunately, the feedback so far has been wonderfully lovely.
3. Your main character, Lucy, has difficulties at home because her mum suffers from depression. Why did you decide Lucy's mission would be to try to fix it?
I think that for so many of us, when someone we love has a problem, we want to solve it for them. And if we're being honest, probably for ourselves too.
When it comes to depression, there is no easy 'fix' and through Lucy's story, I wanted kids to see that they are not responsible for someone else's happiness. That if their loved one is struggling with their mental health, it does not mean that they do not love them. And that depression may be part of a person forever, but it is not all of them. That they can still be incredible.
The discussion around mental health is definitely opening up, which can only be a good thing. But I wonder whether we are we talking about it enough with our kids? In England alone, it's estimated that 2.9 million children and young people live with a parent who has reported symptoms of anxiety and depression. This is not just an 'adult' problem. Children are affected by this and they must be thought about and included in conversations about mental health.
4. Who was your favourite character to write?
Such a tricky question! Honestly, I so adored writing Lucy, Sandesh and Aunty Sheila. I loved writing Lucy and Sandesh but especially their friendship and the dialogue between them. And with, Aunty Sheila, well, I cannot not love her because so much of her is based on my mum. Although, maybe don't tell her that.
5. Lucy's mission, to help her mum, becomes entwined in a record-breaking attempt. How did breaking records become part of the story?
I really wanted to show the lengths that people are prepared to go to help those that they love and I thought attempting to break a world record would be quite some lengths!
What I also love about the records, is how wonderfully ridiculous some are. It takes a special kind of courage that enables you to push aside all sense of embarrassment to help someone else. Smashing watermelons with your face might be ridiculous but the reason Lucy does it, while misplaced, is really quite wonderful.
6. Each of your chapters links to a record attempt - did it take long to research those, and to find what record Lucy and her friend Sandesh would attempt?
It took me ages to research the records, but mainly because once I started looking at world records, I couldn't stop. I fell into a deep, deep YouTube hole, much like Sandesh and Lucy do in the book. People, and the things they get up to, are really quite extraordinary. Record breaking most definitely makes compulsive viewing.
You try and tear yourself away from the world's largest squirrel-themed collection to write...
7. Name your favourite record from the Guinness book of world records.
Impossible. I mean how do you choose between the talents of the fastest dog on two paws, Jiff a Pomeranian and Etibar Elchiyev who magnetised fifty metal spoons to his body?
But maybe, after the year we've all just had, I'll say it would be the largest ever group hug, which was set in Canada in May 2010 and involved 10,554 people.
8. And how did your own World Book Day record attempt (for the most people in an online reading video relay) go? Any funny moments?
Technology and children - what could possibly go wrong? Actually, it was such a lovely thing to do and I'm so proud of all the kids who took part and those who assisted behind the scenes. I think it showed how far our school community had come - from trying to find our way with online teaching at the start of the first lockdown, to attempting a world record at the end of the third.
I actually felt really emotional when I saw all the reactions of the children at home and in the classroom once we'd finished. It was one of those moments I'll remember forever.
9. Does being a teacher help you with your writing?
Enormously. I honestly wonder if I could write if I wasn't a teacher. Obviously, it is handy because I get to be around the audience that I'm writing for. I can see what they like to read and how they react to different stories - what they love and what leaves them cold - but it goes so much deeper than that.
I get to absorb little bits of them - their humour, their characters, the way they speak, what makes them tick. I get to observe the hundreds of kindnesses that happen every day and also how they interact with each other and navigate disagreements when they fall out. I hear about their hopes and dreams and also their worries. I learn about their home lives. I see their struggles and their triumphs.
It is a privilege to teach and each year, I get a new set of thirty kids, and I love every single one of them. As a writer, I just want that to come across on the page. And also to do children justice, because they really are amazing.
10. How do you find time to write? 
I came to writing late, but since I started, I can't stop. I have gone part time at school which has helped a lot and I've also stopped watching much TV. I've realised I can watch Gogglebox once a week and pretty much find out all I need to know. I am very aware that having the time to write is a privilege that is not afforded to everyone. I always remember that when the words don't come easily.
I have just finished edits for book three Grandpa Frank's Great Big Bucket List and I am waiting to hear what my editor, the amazing Rebecca Hill at Usborne, thinks of a couple of other stories I have sent her.
11. What keeps you busy when you're not at your desk?
My children, planning lessons & marking, housework, doing sporty things (mainly running but pre-lockdown, gym classes, netball and swimming), seeing friends, eating, sleeping, telephone conversations, online shopping, daydreaming.
12. What can't you wait to do once lockdown is completely over?
See everyone I love, including my brand-spanking-new nephew, Oliver. He is absolute proof that you can love someone you have never even seen in real life.  And shake hands with a stranger.
 Thank you for joining us at ReadingZone this month!
Author's Titles