The Incredible Record Smashers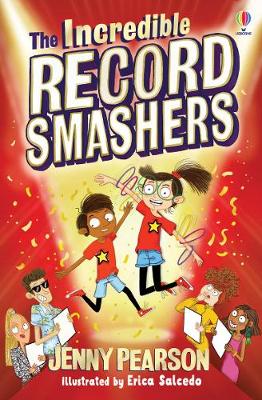 By Author / Illustrator
Jenny Pearson, Erica Salcedo
Genre
Friends and family
Age range(s)
7+
Publisher
Usborne Publishing Ltd
ISBN
9781474974059
Format
Paperback / softback
Published
29-04-2021
Synopsis
A record-smashing, feel-good adventure packed with heart, humour and Guinness World Records from Costa Award-shortlisted JENNY PEARSON, and Kid Normal illustrator Erica Salcedo Lucy is a fixer of broken things. But there's one thing she can't fix and that's her unhappy mum. Until she comes up with an INCREDIBLE plan.
Along with her best friend, Sandesh, Lucy is going to SMASH a world record. Because she's convinced that starry Paul Castellini - Record Smashers TV host and singing legend - is the answer to her mum's problems. But breaking a world RECORD when watermelons, kumquats, two baddies and a 30 cm shatter-resistant school ruler are involved isn't quite as easy as Lucy thought. Can she learn that sometimes happiness doesn't come with a plan?
"Breaks records for funny and touching storytelling." David Baddiel."One of the juiciest ideas for a story you've ever seen and super-miraculously Jenny Pearson makes it every bit as funny and tender as it could ever be." Frank Cottrell-Boyce
Reviews
Jennifer
The Incredible Record Smashers is an absolutely cracking story from Jenny Pearson, author of the brilliant The Super Miraculous Journey of Freddie Yates (a whole class read with my Year 6 class that they loved!) It is another perfect blend of humour and heart. The author tackles the sensitive issue of mental health and parental depression with the upmost care, gently exploring young Lucy's emotional ups and downs as she takes the weight of her mum's happiness on her shoulders and searches for a way to make mum 'better'. Of course, just as in her debut book, Jenny Pearson then piles on a plot of incredible fun and daftness, sprinkled throughout with an engaging and endearing cast.
She hatches a plan to reunite mum with her pop idol of her youth, Paul Castellini - now a Guiness Word Records TV presenter. All she needs is a foolproof plan to get on TV smashing a new Guiness World Record, right? Cue a watermelon called Wilbur, matching gold catsuits, two new, criminal (but kind hearted) friends and a whole lot of kumquats…. The duo of Lucy and Sandesh is just joyous. Watching their friendship bloom sparks real pleasure in the reader. Sandesh (so polite and exact) and Lucy (so prickly,stubborn and sarcastic) forge a unique and blisteringly funny friendship.
The Incredible Record Smashers is fast paced, full of frantic comic delight and bursting with warm hearts and hopes.
336 pages / Ages 8+ / Reviewed by Louisa Farrow, teacher
Suggested Reading Age 7+
Jane
The Incredible Record Smashers is the tale of a girl whose mum suffers with depression, and her attempts to help, which don't exactly go to plan. How did she believe that trying for a new world record (catching kumquats in her mouth) or meeting famous singer Paul Castellini could bring happiness? And how is it possible that this attempt could involve two robbers intent on fixing their own mum's problems? Ridiculous!

This book was a joy to read. It has laugh-out-loud humour and yet is beautifully profound. I found myself sharing the funny moments out loud: Emperor Penguins used as a measure of weight and elephants as a means of counting, for instance; the idea of 100 oxen unable to lick their tongues (you'll understand when you read about Aunty Sheila's store of tinned meat); and how it's possible to have muscle strain in your tongue (Lucy managed it).

Although Lucy and Sandesh (who becomes her best friend) embark on a madcap adventure in order - Lucy hopes - to bring back happiness into her mum's life, there are moments of serious insight for Lucy (about the difficulty of being totally honest with herself) and for the reader; that characters like Lucy, whose intentions are good, are not always likeable, as well as realising that we all could learn what love really looks like from Aunty Sheila.

The author seems to understand the struggle young people sometimes have in expressing themselves: words just don't come, or come out all wrongly, as when Lucy hurts Sandesh (and disappoints us) by not explaining herself clearly.

Perhaps this story will help other children better understand each other and their parents: how it's not always possible to fix things, let alone people. Accepting that, and them, may bring us all closer to happiness.

I warmly recommend The Incredible Record Smashers to anyone in Key Stage 2 and above, as well as to teachers and parents looking for a light-hearted way to approach real-life issues. Read the book, but also share the 'Q&A with Jenny Pearson' which is extremely funny - and her 'Five Favourite World Records', which are totally bonkers. Then, almost certainly, you will want to read Jenny's previous book, The Super Miraculous Journey of Freddie Yates, if you haven't already.

336 pages / Ages 8+ / Reviewed by Jane Rew, school librarian
Suggested Reading Age 7+
Louisa
The Incredible Record Smashers begins when Lucy, who is usually more interested in fixing things, punches Billy on the nose in class and is suspended from school. His unkind comment about her mum provoked not just violence but also a new-found determination to 'fix' her mum's depression - and a new friendship with Sandesh. He's a promising musician with his own obsession: world records.
As they spend more time with each other, their obsessions come together in a plan to smash a world record on a TV show. Lucy is convinced that the show's host, Paul Castellini, is all her mum needs to find happiness again; Sandesh is, well, obsessed with world records. The plot rollicks along, full of hilarious twists and turns, as they get accidentally mixed up with two baddies and a stolen painting before ending up on stage for a world-record attempt. But will any of it 'fix' Lucy's mum? Or will Lucy learn that happiness comes from lots of different places - you just have to notice them?
There is so much for children to enjoy in this book. Both main characters are easy to relate to: funny, loyal and brave but also vulnerable and prone to mistakes. It's full of laughs - but there's a serious, warm and hopeful story at its heart. It's all told through Lucy's ironically resigned voice, which reminded me of Greg Heffley, so I'll be recommending it to children who have enjoyed Diary of a Wimpy Kid books. The madcap plot, loosely based around the exploits of school children, means it should appeal to fans of Pamela Butchart, too. And, as each chapter begins with its own world record, it could provide a way into reading novels for the many children whose reading for pleasure journey begins with The Guinness Book of Records.
It's definitely going to be a great addition to the school library.
336 pages / Ages 8+ / Reviewed by Louisa Farrow, teacher
Suggested Reading Age 7+
Other titles