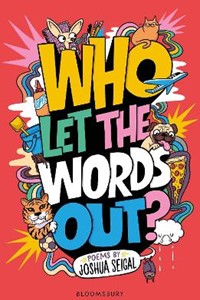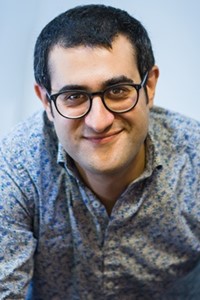 About Author
Joshua Seigal is a poet, performer and workshop leader; Who Let the Words Out is his latest collection. Joshua spends a lot of his time visiting schools, libraries and theatres around the country and beyond. His book I Bet I Can Make You Laugh won the 2020 Laugh Out Loud Book Awards, while I Don't Like Poetry was shortlisted in 2017.  
He has taken critically-acclaimed poetry shows to the Edinburgh Festival Fringe, but usually ends up performing in front of his mirror, using a hairbrush as a microphone. He has managed to gain the minimal skills required to make his own website - www.joshuaseigal.co.uk.
Interview
Who Let the Words Out (Bloomsbury Education)
September 2023
With its play on idioms and the introduction of words like 'cummerbund', 'doggerel', 'zarf' and 'ruddled', Joshua Seigal's new poetry collection, Who Let the Words Out (Bloomsbury Education), entices and challenges children to explore language and think about the words we use.  There are poems that will make children laugh with surprise and others that explore more difficult emotions, like absence and grief, that will resonate with many.
In our Q&A, Joshua Seigal tells us about Who Let the Words Out, how his poems develop and playing with words.  He also shares some of his new poems in this short video:
"I have really gone to town with my vocabulary, and will certainly have introduced children to words and phrases they weren't previously familiar with."

Q&A with Joshua Seigal
1.   Can you tell us about life as a poet, highs and lows? 
One of the highs is definitely performing my poems! I love visiting schools, libraries, festivals, and anywhere else that will have me. I love making people laugh, so the funny poems are ones I particularly enjoy writing. I also like to express some deep emotions; that can be very satisfying and cathartic. My previous poetry collections are about all kinds of things that interest me. The lows? Chasing people for invoices is one of them. And getting up early if I have to make a long journey. But I feel very lucky to be a professional poet!

2.   What is your latest collection focused on, and why is it called Who Lets the Words Out?
It is focused on words! I have really gone to town with my vocabulary, and will certainly have introduced children to words and phrases they weren't previously familiar with. Lots of the poems use wordplay and idioms.
I called the collection Who Let the Words Out? Because there is a famous song called 'Who Let the Dogs Out?' so it's a play on that. (There is also a great book called 'Who Let the Gods Out?', so my idea isn't that original.) Basically, in my book I have tried to release words into the wild!

3.   Were any new words found during the writing of this book? Any new favourite words? 
I found loads of new words. For example, those little plastic tubes at the end of shoelaces are called 'aglets'. My favourite word? Maybe 'zarf'. If you want to know what that means, you'll have to read the book! I wanted to flag words because I think they are a bit like toys that we can play with. I love playing with words, and I wanted to convey a sense of that joy and wonder to my audience.

4.   There is also a lot of play on poetry structures and rhymes within this collection;  do you enjoy experimenting with different ways to write poems?
I enjoy playing with all kinds of things. I find rhyming really satisfying, but it's an incredibly difficult skill. If I rhyme, I like the meter to be immaculate, so hopefully I've at least somewhat succeeded on that front too. I hope people read the book and realise that there are all kinds of ways of structuring a poem, depending on what you want to express.

5.   Are there any forms of poetry you prefer to avoid? 
I find it hard to write acrostics. I tend to only write them if I am sort of making fun of that style. I don't think there are any acrostics in the book. Sonnets are also tough, and there are none of those either. There are some haiku though!

6.   Is there a poem or two that stand out for you within this collection?
I like the very last few, because that's where it gets quite sad and emotional. I think it's always important to balance a range of emotions in any poetry collection. I also enjoy the poem 'I Know My Brother's Secrets'. I've made that one available to view for free on my website, www.joshuaseigal.co.uk. I hope this will give people a flavour of the book!

7.   Can you talk us through how one of your poems in this collection was developed and written, to give us a better idea of how poems might develop?
That's a really difficult thing to do, as I tend to just let me writing flow. It's hard to remember where ideas originally come from. Lots of the poems involves idioms, which are little figures of speech that can be a bit weird. One of the poems uses the phrase 'the rest is history', which people often say. I thought that I would try and build that phrase into a poem, and the way I did that was by thinking that 'history' means the past, but it also means a lesson that we have in school. So I turned that into the poem. I'm not explaining this very well, am I? You'll just have to read the book and see what I mean!

8.   Do you have any tips or ideas for encouraging a love of poetry in children, both outside and inside the classroom?
I would say to read as widely as possible, and also try to watch lots of poetry on YouTube. We are very lucky now, because we don't just get to read poems, we can watch and listen to them as well!
When writing, I would also remind people that POEMS DON'T HAVE TO RHYME. When it comes to emotional poems, it can actually be a lot easier to express your feelings if you're not worrying about making the words rhyme. Worrying about that can detract from the emotion, in fact.

9.   Can you suggest which of the poems in Who Let the Words Out would work well to learn and perform?
Ooh good question. I would recommend 'I Don't Really Like You', which is a poem for two voices.'Cat Rear Criminal' is also excellent fun to perform, although it is quite rude!

10.   How would you like to see Who Let the Words Out used in the classroom? 
I hope it is simply placed in classrooms for children to pick up and enjoy. I will be sharing some of the poems during my live events, too!
Poet and performer Joshua Seigal introduces his earlier poetry collection, Yapping Away, with poems to make you laugh, make you think, and even make you want to perform them! 
Author's Titles