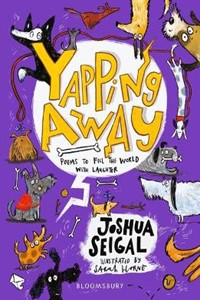 About Author
Joshua Seigal is a poet, performer and workshop leader; Yapping Away is his latest collection. Joshua spends a lot of his time visiting schools, libraries and theatres around the country and beyond. His book I Bet I Can Make You Laugh won the 2020 Laugh Out Loud Book Awards, while I Don't Like Poetry was shortlisted in 2017.
He has taken critically-acclaimed poetry shows to the Edinburgh Festival Fringe, but usually ends up performing in front of his mirror, using a hairbrush as a microphone. He has managed to gain the minimal skills required to make his own website - www.joshuaseigal.co.uk.
Interview
Yapping Away (Bloomsbury Education)
September 2021
Poet and performer Joshua Seigal introduces us to his latest poetry collection, Yapping Away, with poems to make you laugh, make you think, and even make you want to perform them! Here, Joshua tells us more about writing poetry and why it's important that poems make you laugh - and think!
Review:  "Full of excellent poems, it is perfect for sharing at home or school or for curling up with on your own."
Q&A with Joshua Seigal
1. Have you always been a poet? Who are your stand-out children's poets?​
I have been a professional poet for the last decade. Before that I was a poet as a hobby, but I didn't really start to get into poetry until I was an adult. It certainly wasn't something I loved in school.
In terms of poetic inspiration, I would have to say Michael Rosen is near the top of the list, along with poets such as John Hegley, Brian Moses, Roger Stevens, Benjamin Zephaniah and Neal Zetter

2. What was the focus for your new poetry collection, Yapping Away, and why did you choose this title? ​
I chose the title because it is fun, succinct and snappy. Also, there are quite a few poems about dogs, so the title fits in with that. There are also lots of poems about other animals, and all sorts of things really. The thing about my poetry books is that there isn't typically a single focus. My poetry is all about variety.

3. Do poets write poetry specifically for a collection, or is a collection a showcase for what you've already written?
I can't speak for other poets, but for me I never write specifically for a collection. I write whatever comes into my mind, and when I've written about a hundred poems I sit down and start to think about how the poems could be edited into a collection. That is how I tend to work, but it probably varies from poet to poet. We are all different!

4. What is your stand-out poem(s) in this collection - which are you happiest with?
Interesting. I think one of my favourite poems is the second poem in the book, which is called 'The Reading Journey'. Lots of the poems in the book are about displaying the joy of words and reading. I like this poem because it uses quite a complex internal rhyme structure, which is often something I like playing around with. I should mention that this poem originally appeared as part of the Reading Realm app, created by the fantastic Ian Eagleton.

5. Your collection includes a lot of funny poems - is it important that children can come to poetry through laughter?
I originally got into poetry because of the humour. I go to a lot of stand-up comedy clubs, where occasionally comedians will read a funny poem as part of their act. That was a big part of what inspired me to start writing poetry, and because of this laughter is hugely important to me.
I get a real buzz out of making people laugh, and I think humour is a great way of encouraging 'reluctant' readers to give poetry a go. Laughter is also immeasurably important when it comes to mental health, which is a big focus of mine.

6. Although you also include poems to make us think, including 'Lots' and 'Sad'. How would you like these to be used in the classroom?
I'd love these poems to be used as the starting point for discussions about big topics like identity, belonging and mental health. Humour is a great gateway into poetry, but it is often these big issues that keep people hooked.

7. Do you feel these poems also lend themselves to performance by children?
I think lots of my poems lend themselves to performance. I make a living not just through writing but also from performing my poetry, and I would love children to have a go at performing them too!

8. You have included some ideas for children to try to write their own poetry - why did you want this within the collection?
My publishers asked me to include it! And also I wanted my poetry to inspire children (and adults) to give it a go for themselves. I aim to show that poetry is for everyone.

9. Can you tell us a little about events you do for schools?
I visit schools all around the world, both virtually and in real life. When I visit schools, I typically give a performance of my poetry, followed by a workshop tailored to the age group of the children I am working with. The aim of most of my workshops is for each child to have produced the first draft of their own poem, which they can then develop after my visit. Sometimes I work with younger children and we will write a poem together as a group.
I also sometimes work on longer term projects, where we will write and explore a variety of poems, perhaps looking at specific issues related to the curriculum (not just the English curriculum, but the curriculum as a whole!).

10. What does a poet's working day look like?
It is unpredictable. Some days I get up late, have a coffee and do a bit of writing. Other days I get up very early and visit a school. The variety is a huge part of what I love about being a poet.

11. What do you most enjoy doing when you're away from your desk?
Walking, reading, playing with the cat, playing with my niece and nephew, and definitely eating. I love going out for meals with my wife.
Author's Titles