Who Let the Words Out?: Poems by the winner of the Laugh Out Loud Award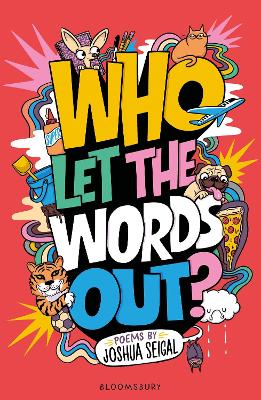 By Author / Illustrator
Joshua Seigal
Genre
Poetry
Age range(s)
7+
Publisher
Bloomsbury Publishing PLC
ISBN
9781801992091
Format
Paperback / softback
Published
14-09-2023
Synopsis
A marvellous new collection of poems by Joshua Seigal, two-time winner of the Laugh Out Loud Awards - the UK's only prize for funny children's books. Someone has let the words out... and they're going to have some fun! 
In this brand new collection of poems from award-winning poet Joshua Seigal, words take on a whole new meaning; enter a world of creative word play with silly, funny and downright hilarious poems! With poems about cuddling tigers, pesky pet fleas and even what to do if your teacher is ever turned into a chicken, Who Let the Words Out? is a must-have for imaginative young readers aged 7+.
Find out more about Who Let the Words Out in ReadingZone's Q&A with poet Joshua Seigal
Reviews
Sue
Once again, Joshua Seigal offers a cornucopia of poetic treats in his new collection, Who Let the Words Out?. With poems about cats putting their rear ends in your face, a mathematical haiku, what NEVER to do and the problems of precipitation, there is plenty to set the reader giggling as Joshua demonstrates the fun which can be had with words!
There are also poems to think about. 'Poem for Libraries' captures the magic of those special places and the joys they hold. Children might enjoy adding extra lines here, including books and subjects which they like to find in libraries. 'The Orange Table' is a poem which, as a teacher, makes me very sad, highlighting how children can perceive themselves and how this might make them feel, offering the perfect starting point for discussions. 'Names' is another which is sure to provoke many ideas and 'Who Let the Words Out?' could be the starting point for exploring the meanings of many words and working together to write a collective poem in this style!  
As usual, there is a fair smattering of cat-related poems, inspired I am sure by Bluebell, his own feline friend.  'Thank You' just sums up the joys(!) of sharing your life with a cat purr-fectly whilst 'Home' encapsulates the thoughts of those who love to share their space with them.
There is so much to enjoy here - another fabulous collection! Essential for every bookshelf.
128 pages / Reviewed by Sue Wilsher, teacher
Suggested Reading Age 7+
Other titles