Yapping Away: Poems by Joshua Seigal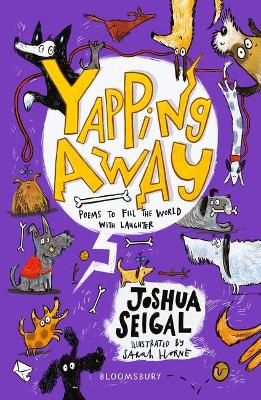 By Author / Illustrator
Joshua Seigal, Sarah Horne
Genre
Poetry
Age range(s)
5+
Publisher
Bloomsbury Publishing PLC
ISBN
9781472972743
Format
Paperback / softback
Published
19-08-2021
Synopsis
Joshua Seigal, winner of the 2020 Laugh Out Loud Book Awards, brings his raucous humour, creativity and wit to another brilliant collection of poems. Ideal for fans of Michael Rosen, this book will delight all young readers and fans of funny books.
From hilarious to heartfelt poems - and everything in between - this collection offers something for everyone. Discover the eight steps for having a successful tantrum, and why you should NEVER attend a Teddy Bear's Picnic (you have been warned). Packed full of fun illustrations by Sarah Horne, and covering a range of imaginative topics, Yapping Away is the perfect follow-up to Joshua Seigal's prize-winning collection I Bet I Can Make You Laugh.   Ideal for children as young as three to read with adults, or for children aged six plus to read by themselves.
Find out more about poet Joshua Seigal
Reviews
Bryony
Yapping Away: Poems to fill the world with laughter, by Joshua Seigal, is a collection of funny poems with feelings. The blurb states that this collection is 'perfect for small readers with big imaginations' and this is certainly true. Seigal's collection in this book includes poems with titles such as 'Fill the World', 'Icky Sticky Chocolate Biccy' and 'Zoomies'.
There is so much between the pages of this slim volume. 'The Reading Journey' captures the adventures books can take you on and is a perfect poem to inspire and engage. 'I Wanna be a Bear' is full of rhythm and repetition. It is perfect for reading aloud and performing while also including lots about bears! Seigal also includes many shape poems which children will find funny and engaging such as 'Water' and 'I'm a key'.
Seigal's collection of poems is pitched between Years 2-4 although younger and older children would enjoy reading and performing these works. He includes a great section called 'Let's get writing!' Which teaches children about the different styles of poetry in this book and allows them to explore a range of poetic techniques. Many of these are perfect for weekend activities as well as for use in the classroom. Illustrated by Sarah Horne, these poems come to life even more with vibrant illustrations to enhance the readers enjoyment. Highly recommended.
96 pages / Reviewed by Bryony Davies
Suggested Reading Age 5+
Sue
Joshua Seigal is well known for his humorous and inspiring poems and this new collection, Yapping Away, is every bit as wonderful as his other books. Full of excellent poems, it is perfect for sharing at home or school or for curling up with on your own. The poems are playful, drawing on the everyday and inviting the reader to look at things differently.
Like many, 'Fill the World' would be great fun to perform, adding actions - or creating new verses and performing these. The use of word play and pattern mean that children will pick many of the poems up without any effort, joining in with repetition- 'Icky Sticky Choccy Biccy', 'Happy' or 'Sleepy Dust', for example, and thoroughly enjoying deciding how to present them. 'Magic!' is another which is calling out to be shared and which children would really enjoy using the structure to create their own versions.
These really are poems which will fill the world with laughter, but Joshua Seigal also offers places to pause and think. 'Drawing my Grandma' is full of lovely images, but ends with a poignant thought. 'Sad' perfectly encapsulates that inexplicable feeling of sorrow which hit us all from time to time - great for initiating discussions and exploring feelings.
Many of the poems here would be perfect for inspiring children to create their own and Joshua Seigal has included ideas at the end of the book for the reader to try. Although aimed at a younger audience, these poems would work well with children of any age, helping them to explore poetic techniques and offering enjoyable examples. Even the subjunctive seems less hideous when in a poem!
Other poems like 'Lots' are just perfect for exploring ideas and encouraging discussion in PSHE lessons or as the basis for an assembly. The illustrations by Sarah Horne add to the humour of the poems.
Yapping Away is a wonderful collection - a 'must have' addition to any teacher's collection!
96 pages / Reviewed by Susan Wilsher, teacher
Suggested Reading Age 5+
Other titles