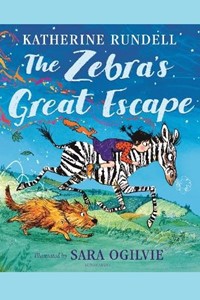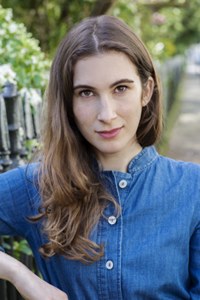 About Author
Katherine Rundell is the million-copy bestselling author of five children's novels and has won the Costa Children's Book Award, the Blue Peter Book Award and the Waterstones Children's Book Prize amongst many others. Katherine spent her childhood in Africa and Europe before taking her degree at the University of Oxford and becoming a Fellow of All Souls College. As well as writing, she studies Renaissance literature and occasionally goes climbing on the rooftops late at night.
Sara Ogilvie is an award-winning illustrator and printmaker, who has illustrated many bestselling and much-loved children's books, including The Detective Dog and The Hospital Dog by Julia Donaldson, and Dogs Don't Do Ballet by Anna Kemp. Born and bred in Edinburgh, she now lives with her family in Newcastle upon Tyne.
Interview
The Zebra's Great Escape    (Bloomsbury Children's Books)
July 2023
Extract from The Zebra's Great Escape
When Mink discovers a baby zebra in need of help, she sets off on an adventure to help it, and on the way rescues an entire menagerie of animals. Katherine Rundell tells us about animals, inspiration and encouraging children to ask for help, while Sara Ogilvie talks about the challenges in developing characters and creating illustrations for The Zebra's Great Escape which is now available in paperback.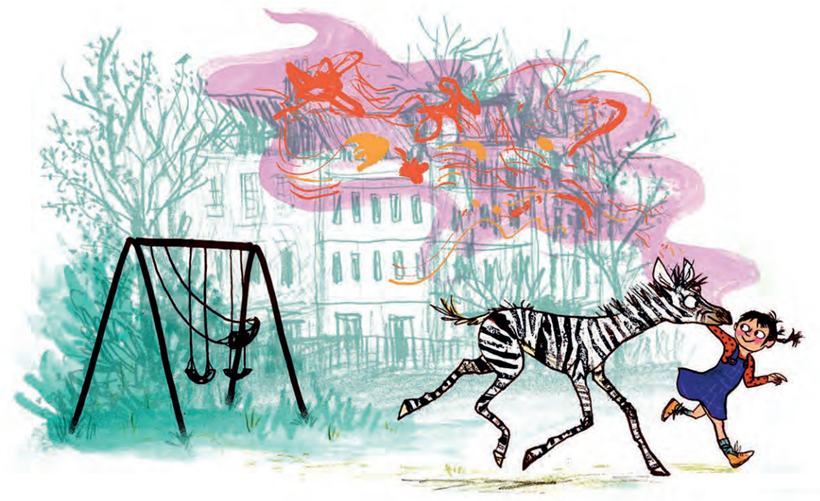 Q&A with Katherine Rundell:

1. You're well known for your older books, so what do you enjoy about writing younger fiction like The Zebra's Great Escape?
The thing I loved about writing shorter books for younger writers is that you can hold the whole story in your head at once: where novels sprawl outside your imagination, a picture book can be held steady, so you can look at it from every angle, and bend it into shape.

2. Can you tell us what The Zebra's Great Escape is about?
A girl, Mink, is playing on the swing near her home when she hears a noise, goes flying and bumps her head. The noise was a baby zebra called Gabriel and the bump has shaken something loose: now she can understand animals, through pictures and colours behind her eyes.
The zebra's parents have been captured from a wildlife park and put in a cage by the wicked Mr Spit, who is collecting an A-Z of animals in order to stuff them: and it's Mink's job to save Gabriel's parents, and all the other animals, with the help of Gabriel, a dog called Rainbow and a squirrel called Rodentia.
It's about friendship, and courage, and the what it means to help someone, and zebras.

3. What inspired the story? Do you keep an ideas notebook with you at all times so you don't miss any good ideas?
I don't keep paper with me at all times - I would just text myself an idea on my phone in a pinch - but I do have a big book of half-imagined ideas, where each page is a new idea. With The Zebra's Great Escape, I wanted to write a story about a grand adventure: something that requires Mink to be more brave than she has ever been before. It was a story my partner and I used to tell to his daughter, many years ago.
Another part of the inspiration is Dodie Smith's spectacular work: I live in North London, very close to where Dodie Smith lived and where she set 101 Dalmatians, so it's also a salute to her brilliance: the way the message passes from Gabriel to the other animals is based on the Twilight Bark, and the hill, though it doesn't say so explicitly, is drawn as Primrose Hill - and in one of the pictures, Mink has been reading 101 Dalmatians.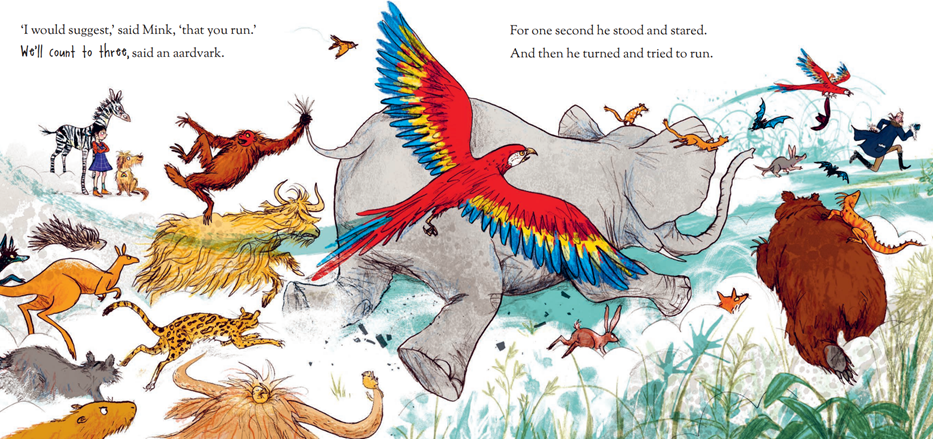 5. We meet a range of animals in the story - do you enjoy creating animal characters?
Zebras seem to me to be so startling and different in their beauty: I wanted to write a book that would salute their loveliness.
I think deciding on the A-Z of animals was some of the most fun I've ever had. X was the hardest: in the end I chose two xoloitzcuintli, a hairless dog from Mexico: 'xolo', for short.

6. Who is your favourite character in the story? 
I loved writing Mr Spit - villains often allow a freedom and a joyful abandon - but I think my favourite was Mink: a girl who usually likes to do things fast and impatient, but who, for Gabriel, learned to be both gentle and valiant. Mink is her nickname: minks are quick, and beautiful, and not afraid to bite. I also loved writing Rainbow, the dog, who starts resentful and angry and wary but, in the face of danger, becomes brave. He could choose to run away, but he doesn't: he comes back.

7. Mink's comment about seeking help is lovely - do you think we all need to be encouraged sometimes to ask for help?
Yes, exactly that! - to both ask for help, and to hear the call when it comes. I wanted to say: those who ask for help often create the potential for change: for something new, and more generous, to take shape.

8. What do you think of Sara Ogilvie's illustrations and how the final book looks - any favourite spreads?
I am a colossal admirer of Sara's work, and have been for years: her work is such a vibrant, funny, beautiful, bold thing. I think my favourite spread is the party, right at the very end: the details are just wonderful.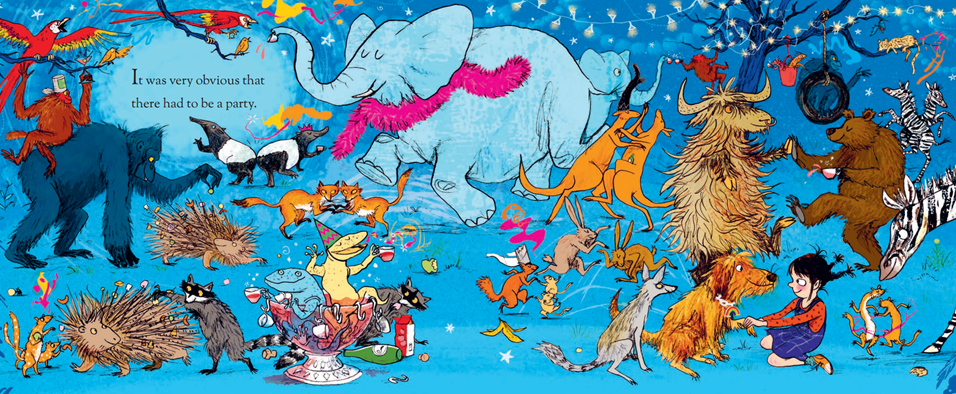 9. Where and when do you prefer to write? What can fans expect to see from you next?
I try to write wherever I am: one of the best things about my work is that it's very portable, so I can write while travelling. And I have a book for adults coming out in October, also about animals - it's called The Golden Mole and Other Living Treasure, and it's about the wonders of the natural world.

10. And what do you enjoy doing when you're not at your desk?
I take out my partner's dog, the best black Labrador in the world: he is a poet, a scholar and a gentleman, and his name is Rainbow.
Q&A with Sara Ogilvie
1.   What brought you into illustrating for children?
I originally studied illustration and printmaking in the early 1990's at Edinburgh College of Art. Since then I'd made and exhibited prints for many years and worked in other areas of illustration such as in advertising and editorial work. A friend who is a picture book author and illustrator gave me some contacts in London for children's publishing as I was keen to try something different. I love illustrated books and wanted to see if I could develop characters to work in sequence rather than in the single images I was more used to making. I visited Simon and Schuster with a portfolio in summer 2007 and about four months later they got back in touch with a text by Anna Kemp that eventually became Dog's Don't do Ballet. I had the book bug from then on.

2.   Why did you want to illustrate The Zebra's Great Escape?
Initially it was the appeal of drawing the young Zebra character, Gabriel. But I liked the way Kate Rundell had developed a bond in the story between the little girl protagonist Mink,and Zebra Gabriel, making a strong and surprising friendship. Overall the story plays with clever twists on The 101 Dalmatians. I had illustrated Dodie Smith's book a few years earlier for the Folio Society and the idea of now focusing on stripes rather than spots had exciting possibilities.

3.   How did you decide what your characters would look like? Do you have a favourite?
Usually I do lots of rough sketches to find the right character. You get a feel for them when you read the story text over and over.   Mink came fairly quickly as a no nonsense, rough and tumble kid. One sock up, one down and able to manage herself. The baddie, Mr Spit, has a bit of Edwardian gamekeeper about him. I'm also fond of the character Rainbow. He's a grumpy old dog with a good heart.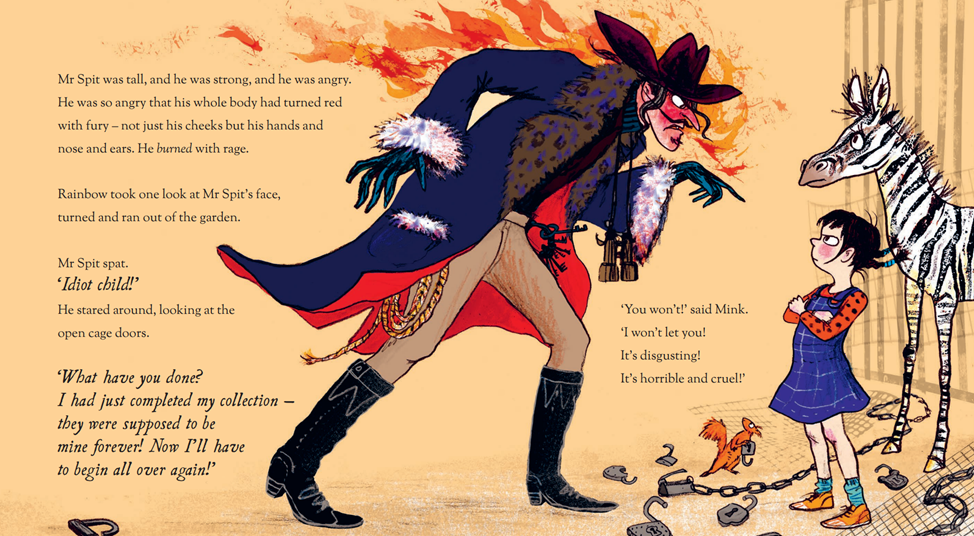 4.   Are zebras quite tricky to illustrate?
Yes, the stripes and legs are pretty tricky to get right, but I do like a challenge!

5.   What was the most challenging spread in the story to create?
There were a few. Mainly the spreads that needed to show the full alphabet of animal pairs collected by Mr Spit. I really loved drawing them all but the varying sizes of them meant getting creative with positioning small creatures in places they'd be seen. Elephant trunk ends and little animals grabbing onto ears offered good solutions.

6.   How do you create your illustrations?
A mixture of ways and media. The drawn line is very important as I'm a pencil scribbler at heart. I like to keep the energy in the initial sketches so I use a light box to translate my roughs to final drawings. The line work gets built upon with media such as ink, gouache, coloured, pencil, printmaking, collage, rubbings, stencils etc. Anything that gives the right kind of mark (I have used scanned banana peels and dried porridge before!)  Drawings get scanned and digitally finished. The approach and media often depend on what the book is about and the atmosphere it needs.

7.   What was it like seeing the finished book, and which spread are you happiest with?
It was great to finally see it. I think most illustrators have nervous excitement when they open the finished book for the first time. You almost always find a few little mistakes or things you would now do differently as you spend so many months working closely on the images. When the final printed book arrives quite a bit of time has passed, you've caught up on sleep and you can look at it with fresh eyes.
I think my favourite spread is seeing all the captive animals in Mr Spit's menagerie. Getting all the different types of animals to flow in order across the double page strips was satisfying when it finally came together.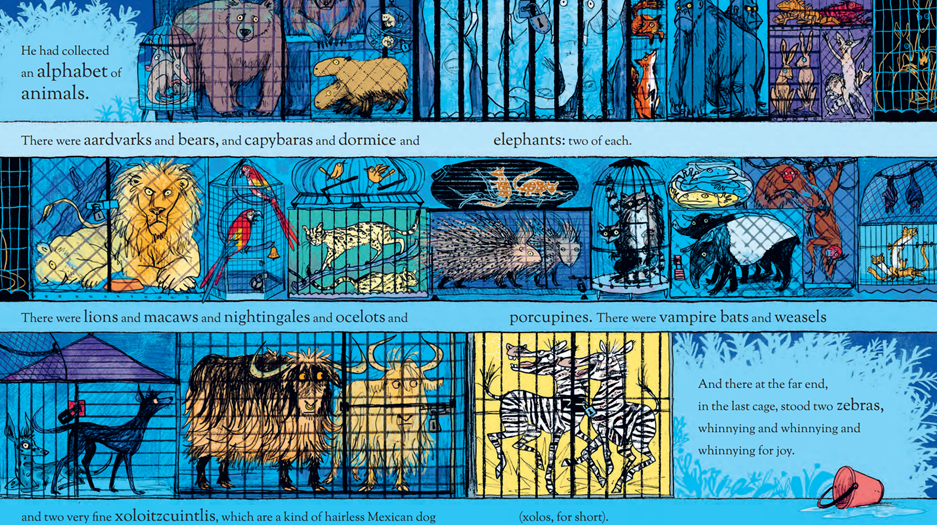 8.   How long does it take you to complete the illustrations for a highly illustrated book like this?
Quite a long time. I prefer to spend quite a lot of time at the rough stage to research and experiment with how the images can work with the text. Shifting where the draft text falls to create more impactful visual page turns or intimate moments in the page layouts. Normally it can be eight to ten months (sometimes shorter or longer).

9.   What do you enjoy doing when you're not busy creating and illustrating books?
I like to get outside pottering about in the back yard planting and growing things. Or walks on the beach, poking about in rock pools.

10.   What would you be if you weren't an illustrator?
I'd look after and research collections in a museum. Somewhere endlessly intriguing like the Pitt Rivers Museum. Or perhaps be a florist as your workplace work would always smell lovely.
Author's Titles