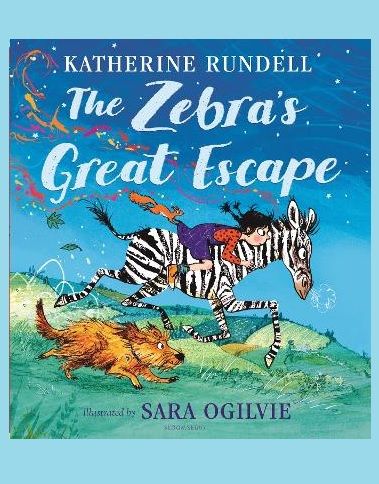 By Author / Illustrator
Katherine Rundell, illus Sara Ogilvie
Genre
Animals
Age range(s)
5+
Publisher
Bloomsbury Publishing PLC
ISBN
9781408885758
Format
Hardback
Published
31-08-2022
Synopsis
Mink doesn't believe in rules. She loves running wild and free. So, when a zebra appears in the square where she lives and she finds out that his parents have been captured by the evil Mr Spit, she knows that it's up to her to help. So begins a grand adventure to rescue a whole menagerie of animals - an adventure that will take all of Mink's courage and determination.
Written with generous helpings of warmth and humour, this is a timeless picture book about bravery, friendship and the importance of taking action. With stunning illustrations by award-winning illustrator Sara Ogilvie, illustrator of The Detective Dog, this modern classic from bestselling children's author Katherine Rundell is an unmissable treat.
Find out more from author Katherine Rundell
Reviews
Amanda
The Zebra's Great Escape is another beautifully written picture book by the wonderful Katherine Rundell. It has been structured in chapter-like parts, which adds to the momentum of the story.
Mink is a young girl who does not believe in rules, including bedtime. She loves running wild and free. So when a young zebra appears in the bushes next to the swing and she discovers that his parents have been taken by the evil Mr Spit, there is only one thing that she can do; help. So begins the amazing rescue mission of one girl and several animals.
Children will easily identify with the main character as Katherine beautifully describes her determination as well as the world around her. The details of adults not noticing things as they are on their phones adds humour, too. The way that communication is described is sure to start more than a few conversations. It is very interesting to think of communication as colours and pictures instead of words and opens a world where listening using your eyes and ears is expected.
This is one of the most wonderful stories I have read recently and will make a fantastic bedtime read, end of the day story or focused text. The detailed illustrations ensure that you notice something different each time that you read it.
There is so much that you could use this text for including: discussions or persuasive writing about keeping animals in cages, the adults' role in the adventure, what would happen to the animals after the party. If this book was to be used as a focused text it could be linked to animal topics, PSHE and responsibility topics.
Katherine Rundell and Sara Ogilvie are clearly a winning combination and I hope that this text will go on to gain the awards that it deserves.
60 pages / Reviewed by Amanda Shipton, teacher
Suggested Reading Age 5+
Other titles