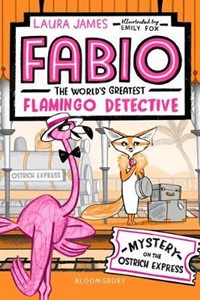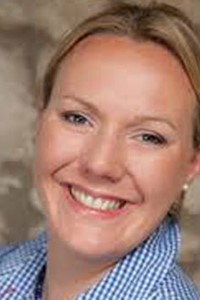 About Author
Laura James's love of storytelling began at an early age and led her to undertake a degree in Film Studies and an MA in Writing for Young People at Bath Spa University.  Laura's debut novel Captain Pug was shortlisted for the Waterstones Children's Book Prize in 2017.  She lives near Bath with her two dachshunds, Brian and Florence.
Interview
Mystery on the Ostrich Express (Fabio the World's Greatest Flamingo Detective) (Bloomsbury Children's Books)
April 2019

Detective Fabio - and his sidekick Gilbert the Giraffe - have mysteries to solve and villains to uncover in this highly readable new series for young readers aged 6+ from LAURA JAMES, creator of The Adventures of Pug series, and illustrator Emily Fox.
In the latest book, a precious gem goes missing on the Ostrich Express - but will Fabio and Gilbert be able to solve the mystery in time?
We asked author LAURA JAMES to tell us more about her writing and her new detective series:

1.  How did you become an author? Do you do other kinds of work, too?
I did a Masters in Writing for Young People at Bath Spa University. I'm not sure I would ever have been published without it.
For anyone out there who really wants to be a published children's author, I couldn't recommend the course more highly. To help pay the bills I also do Virtual Assistant work and sometimes work behind a bar.

2.  Your Captain Pug and Fabio the World's Greatest Detective series are aimed at younger readers. What excites you about writing for children as they become 'readers'?
This is such an important age to write for. If you don't get a child hooked on reading early enough there's a chance you might lose them. Whatever a child goes on to do with their lives as an adult they're going to need to be able to read!
Sometimes I receive letters either from children or their parents saying how my books have turned them into book worms and that really is exciting. It really does make it all worthwhile.

3.  Why are both your main characters in these stories animals? Can you tell us what inspired your Pug character - and why you decided to make Fabio a flamingo?
I simply love animals, I'm sorry, can't help it! I have two wire-haired dachshunds, Brian and Florence and their lovely personalities definitely inspire me when I'm writing about Pug.
As for Fabio being a flamingo, a friend was telling me how much her daughter loves flamingos. 'You should write about a flamingo!' she said. Now, this happens quite often. People are quite keen on telling you what you should be writing about, but for some reason this one stuck. I think I thought flamingos look intelligent so the next step of making him a detective seemed logical.
4.  Fabio is a great detective and there's something a little Poirot about him - who are your great literary detectives and did any of them help inspire you to write these books?
Yes, there is something a bit Poirot-esq about him. I read a lot of Agatha Christie novels when I was aged about ten or eleven. I find Poirot very reassuring! I hope Fabio is too.

5.  The Fabio books could be children's first introduction to detective stories. Why did you want to write mysteries for this age range?
Detective stories seem to be a really good fit for this age group. They love working things out and essentially becoming the detective themselves as they read along.
I don't think the pacing of clues is that different for this age group but of course you do have to have child-friendly crimes!

6.  There are some brilliant supporting characters in each of the books but Fabio's sidekick Gilbert the Giraffe stands out. Why did you make his sidekick a giraffe?
Thank you! I love Gilbert and I love his relationship with Fabio.
I'm not sure why I made him a giraffe but I'm quite tall so that may have something to do with it. There was a time at school that I was a foot taller than the shortest girl in my year. I know what it's like to feel a bit awkward and I thought dear Gilbert was a good foil for cool Fabio.

7.  How long does it take you to write your young reader books?
Kids are always asking me this. Captain Pug, being my first book, took me ages. The original manuscript got me accepted onto the MA course but it went through many different permutations.
The first book in a series takes the longest because I'm still working out the world but once I have that maybe six to nine months in total. Although I have to stress that's not me sitting at my desk doing nothing else but write during that time.
Some of my best writing happens when I walk away from it and allow my brain to solve the problems in its own time!

8.  These books are bright and bold. Emily Fox illustrates the Fabio books, and Eglantine Ceulemans the Pug stories. What do you think the illustrations bring to the stories?
The illustrations bring so, so much. I am super lucky to have two such talented artists working on my series.
For a reluctant or new reader the illustrations draw you in and help to keep you in the world of the story when you're often navigating new words or phrases.
They also greatly enhance the humour and it's so important to make books funny for this age range. Reading needs to be fun if you're going to make it a habit.

9.  Do you do school events for these books, can you tell us what they involve if so?
Yes, absolutely! I was quite nervous about public speaking before I started but now I find going into schools is my favourite part of the job.
Generally, I tell the children a little about what has inspired me to write the books and I read a chapter to them. There's usually a pug or flamingo quiz and we have a go at creating some characters or a mystery together. The sessions are very interactive and hopefully lots of fun.

10.  What have you got planned next for Fabio and Pug?
Fabio has his third case, Peril at Lizard Lake, coming out in February 2020. I feel like there's a bit more action to this one. I really enjoyed writing it. Gilbert buys himself a bi-plane. What could possibly go wrong?!
As for Pug, we haven't decided what his next adventure should be yet but I'm thinking Super Pug! Mainly because I want Eglantine to draw him in a pair of pants with a cape and possibly a mask. I think he'll look splendid!

11.  Where is your favourite place to write, and what are you writing now?
Anywhere in my little cottage. I have a desk by a window (which I do a lot of gazing out of), or I sit on the sofa with the dogs. I have some pretty uncomfortable furniture so quite often I resort to writing from my bed.
When I get stuck and feel uninspired I take myself off to a nearby cafe and bribe myself with cake. I am currently writing a story called The Secret Submariner but it's very secret so that's all I can tell you about it!

12.  What are your favourite escapes from your desk?
Dog walks are a necessary part of my day but they're also a great excuse to get away from my desk. There are heaps of lovely walks near me in the Wiltshire countryside and as my mother always says, you never know who you might meet!
Author's Titles