Fabio The World's Greatest Flamingo Detective: The Case of the Missing Hippo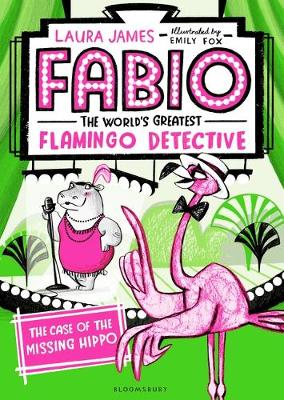 By Author / Illustrator
Laura James, Emily Fox
Genre
Mystery & Detective
Age range(s)
7+
Publisher
Bloomsbury Publishing PLC
ISBN
9781408889312
Format
Paperback / softback
Published
08-03-2018
Synopsis
'Zany ... Even reluctant readers will have a blast' IRISH TIMES In a small town on the banks of Lake Laloozee lives the world's greatest flamingo detective. His name is Fabio. He's not tall or strong, but slight and pink. And he's very, very clever.When Fabio and his giraffe associate Gilbert (terrible at disguises) drop in to the Hotel Royale for a lemonade (pink, naturally), Fabio is persuaded to judge the hotel's talent contest. But when the most promising contestant - Julia the jazz-singing hippopotamus - goes missing, Fabio must put his thinking cap back on and solve the mystery!This new mystery series from Laura James, author of Captain Pug, will have animal lovers and would-be detectives in stitches. Perfect for fans of Claude, Foxy Tales and The Pink Panther!
Reviews
Emily
Have you met Fabio, the world's greatest flamingo, yet? He lives in a small town on the banks of Lake Laloozee in Africa. 'He's not tall, or strong, but slight and pink. And he's very, very clever.' No detective agency would be complete without an associate and sidekick and Fabio's friend and aid is Gilbert, a giraffe who is terrible at the art of disguise, but good at asking all the right questions.
In The Case of the Missing Hippo, Whilst visiting the Hotel Royale, Fabio and Gilbert, are drawn into a big mystery as Julia the jazz singing hippopotamus goes missing during the talent show. Fabio suspects foul play, and in true classic detective style, attempts to unravel the criminal plot. This story is full of fabulous colourful characters, all of whom could be suspects in this thrilling plot; could Smith the vulture and manager of the Hotel Royal be responsible for Julia's disappearance? Or maybe Daphne the rhino who is better know as the General. She may just be back from safari but could she also be a criminal mastermind? No one wold ever suspect Penelope, the temperamental chef working at the Hotel Royal - would they? But could she also be behind the mysterious disappearance? Each character has motive and all are suspects, it is left to Fabio and Gilbert to expertly uncover the clues and stylishly solve the mystery.
A detective story that balances pace and good humour, readers will enjoy the short chapters and will wish to read more of the mysteries in Fabio's case load after the plot is revealed. Bright and appealing to readers, this book with its pink and green florescent pages really jumps out on the bookshelf. The witty plot is perfectly complimented by Emily Fox's characterful illustrations which really bring the story to life.
A must read mystery, perfect for newly independent readers, with a story and vibrancy that will catch the eye of even the most reluctant readers.
144 pages / Ages 6+ / Reviewed by Emily Beale, librarian
Suggested Reading Age 7+
Other titles