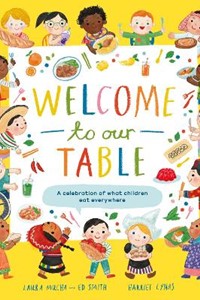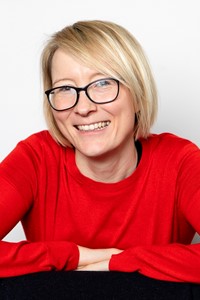 About Author
Laura and Ed are fascinated by the things we humans grow, cook and eat. They also share and enjoy many meals around the same table (they're married), so decided to join forces to create this book. Laura Mucha has travelled to every continent of the world and writes books of poems, facts and stories for children. Ed Smith writes cookbooks for adults and regularly contributes recipes to magazines including Waitrose Food and The Sunday Times Magazine. 
Harriet Lynas is an award-winning children's book illustrator. She decided to become an illustrator at the age of ten, studied Visual Communication Design at university, then worked as a graphic designer in the fashion industry before becoming a children's book illustrator. She lives in Cambridge with her husband and their son. 
Interview
Welcome to Our Table: A Celebration of What Children Eat  (Nosy Crow)
June 2023
Travel the world via the food we eat in Welcome to Our Table, a wonderful celebration of food, how it is grown, prepared and cooked, with some amazing food facts, too; bananas are the world's most eaten fruit, for example, and 2 billion people around the world eat insects as part of their everyday diet. ReadingZone spoke with authors Laura Mucha and Ed Smith, and illustrator Harriet Lynas, about their new book, Welcome to Our Table: A Celebration of What Children Eat.
"We hope the book will start conversations that celebrate how food is grown, cooked and eaten around the world."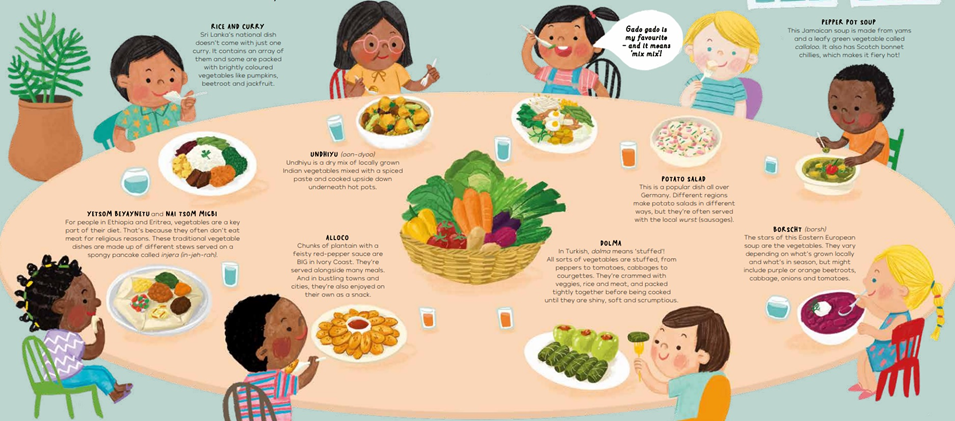 Q&A with Laura Mucha & Ed Smith
1.    Can you tell us about yourselves and how you found yourselves writing Welcome to our Table together? Do you love trying out different foods?
Laura:  Ed writes (award winning) cookbooks and spends most (all?) of his time thinking about food. And I (Laura) write for children.  We're married, so I am subjected to Ed's food thoughts and chats much (all?) of the time, and noticed there weren't many books about food for children. So, I suggested we co-write one.
As for whether we love trying out different foods - Ed is endlessly educating himself about food, and that usually means cooking and/or eating it. He creates recipes for books, magazines and newspapers, so he cooks a HUGE variety of cuisines - and I enjoy eating them! We also go to lots of restaurant openings and food is a huge part of any trip or holiday. So the short answer is, we try a LOT of different foods.

2.    Can you tell us what the book is about and what makes it different from other books about food? 
There's definitely room for more non-fiction books about food for children, particularly at this age range.  We think this is different from what is out there because it combines the brains of someone who has an encyclopaedic knowledge of food and someone that writes for and works with children.
We spent a lot of time thinking about what children need to know about food, how to structure it, and how to communicate visually and verbally. We thought a lot about visual variety - sometimes readers look underground or under the sea, sometimes they peek into a spice market or a pickle shop, sometimes they check out different ice creams (yummmm).

3.    Why did you want to give children a global perspective on foods we eat?
It's important to get a global perspective on most subjects - it encourages curiosity, empathy and acceptance. And obviously food is something we ALL share, so it's a great way in. But it's not just a source of sustenance, it can provide a window into different geographies, customs and traditions around the world.
"What we eat also has a huge impact on us and others and the planet"
What we eat also has a huge impact on us and others and the planet, so we wanted to reflect on that in a very gentle, limited, age appropriate way. So, subtly, the book explores how different foods are created (e.g. the amount of effort that goes into a single grain of rice), how what we eat impacts us (e.g. the negative impact of corn syrup and sugar), how it impacts the environment (e.g. the impact of overfishing and eating lots of chicken), and what the future of food looks like (e.g. insects anyone?).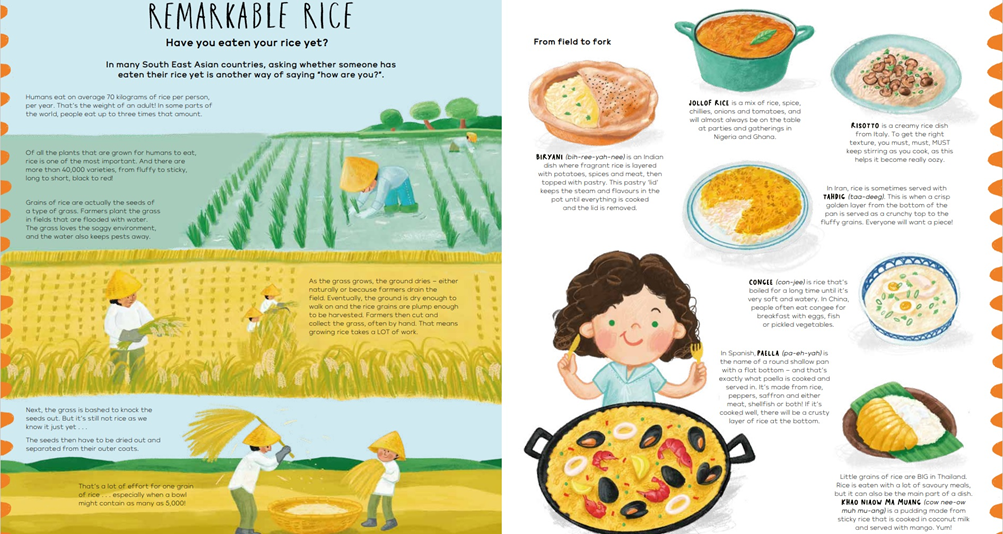 4.    How did you find out about all these lovely foods - and how many have you tried yourselves?
Laura:  Ed is endlessly researching food (and eating it!) as part of his job is to know as much about food as he can. So he's definitely the food expert.
I think between us we've tried many of the foods in the book. And any we haven't we're making it a mission to find and eat them! For example, dondurma, the ice cream from Turkey that doesn't melt. I am DESPERATE to try it!

5.    What are your top foodie facts?
The largest potato ever grown was 4kg, about the size of a newborn baby. Humans eat the weight of an adult human in rice per year. And the 'bubbles' in bubble tea are made from a VEGETABLE. (Cassava is turned into tapioca flour, which is turned into tapioca balls. Our son, who is also a bubble tea fan, was totalllly blown away by this!).  Oh and there's an ice cream that doesn't melt!

6.    What are your all time favourite foods? 
Laura:  I think it's fair to say that Ed loves most foods… But we both particularly love Japanese food.  I used to work in Hong Kong and LOVE dumplings as a result. I also lived in Edinburgh, so haggis brings back fond memories. And my grandparents were Polish, so I grew up eating things like pierogi and gołąbki. They always feel like home.

7.    Why did you decide to include information about the kinds of food we might eat in the future? (Editor:  Ever tried insects?)
We were both lawyers before we became writers, and critical thinking was a HUGE part of our job. So from the outset we wanted to help readers think critically about food, rather than just setting out a list of facts. And that includes thinking about the fact that there isn't enough food for everyone to eat.
"I imagine we will be seeing insects on our shelves in the not too distant future..."
We are both really into seaweed, partly thanks to our love of Japanese food. But I haven't tried eating insects yet. At the moment they're not farmed widely enough to be mass marketed. But they're very high in protein, so I imagine we will be seeing insects on our shelves in the not too distant future. Ed says crunchy fried crickets are tasty!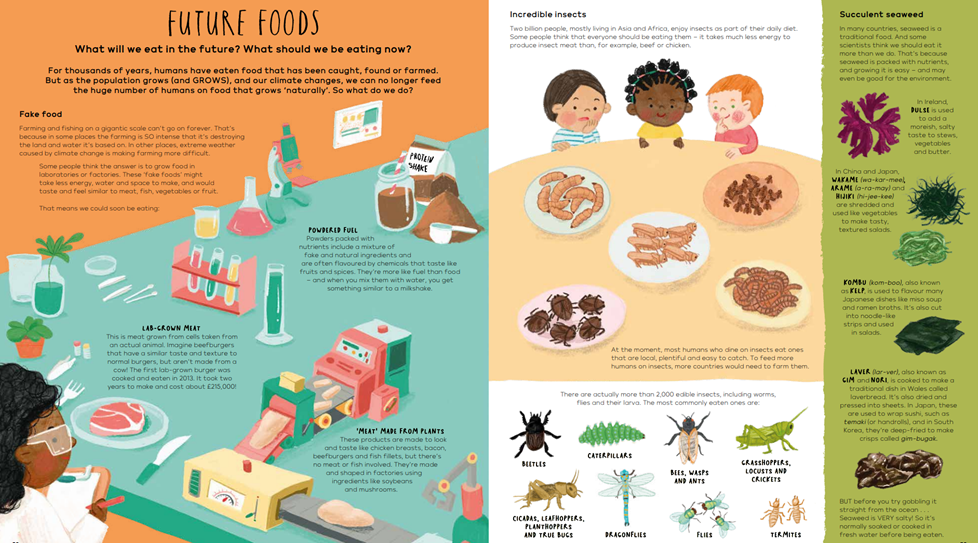 8.    Have you enjoyed writing this book together? Do you have any other books planned?
Laura:   Planning the overall contents and structure was great, as was the end, once we had roughs and full colour spreads back.  But the middle was hard! It was difficult writing with someone who writes for adults as Ed would sometimes (often) suggest things that I didn't think a child would find interesting, or use language that assumed lots of knowledge or got in the way of understanding. So the upshot was Ed felt like his ideas were being blocked and I felt like I was being a total nag.
Ed:   I found writing for children extremely difficult and won't be doing it again!  To do it well, you need to assume no knowledge, be able to distil and compress everything, accept that you have to lose nuance and detail, and also realise that what you think is interesting, is often pretty boring to kids. It's really HARD.
Fortunately Laura is a pro at this, and brought focus and skill to making my adult food-writing tendencies child appropriate (she writes poetry and fiction for kids, and has a number of other illustrated non-fiction books out this year and in the pipeline). So that was good... but also bad, as it probably made our working (and home!) relationship a little fraught. Her feedback to me was quite blunt. HOWEVER, when that copy returned as rough black and white and subsequently colour designs, it was a real pleasure.

9.    What do you think of the illustrations by Harriet Lynas, and how the pages have been designed? Any favourite spreads?
Ed:   We both think Harriet did a glorious job. She's really skilled both at drawing children with personalities and character, but also drawing food in a charming but accurate way. And that's a really difficult combination! So we were really thrilled with her work. She's also a lovely, lovely person and we were really excited to meet her and her family at the book launch.
Laura spent years studying children's illustration at Central Saint Martins and was really into visual variety from the get go. So she spent a lot of time sketching how we could present information in different ways rather than just looking at dishes all the time. And I think that has paid off. The book shows how different noodles are made, what corn looks like as it grows bigger and BIGGER, how rice is made, and how the Maori of New Zealand bury lamb underground with hot rocks to cook it.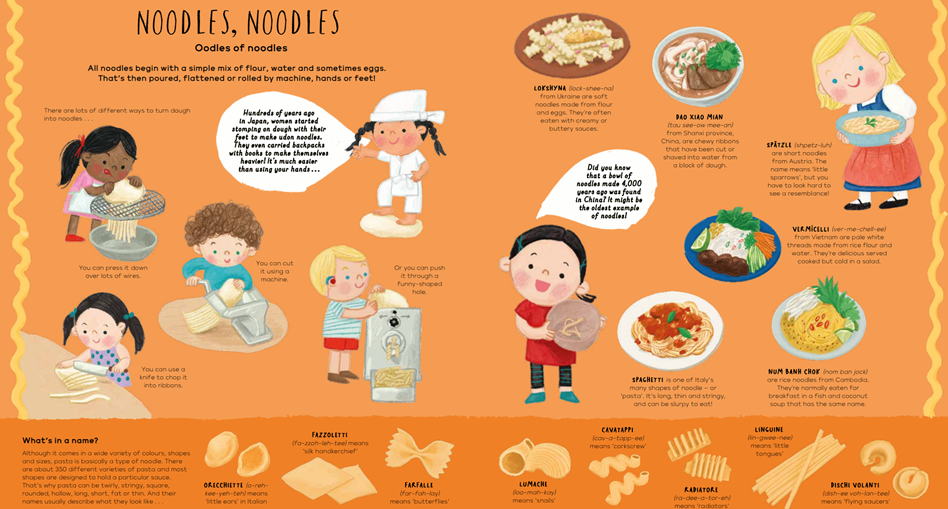 10.    What would you like children and families to take from Welcome to our Table? How could teachers take the book further in the classroom?
We hope the book will provide an opportunity for young people and any adults reading with them to have their own discussions - about their own experiences and knowledge of food, culture, traditions, history… or simply what they're going to have for dinner.  Above all, we hope the book will start conversations that celebrate how food is grown, cooked and eaten around the world.
In the classroom, teachers could use the fab teaching resources that Nosy Crow has created.
They could also ask children to close their eyes and think of a meal that reminds them of home, then do some imagination exercises - e.g. imagine eating it, think about the smell, the texture, the flavour. They could then ask students to write this down or share with each other in pairs or with the class.
Another idea is for students to write their own recipe based on something they eat at home or with other family members, and illustrate it - and this could be used to make a class cookbook and/or classroom display. The recipe doesn't have to be particularly detailed - for younger readers, it could just be a list of ingredients.  These recipes could then be paired with something from the book that students haven't tried but would like to.

Q&A with Illustrator Harriet Lynas
1.   Can you tell us how you started illustrating books? Why did you want to illustrate Welcome to our Table?
I have loved drawing and reading ever since I was very young. I decided to be an illustrator when I was about ten! I've studied visual communication design at university, which provided me fantastic opportunities to explore various creative mediums.
Since graduating, I've been working as graphic designer, but illustration has always been my side hustle. It wasn't until I was awarded the 2nd prize in Macmillan Prize in 2016 that I started getting commissions from publishers.
Welcome to our table is the second series following my first book, Welcome to Our World. Those books are like my babies! When I received the email from Nosy Crow about 'Welcome to Our Table', I immediately thought it was a wonderful idea. Eating and sharing meals are crucial parts of our lives, I thought it would be fascinating for children to see what and how people eat across the world. Personally, as much as I enjoy trying lots of different cuisines, I also love drawing food!

2.   There is a lot of information on the pages; how did you decide to approach the illustrations?
When I work on non-fiction books, I am conscious that the information should be accurately illustrated, at the same time as being fun and digestible for children. It can sometimes be very challenging to have the right balance. As the project continued, I gradually gained confidence in achieving this balance, maintaining my style whilst ensuring accuracy and easy understanding for the readers.

3.   Did you need to research some of these foods to be able to illustrate them?
Yes! The designer has been fantastic, always providing me plenty of images to look at. To make sure I understand each item correctly I sometimes do additional research on top of that. If possible, I even try the food myself. Luckily, I live in a very diverse area in Cambridge, so it's easy for me to get access to a wide range of foods, this has been very helpful in working on this project.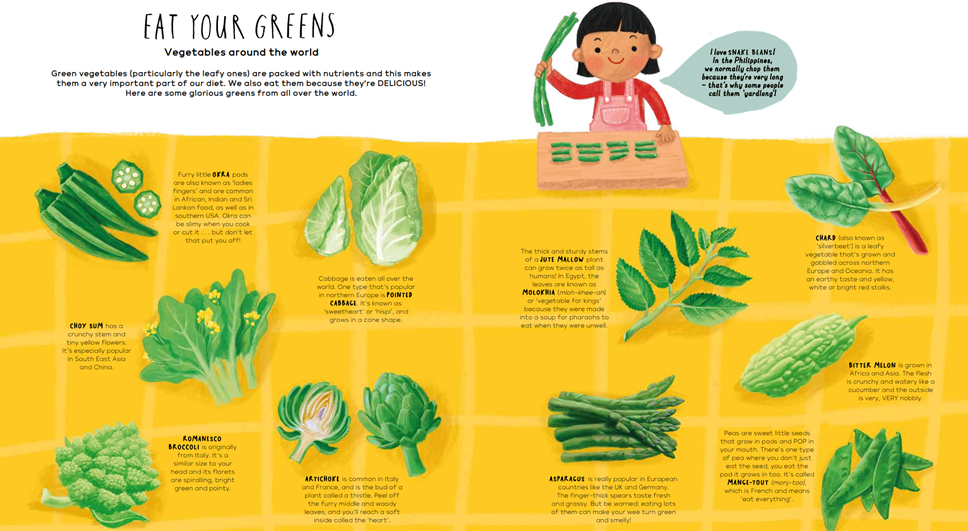 4.   Which of these foods / pages were harder to illustrate, and why?
Every page has its own unique challenges, but when I was working on the 'Eat your greens' spread, I spent ages drawing the Romanesco broccoli to accurately show its fractal structure. It took SO long to draw individual bunches, but in the end, it was well worth the effort.

5.   How did you create the illustrations for this book - was it very different from other projects you have done?
Yes, with Welcome to Our Table, I switched to work digitally throughout the entire process. In the past, I would do the sketches and make texture by hand, then scan them and build the final image digitally. Working digitally allows me to have a great flexibility.

6.   Which spreads are you happiest with?
Ah I cannot choose! I really enjoyed on working on the 'Under the Sea' spread, there were a lot of sea animals that are fun to draw and all the elements came together quite nicely. I remember staying up until midnight to finish it just before my summer holiday in Isle of Wight. I promised to myself that once I finish this spread, I would treat myself to lots of seafood. And I did!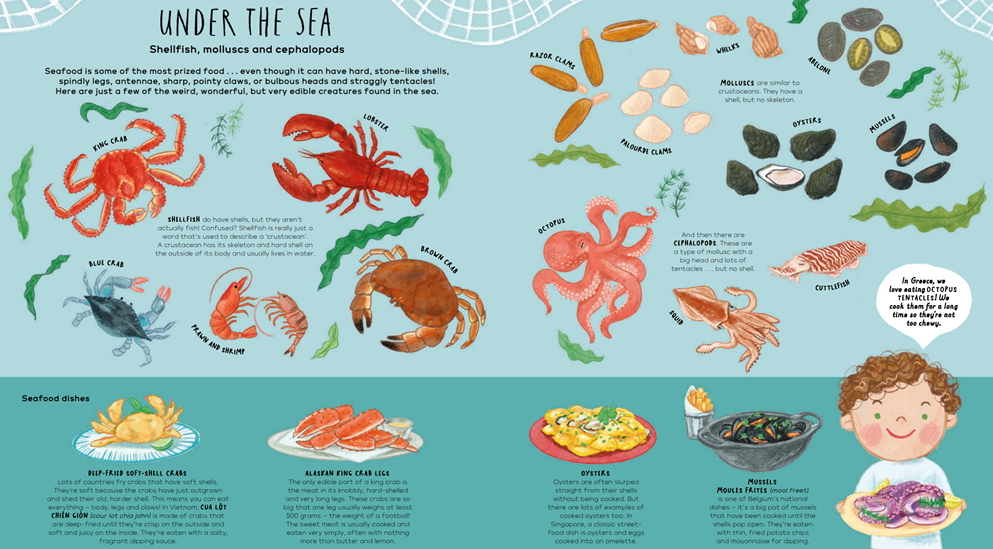 7.   How did you give the book such an international flavour?
The book explores foods and culinary cultures around the world, but in the end, it really shows that we are all the same. No matter who we are, we all need to eat. Sharing meals with family and friends is an essential a part of our lives. On every page, there's something that resonates with people's heart, I think that connects people through the universal experience. Perhaps that's what makes Welcome to Our Table so special.

8.   Did you come away with any favourite food facts?
I've never thought peas are fruits! How interesting! Though it didn't change my son's view on them. He hates them!

9.   Have you been tempted to try to make any of these new dishes yourself?
Yes, I have made quite a lot of dishes featured in this book while I was working on it! The deep fried plantain (Alloco) was delicious. At the moment, I am keen to make 'Dolma' from the 'Vegetable Dishes' spread, but wondering where I could source the grape leaves!!

10. How would you like to see the book shared with children?
I would love to see children enjoying reading Welcome to Our Table, wherever they may be! The book covers so many topics that could initiate good conversations, not only for children even for adults. It could be particularly valuable in the classroom, promoting discussions about different cultures or simply about food itself!
Author's Titles