Welcome to Our World: A Celebration of Children Everywhere!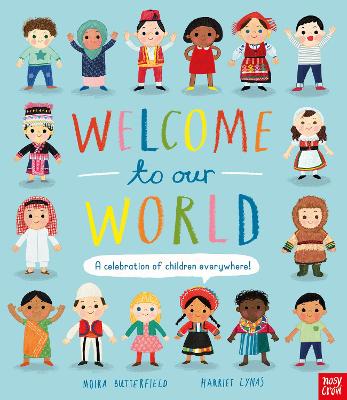 By Author / Illustrator
Moira Butterfield, Harriet Lynas
Genre
Representation & Inclusion
Age range(s)
5+
Publisher
Nosy Crow Ltd
ISBN
9781788007122
Format
Paperback / softback
Published
14-01-2021
Synopsis
Find out how children live all around the world in this beautifully illustrated paperback bookChildren all over the world are very different, but they also have much in common. In this beautifully illustrated book, young children can learn all about what people in other countries eat, wear and play, and how they speak and celebrate. From breakfasts to birthdays, cakes to clothes, and hiccups to hellos, there are so many ways to say and do things - but everyone shares a love of family, friends, food and fun. This delightful book teaches us that despite different languages, customs and traditions, it really is a small world, after all. A unique, warm-hearted book to help teach children understanding, harmony and respect.
Reviews
Lucy
What a beautiful book! I will definitely be using this at school and I know the children are going to love it too.  It is filled with information about different cultures and countries around the world from ways to greet people, which foods are traditional to eat, which pets are kept in different cultures, different ways of playing games and how children around the world enjoy delicious types of cake!  Each page focuses on a different topic and is filled with colourful, playful illustrations. The information is set out in a really appealing, inviting way for even very young children to access and enjoy. A brilliant book which I think would be greatly valued in every classroom or on every home bookshelf!
Picture Book / Reviewed by Lucy Newton, teacher
Suggested Reading Age 5+
Other titles