Welcome to Our Table: A Celebration of What Children Eat Everywhere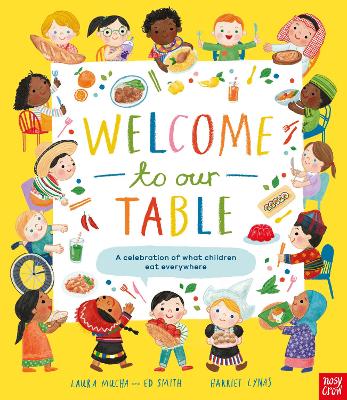 By Author / Illustrator
Laura Mucha, Ed Smith, Harriet Lynas
Genre
Non Fiction
Age range(s)
5+
Publisher
Nosy Crow Ltd
ISBN
9781839945045
Format
Hardback
Published
01-06-2023
Synopsis
Find out what children eat all around the world in this beautifully illustrated book, written by bestselling poet and author Laura Mucha, alongside acclaimed cookbook author Ed Smith.
From pasta to passionfruit, baguettes to biryani, ramen to rambutan, there are so many different dishes and delicacies all around the world. In this fascinating book, young children can learn all about what people in other countries eat for breakfast, lunch and dinner, as well as where our food comes from, and the stories, cultures and traditions behind what we eat.
A unique, warm-hearted book that will teach children understanding, empathy and respect of differing experiences, cultures and tradition.  With engaging, colourful artwork on every page by award-winning illustrator Harriet Lynas. 
Q&A with authors Laura Mucha & Ed Smith, and illustrator Harriet Lynas   PLUS   Teaching Resources 
Reviews
Jemma
Before we even received this book, my daughter (6 years old) and I knew we would love it! It is a follow-on from Welcome to Our World which is a firm favourite in our house. Welcome to our Table is a book of joy which celebrates the diversity of food across the globe. It is skilfully written to include children's perspectives, with bright and engaging pictures and speech bubbles.
We learn about 'remarkable rice', 'brilliant bread' and 'the magic of milk'among a wide variety of other foods. Reading about the cultures and traditions of these food items both inspired us and made us hungry! Top of my daughter's list of food to try is sticky mango rice - perhaps a trip to Thailand is needed! But the local Thai restaurant will have to do for now.
The helpful pronunciation guides help the reader know they are saying the dish names correctly and the map and the end allowed us to point the country each dish comes from. This added an extra element of learning.
As a primary teacher in a very diverse school, this book is perfect for my classroom. Many of my pupils will see their culture represented and I know it will spark many discussions. I feel every school should have a copy of Welcome to our Table. We would highly recommend this book to anyone and everyone, of all ages. Food is such a great way of bringing people together!
64 pages / Reviewed by Jemma Jeffrey, teacher
Suggested Reading Age 5+
Lucy
What a lovely book! Welcome to our Table is filled to the brim with information and ideas about food from all over the world. There's a handy contents page at the beginning of the book which has some lovely illustrations of different foods that are included in the book. There's also some lovely pages at the end, including a couple of pages where children can learn certain phrases/words in different languages like 'delicious' and 'goodbye', as well as a beautiful world map with flags of some of the featured countries.
The main contents of the book includes beautiful pictures and illustrations so children can really understand the examples in the text. It includes loads of information about foods from around the world including food that comes from the sea, different spicy foods, foods that are pickled or fermented and some of the world's very smelly foods!  There are also pages that focus on specific foods showing just how versatile they are including tomatoes, bread, fish and nuts.
I think this would be a lovely book to have on a classroom bookshelf or at home for children to enjoy; they can learn more about different countries and cultures and would definitely be inspired to try some new foods and recipes.
64 pages / Reviewed by Lucy Hopkins, teacher
Suggested Reading Age 5+
Other titles