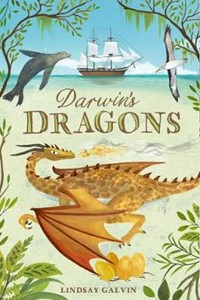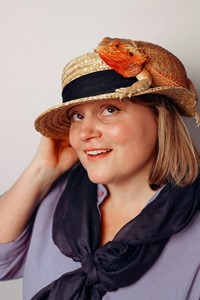 Biography
Lindsay was lucky enough to be raised in a house of stories, music, and love of the sea. She left part of her heart underwater after living and working in Thailand where she spent hundreds of blissful hours scuba diving.

Forced now to surface for breath, she lives in sight of the chillier Sussex sea with her husband and two sons. When she is not writing, she can be found reading, running or practicing yoga.

She has a degree in English Language and Literature, is fascinated by psychology and the natural world, and teaches Science. Lindsay hadn't written creatively since childhood until the idea for her debut novel The Secret Deep splashed into her mind, and she now she's hooked.
Interview
Darwin's Dragons (Chicken House)
January 2021
LINDSAY GALVIN's latest novel takes us back in time on a spectacular journey to the Galapagos Islands with Charles Darwin and his assistant, Syms Covington, who makes an unexpected and life-changing discovery.
1. What is Darwin's Dragons (Chicken House Books) about?
Charles Darwin's cabin boy and servant, Syms Covington is shipwrecked on a remote Galapagos island where he makes a dragon-sized discovery...
2. This is your first historical fiction novel - what did you enjoy about writing a story set in the past, and what were the challenges?
I didn't actually set out to write a historical story. I had planned a contemporary plot about real dragons, but I included a background thread, and found a historical voice I didn't realise I had!
The accuracy and research can be challenging, but luckily I really love that side of things. Syms' voice came quite naturally and I really enjoyed writing a story seen through his eyes.
3. What drew you to writing about Charles Darwin and showing him as a character in this story? How did you find out what he was really like?
Darwin was a humble genius who questioned everything. He took no joy in the limelight but was endlessly curious, and his discoveries shook the world, but the implications of evolution were so huge at the time, he didn't dare publish for over 20 years.
He's always fascinated me. I probably discovered the most about him on my research visit to Downe House - where Darwin lived for most of his adult life - and speaking to the expert and enthusiastic curators. I read everything I could about him, including his own journal to try to get his voice right.
We think of Darwin as an older man with a long beard but this book is set when he is only a young man. His journal writing was formal but his personality shines through in places and I drew out a playful, more relaxed side to his nature.
4. Where did you go to research information about Darwin's visit to the Galapagos Islands - and was there anything you struggled to find out?
Luckily Darwin wrote a pretty detailed account of the voyage, but Syms was much more difficult to research as little is known about him. I didn't mind this, as it left more room for my artistic licence.
5. You've said that your narrator, Syms Covington, is based on a real character. Can you tell us a bit about him?
We don't know an awful lot about him and his journal entries are brief and factual. We do know he was employed as cabin boy to the poop deck and fiddler on The Beagle ships manifest and that he became Darwin's official assistant. We know he joined Darwin back in London, eventually emigrated to Australia, and had hearing difficulties.
What really interested me about him is that there are around three weeks of entries missing from his journal during their time spent in the Galapagos. I was more than happy to fill that space!
6. Were there any other historical figures that you enjoyed bringing to life in Darwin's Dragons?
It was wonderful to write about Queen Victoria. Again, this is a character we usually see as a rather dour widow, but in Darwin's Dragons she is still a teenager, only just appointed Queen and enjoying her new freedom. She was fascinated with unusual 'exotic' animals, so it seemed natural for her to be involved in this discovery.
7. Why did you decide to bring dragons to life in this story?
Everyone loves dragons and they must have been written about more than any other mythical beast, so I needed to find a unique twist. I decided to write about real dragons, and bring them to life without the fantasy element, making them as plausible as possible. Because dragons are real!
8. How did you decide on your dragons' 'life cycle', habits and intelligence etc? What did you love most about them?
I researched dinosaurs and the prehistoric flying pterosaurs plus modern reptiles. I stole their life cycles from animals that undergo metamorphosis, and their fire was inspired by amazing natural defence mechanisms. I love their loyalty, sensitivity and intelligence, combined with their sheer size and magnificence.
9. Your stories feature far flung places - - Where is the most interesting or challenging place you've visited? Or would you describe yourself as an armchair traveller?
I am more of a desk chair traveller nowadays, but I did live in Thailand for two years and travelled Asia while I was there. Some exciting moments were a scuba dive at night in a cave, coming face to face with a tiger shark, being trapped in a mudslide in Cambodia, and chased by a pack of huge macaque monkeys in India!
10. What are you planning to write next?
I have a few projects on the go but nothing I can tell you for certain. All I'll say is this isn't the last time I'll be bringing myth and history together...
11. Where and when do you prefer to write?
I usually write at my desk as I'm lucky to have an office, but I also write while lounging on the sofa with my puppy draped across my feet.
12. And what are you most likely to be found doing when you're not writing?
Reading, or out and about in the countryside with my family walking my puppy, Saffy. I also enjoy wild swimming and paddle boarding when it isn't so cold!
13. Can you tell us a bit about the school events you've planned for Darwin's Dragons - online and physical?
Currently our plans are online and I have a number of school events booked. I offer virtual visits where we explore Syms' adventure, what it was really like on The Beagle, the fantastic animals of the Galapagos, and how to bring myth into the real world to spark young writers in their own stories.

Darwin's Dragons by Lindsay Galvin (£6.99, Chicken House Books) is now available from all good bookshops
Author's Titles