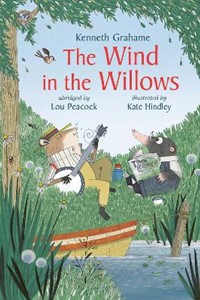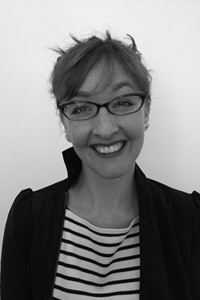 About Author
An editor, poetry anthologist and writer with over 25 years of experience in children's publishing, Lou Peacock is lucky enough to have one of the best jobs in the world: Head of Picture Books at Nosy Crow. Her picture books have been translated into nearly 20 languages. She lives in London, England.
Having previously worked as a children's print designer, Kate Hindley illustrated her first picture book in 2012. Since then, Kate has worked on numerous bestselling books, and won both the Oscar's Book Prize and Sainsbury's Children's Book Award in 2021. She lives in Bristol, England.
Interview
The Wind in the Willows (Nosy Crow Classics)
September 2022
Read a spread from The Wind in the Willows (Abridged)
Revisit the world of Ratty, Mole and Toad in this beautifully stylish edition of The Wind in the Willows by Kenneth Grahame, abridged by Lou Peacock and illustrated by Kate Hindley. This is a perfect edition for introducing young children to the adventures of The Wind in the Willows, although it would also make a gorgeous gift for readers of any age!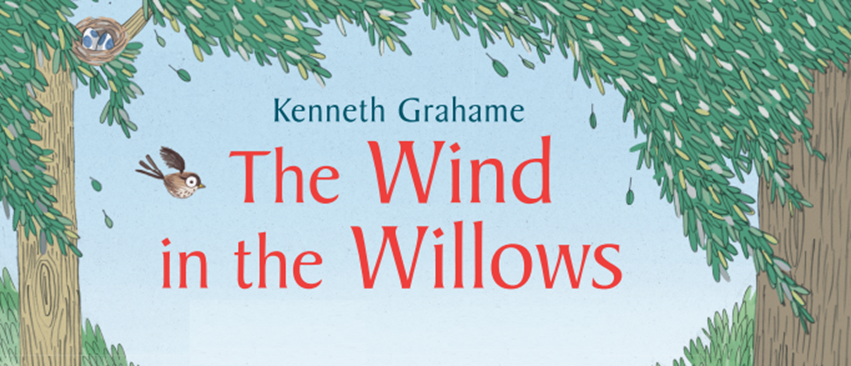 Q&A with Lou Peacock
1.   You're known as a picture book creator, so why did you want to write an abridged version of The Wind in the Willows?
I'm extremely lucky because I wear many hats in my writing and editorial life. I am mainly a publisher and editor but I'm also a picture book author and poetry anthologist. I never thought I would add an abridgement hat to the collection, too - it might just be my most exciting hat yet. And it's The Wind in the Willows! I have to keep pinching myself!

2.   What are your memories of the story as a child?
There are very distinct images in my mind from reading it as a child - Ratty and Mole in the boat, the snow in the Wild Wood, the train chasing through the countryside after Toad - and these dramatic moments are all mixed up with the feelings that the book inspired. I loved the idea of animals living a parallel world to our own and was very interested in the domestic detail of how they lived, the warmth and cosiness of their homes, what they ate, how they dressed.
Now, coming to it as an adult and a writer, I can see that Grahame's magic worked on many levels and, to me, this is his true genius. He created a world that children would want to disappear into, characters whom they would want to befriend and adventures that were impossible to resist. No wonder it is a story that has really stood the test of time!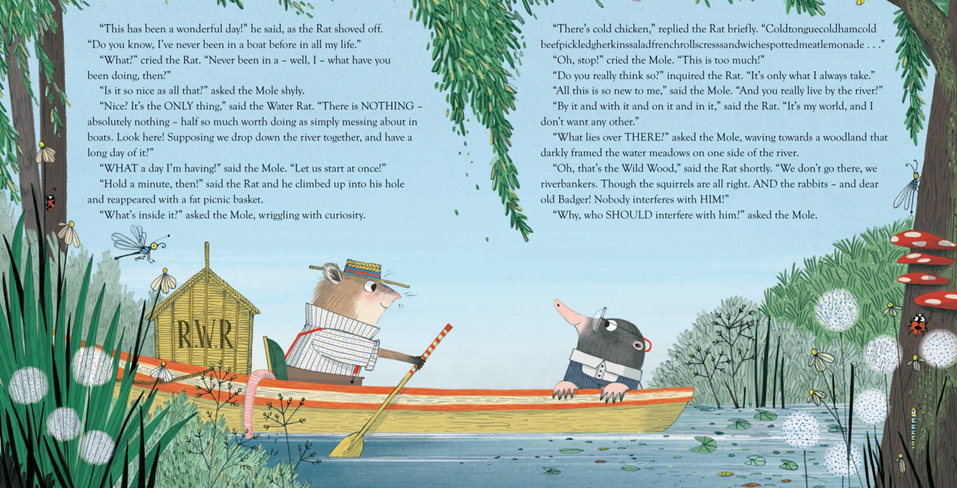 3.  Was it a little daunting to approach such a classic?
This was my first time abridging a book and, yes, it was a little daunting! How could I do it justice? And not tread on Grahame's toes? Can you imagine?! But having been lucky enough to work with other authors on re-tellings of our Nosy Crow Classics series, I knew there would be a way through. I made sure that every decision was thoroughly considered and kept referring to the original for the spirit and feel of the thing.
I was working on this during the pandemic, when I was isolating and shielding at home, and was so immersed in the world of the story that I felt as if I lived on the riverbank. I half-expected Ratty to pop his head in and ask if I wanted a cup of tea!

4.   What was your starting point and your aim for the story?
I must confess that I felt a little overwhelmed at the beginning - there were so many things to consider at once! The original story is about 60,000 words but our edition only has 10,000 words - quite a difference! How could I trim it down to size without losing the beating heart of the original? Some moments would have to go but which ones? I knew I would have to harden my heart a little and edit the parts that are less well-known and might be less appealing to a contemporary reader.
And then I had to think about the typical age of a picture book audience. The original story appeals to readers of all ages but the language is quite sophisticated, and I wanted our fully illustrated version to really appeal to emerging readers. I had to think about the register of the language and what might be an accessible choice of vocabulary whilst also keeping the flavour of the story's origin in 1908.
Finally, I had to think about illustration. In a picture book, images and words combine seamlessly to tell a story but The Wind in the Willows is a very dense, word-heavy novel - how we would bring the story to life visually? As I studied the book more and more closely, I began to identify the key moments in each chapter - the boat scene where Ratty and Mole first meet, Mole's discovery of the Wild Wood, Toad's daring escape from prison - and used these cornerstone moments to structure things visually. Also, I wanted to make sure that Kate had as many opportunities as possible to show her magic . . . in a picture book, the words are only half the story and the pictures themselves would say so much.

5.   How did you tackle the text; did you keep as much of the original story as you could?
My aim was always to keep as much of the original story as I could. Grahame has a very distinct voice and I wanted to make sure that it sang through on every page. There are famous, favourite lines that I knew readers would want to find, such as "messing about in boats", and I made these favourite phrases anchor points for particular scenes. If I did have to make a change, I made sure that any new, additional words were kept to a minimum. My aim was for things to be seamless . . . and hoped that Grahame would approve!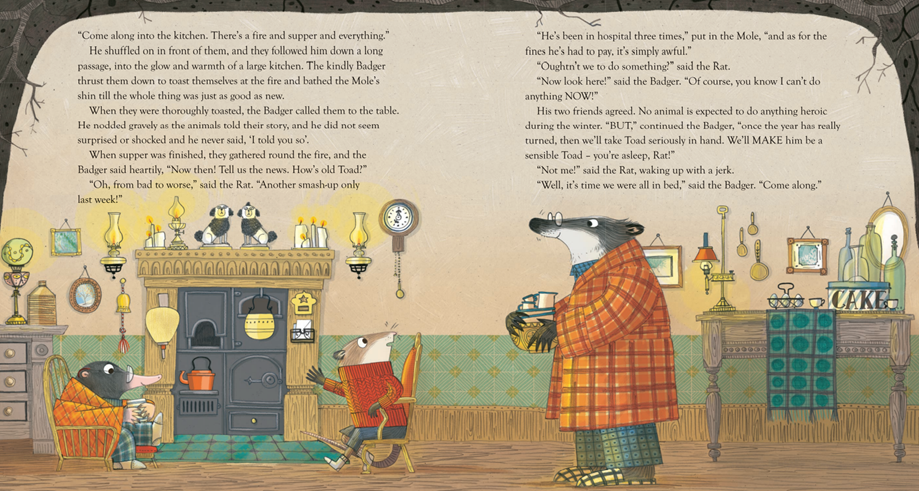 6.   Are there any particular scenes that you enjoyed revisiting?
That's a great question! And I've sat here and thought long and hard - there are so many brilliant scenes to choose from, but I have to say that my favourite scene is when Ratty and Mole find Badger in the Wild Woods. I LOVE the moment when Badger opens the door and greets them with a little pat on the head. He says, "This is not the sort of night for small animals to be out," and there is a huge amount of affection contained in these simple words. Badger might seem a little gruff, but he is full of love for his friends. And I think that is one of the key things about The Wind in the Willows - it's full of adventure but it's also all about relationships and friendship.

7.   What about the characters - any favourites?
I know that I shouldn't have favourites but . . . Mole is my favourite - for sure! I love the Edwardian feel of his outfit and he has always been a firm favourite since I was little. He is a small character who wants to be bold and discover more of the wonderful world around him. For a mole, he is very adventurous and that has always appealed to me.

8.   What do you think of the final version with Kate Hindley's gorgeous illustrations? Do any of the spreads or characters stand out for you?
The first time I saw Kate's sketches I was speechless. I think she is a genius. We have worked on several picture books together and when we discovered that she was an equally smitten Willows fan, we just knew that she was the artist for the job. It's hard to isolate one scene - they are ALL brilliant - but I particularly love the page where Mole falls in the water after his unsuccessful attempt at rowing. The way the objects fall through the water, Mole's expression, the sense of drama overall, the lost cake - it really is picture book magic.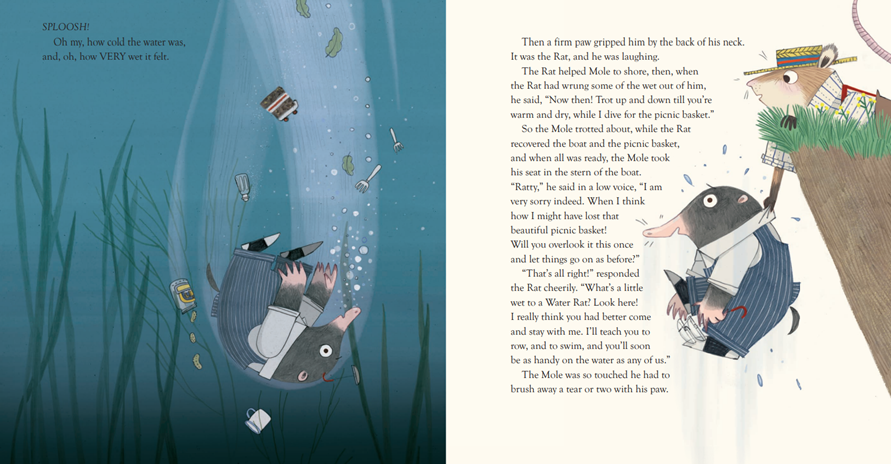 9.   Who do you plan to share the book with?
I have a young goddaughter who is just about the right age, and I am saving it as a Christmas gift. She is seven and I know that she is already a big Willows fan. But I've also given a copy to my mum and my best friend. It truly is a book for all ages, and I know that fans will love adding our new edition to their collection.

10.   What are you writing currently?
Ah, more picture books next! And I am working on a big poetry collection that is due to publish next year. It's a collection of funny poems and it's a lovely, joyous thing to work on and think about. Everyone needs a poem a day to make them laugh.

11.   What do you enjoy doing when you're away from your desk?
You might have guessed this already but, yes, I'm a bit of a bookworm! I have a tottering pile of books next to my bed and a book wish list that is pages long. I also have a smallish-to-medium dog who demands tummy rubs at all hours. My favourite thing is to go for dog walks with my family and finish up with tea and cake somewhere. It's the kind of thing Ratty and Mole would approve of, I think.

Q&A with Kate Hindley

1.   Why did you want to be involved in this project - is it a book you remember from your childhood?
I absolutely LOVED reading Wind in the Willows with my mum when I was a kid, and it sparked an enthusiasm for drawing woodland creatures in natty garbs from a young age! I was also a very big fan of the Cosgrove Hall animation (even watching it regularly with my mates well into my 20s!) The project was a fantastic opportunity for me to indulge my love for all things Willows and finally have a crack at putting my own spin on it.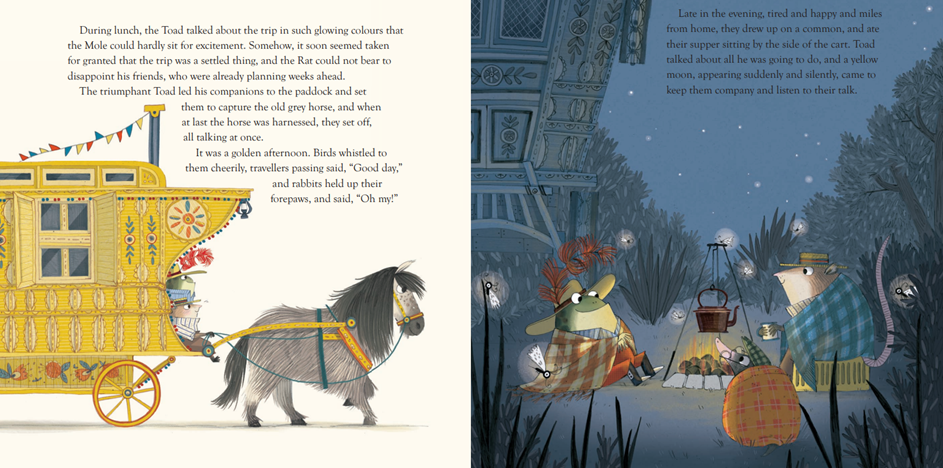 3.   What are your memories of the story - and were they very different from your re-reading of the book for this project?
Lou has done a fantastic job of reimagining the text to make it more accessible for young children. I remember there's a chapter where Ratty and Mole meet the God Pan, which I don't think we're the first retelling of this story to omit. There were also far more guns than I remember, which of course were edited out to make the story more modern-kid friendly!

4.   What was your starting point for illustrating The Wind in the Willows, and your aim for the story?
I loved looking into the era of the original book, and all the fashions, interiors, and patterns we could use in our interpretation. The original was published in 1908, which was the perfect excuse to draw inspiration from all the beautiful décor of the Arts and Crafts movement. I also enjoyed going down the rabbit hole of researching old caravans and barges. It isn't something I've had much opportunity to draw before and such a fantastic excuse to squeeze in more pattern!

5.   Are there any particular scenes that you enjoyed illustrating?
I really enjoyed Toad's escape from the jail- it's such a long madcap chase scene! Particularly the train covered in old-timey police bobbies. I ended up with a surplus of steam train sketches. Perhaps I need to work on a train-themed book next to get it fully out of my system!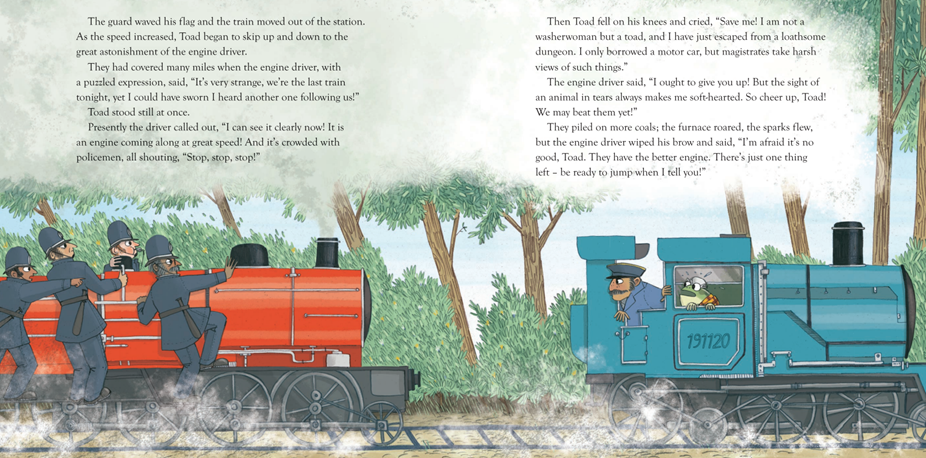 6.   What about the characters - any favourites? How did you decide what your characters would look like?
Designing the characters was an absolute TREAT! Definitely my favourite part of working on any book, but this was next level. There are so many seasons and costume changes! It was a very interesting deep dive into men's fashions of the era, and how that was interpreted by the different classes. It really ended up being a bit of a wish list of coats I would like to own. I have a particular soft spot for Mole's signature railroad denim overalls. I'm still considering whether I could pull off a pair myself.

7.   How did you create the illustrations?
The artwork was created my usual way of pencil and ink drawing, and digital colour. It was my first project coming back off maternity leave, so it felt wise to stick to what I knew! Although it was an adjustment working alongside an eight-month-old. I ended up most nights taking my light box to bed so I could get artworks drawn while the little one snoozed. Luckily Nosy Crow were exceedingly patient and supportive!

8.   What do you think of the final version?
It's great to finally see the book out in the wild. It was such a big project at such a busy time it was hard to believe it was ever going to finish and be a proper real book. I love how Nia designed the cover. The foil and cloth spine really make this book feel special.

9.   Who do you plan to share the book with?
I'm looking forward to when I can read it properly with my little boy Wren. He was my wee studio colleague for this project, after all!

10.   What do you enjoy doing when you're away from your desk?
Life feels super busy at the moment. I think my favourite thing is imagining how luxurious it would feel to enjoy doing absolutely nothing!
Author's Titles