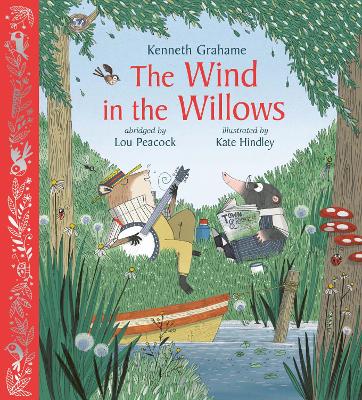 By Author / Illustrator
Lou Peacock, illus Kate Hindley
Genre
Animals
Age range(s)
5+
Publisher
Nosy Crow Ltd
ISBN
9781788008921
Format
Hardback
Published
01-09-2022
Synopsis
Meet Mole, Ratty, Toad and Badger in this timeless adventure that has enchanted generations of children.This beloved childhood classic by Kenneth Grahame is now available in a stunning gift book edition, abridged by Lou Peacock and with dazzling new art by Kate Hindley.
One spring day, Mole peers out from his underground home to find a marvellous world awaits him. As the seasons pass, he picnics on the riverbank with Ratty, accompanies Toad on a chaotic caravan adventure, and even braves the snowy depths of the fearsome Wild Wood in search of Badger. But when Toad's mischievous ways finally land him in trouble, can his friends come to his rescue and recapture Toad Hall from a gang of sneaky stoats and wheedling weasels?
The hilarious and heart-warming adventures of Mole, Ratty, Badger and Toad are brought to life for a new generation in this enchanting abridgement, accompanied by Kate Hindley's vibrant and appealing artwork.  Discover more beautiful gift books in the Nosy Crow Classics range including The Secret Garden, Heidi, The Velveteen Rabbit, and Peter Pan.With sumptuous details including cloth binding, foil cover, full colour illustrations throughout, textured paper jacket, ribbon marker and head and tail bands.
Find out more from author and illustrator Lou Peacock & Kate Hindley
Reviews
Lucy
A truly beautiful edition of a classic story! This abridged version of The Wind in the Willows has all of the magic of the original book whilst somehow bringing the story to life more. It follows Mole and Ratty along their adventures with mischievous Toad, who gets into all sorts of trouble with the other animals. It includes humorous moments as well as joyful, heartwarming moments of friendship and is an incredible insight into a creative and complex animal world.
I think this is a perfect book to enjoy as storytime with an adult, either at school with a teacher or at home with a parent. Slightly more confident early readers could happily enjoy it independently but I think it can be truly appreciated when reading as part of a team, enjoying a couple of chapters over several sessions. It has some difficult language and is quite lengthy but would be a great way to build early reader stamina and an understanding of more complex vocabulary when broken up into manageable sections.
The book itself is utterly beautiful with gorgeous, detailed illustrations by Kate Hindley which compliment the text brilliantly. It really brings the creativity of the story to life and allows younger children to begin to enjoy it too. A lovely book which I'll enjoy sharing with my new class!
96 pages / Reviewed by Lucy Newton, teacher
Suggested Reading Age 5+
Lizi
It's a story you may well be familiar with; Mole moves in with Water rat and they have many escapades on the river and in the Wild Wood before having to stage an intervention for their friend, Toad, who has a rather big obsession with Motor cars that gets him into rather a lot of trouble. This version of the classic children's tale, cleverly abridged by Lou Peacock, ensures that it retains the charm and details of the original whilst making it more accessible to young readers today. If anything, I prefer this version as it is an easy read that still conveys this entertaining little world where animals live alongside humans. The illustrations by Kate Hindley are charming and so well detailed that my toddler and I were captivated by them.
This book would best be enjoyed by children and adults together; some of the language used is old-fashioned which has no detriment to this version of the story and provides great learning opportunities/ points for discussion. In the classroom, this book is a great way of talking about differences of life now and in the 1900s (the original was first published in 1908), even if the characters are animals! It's a lovely introduction to longer chapter books; some of the pages are rather text heavy but I enjoyed reading this with my three-year-old, reading a chapter or two every day.
The physical book itself is beautiful; as I've mentioned above, the illustrations are wonderful and hidden beneath the illustrated dust cover is a beautiful embossed cover - it would make a lovely gift that could be treasured for years.
96 pages / Reviewed by Lizi Backhouse, teacher
Suggested Reading Age 5+
Other titles