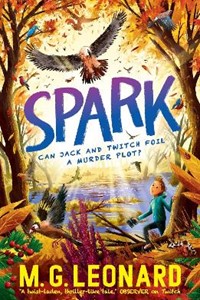 About Author
MG Leonard's bestselling series include Beetle Boy and Adventures on Trains - and her new series, Twitch, takes us into the world of birds and bird watching.
MG Leonard has a first class BA honors in English Literature, and a Masters in Shakespearean Studies from King's College University London. She is an experienced producer, director and actor, and has worked in theatre for over ten years, primarily at Shakespeare's Globe, The Royal Opera House, and as the Senior Digital Producer for The National Theatre. She currently lives in Brighton with her partner and two sons.
You can find MG Leonard at www.mgleonard.com and on Twitter @MGLnrd
Read a chapter from Twitch
Read a chapter from Spark
Interview
Spark   (The Twitchers series, Walker Books)
September 2022
Return to the wild with the Twitchers in Spark, the follow-up book to Twitch, which introduced Twitch and his passion for birdwatching - and solving mysteries!    In Spark, Twitch and his detective friends discover two new mysteries waiting to be solved; why is someone shooting at local cats, and what is the mystery around an endangered bird that has been seen in their area? 
Author MG Leonard tells us more about twitchers, 'spark' birds, and writing mysteries as she introduces her new book, Spark:
Q&A with MG Leonard
1.   Why did you start writing for children, and what do you enjoy about writing series rather than one-off books?
The first book I wrote was Beetle Boy and I thought it was for grown-ups because it came out of my head and I was grown up. But if you write a child protagonist, then you are writing about and for children. I think children are far more interesting than adults. They are deciding what kind of a person they want to be. I believe that the books we read when we are between the ages of eight and fourteen are the ones that have the most lasting impact on our imaginations. They are the most exciting readers to have and if you tell them a great story, they'll remember it forever.
I write series because once I've created characters I like, I keep imagining new adventures they might have, and I don't want to say goodbye to them.

2.   Can you tell us what inspired your bird-watching book, Twitch, and the latest book in the series, Spark?
Many of the readers who loved my beetle books were birdwatchers and asked me to write about birds. That's where the idea of a birdwatching detective gang of nature loving crime solvers came from. The skills you develop as a birdwatcher are all the skills a great detective needs, that was the seen for Twitch, and The Twitchers.
Spark is the story of how Jack becomes a birdwatcher and his evolving friendship with Twitch. It's also a mystery about an evil cat killer and the uncovering of a plot to murder a rare bird, a bearded vulture.

3.   How involved do you get in the areas you're writing about - beetles and now birds? Are you a committed bird watcher alongside your 'Twitchers'?
I do get very into the research for my books. I'm a committed insect conservationist and the vice president of insect charity Bug Life. I'm also now a birdwatcher, although I'm more like Jack than Twitch. There's so much I'm still learning.

4.   Why did you decide to make Jack the main character in this story, rather than Twitch?
At the end of Twitch, the reader is left feeling very close to Twitch, but Jack is an enigma. At the heart of this series is their budding friendship. I wanted the reader to have an opportunity to get to know Jack and understand why he behaves in certain ways.

5.   The Twitchers are detectives as well as bird watchers, why did you want a mystery at the heart of these stories?
I really enjoy writing mysteries. When I was a child I desperately wanted to be a detective. I set up my own little gang - we called ourselves the Adventurous Four - and was so keen to find a crime to solve that little brother eventually set one up (stealing sweets) just to make me happy.

6.   How much research did you need to do into birds of prey for this book?
I learned lots about the lammergeier - the bearded vulture - for this story, and I also read widely about grouse hunting and more generally about birds of prey. I like to watch documentaries about the birds and scour the internet and YouTube too. I scribble down interesting facts and bits of description to try and bring the birds to life in my imagination so that I can summon them into my story.

7.   There is a strong environmental angle to this story - is it important to you as an author to raise awareness of particular issues through your writing?
One of the themes in Spark is land management and the impact it has on people and birds. I don't like to wallop a reader around the head with a theme, but our relationship with the natural world is so important. I don't think I can write a story without it being present.

8.   Have you ever seen a lammergeier yourself? What is on your 'wishlist' as a bird watcher / twitcher?
I wish I had seen a lammergeier, but alas I have not… yet. I would desperately love to see one. Their wingspan can reach up to three metres. They are huge.
I'm very attracted to birds with character. I'd love to see some of the incredible birds of paradise that Twitch is so obsessed with.

9.   What do you have planned next for The Twitchers? What are you writing currently?
I am currently writing Clutch, the third adventure for The Twitchers. There will be a fourth and final adventure called Feather to follow that. These two stories are what I'm currently focusing on. So I'm back in Aves Wood, in Spring, at nesting time and there's a dastardly egg snatcher on the loose!

10.   Where and when do you prefer to write?
Early mornings are the time of day that I write the most and best work. However, I have so many stories to write, that I write all the time and in every place imaginable, including in car parks, airports, hotel rooms. I can write anywhere.

11.   Are there any MG books you've read recently that you can recommend to our members?
I'm currently reading S F Said's new book, Tiger and enjoying it thoroughly. I loved his Varjak Paw books. He's a very special writer.
MG Leonard introduces Twitch (book 1)
Author's Titles