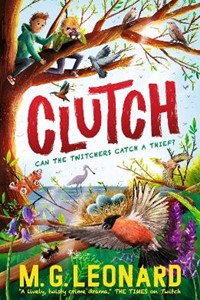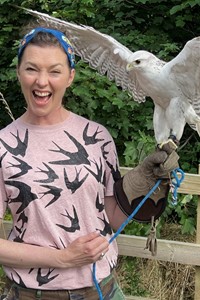 About Author
MG Leonard's Twitch series takes us into the world of birds and bird watching. She is also the author of bestselling series include Beetle Boy and Adventures on Trains.
MG Leonard is an experienced producer, director and actor, and has worked in theatre for over ten years, primarily at Shakespeare's Globe, The Royal Opera House, and as the Senior Digital Producer for The National Theatre. She now writes fulltime and lives in Brighton with her partner and two sons.
You can find MG Leonard at www.mgleonard.com and on Twitter @MGLnrd
Read a chapter from Twitch (Book 1, The Twitchers)
Read a chapter from Spark   (Book 2, The Twitchers)
Read a chapter from Clutch (Book 3, The Twitchers)
Interview
Clutch   (The Twitchers series, Walker Books)
April 2023
Return to the wild with the Twitchers in Clutch, the third book in The Twitchers series, in which Twitch and his birdwatching friends discover new wildlife, and solve mysteries!    In Clutch, Twitch is blamed for the theft of some birds' eggs, so he and his detective friends set out to find out who is the real egg thief - and to save some rare nesting birds whose eggs are also threatened.  

Author MG Leonard tells us more about twitchers, egg theft, and writing mysteries as she introduces her new book, Clutch:
 Q&A with MG Leonard

1.   Can you tell us about your Twitch adventures, and why you decided to focus on bird watching in this series?
Bird watching is a fantastic hobby. It gets you outdoors. It teaches you about nature. It's been proven to be excellent for your mental health and feeling a connection to the natural world. It develops important skills, like being observant and patient. It's fun and rewarding. But best of all, if you're a brilliant birdwatcher you'll also be an excellent detective because many of the skills and tools a Twitcher has, a detective needs. This was the idea that sparked the concept for The Twitchers series. I thought children would enjoy reading stories about a squad of birdwatching detectives that solved crimes.

2.   Have you met many real-life twitchers, like the children in your books?
Of course! There are loads of children who love to spot birds. In fact, it was children who love birds that gave me the idea for the series in the first place. When I wrote the Beetle Boy books many children who came to my events were birdspotters and asked me if I could write a book for them. The Twitchers series is my attempt to do that.

3.   Why did you decide to make these mystery adventures?
One of the wonderful things about a mystery adventure is you can have a case that is solved over the course of one book. This means that each new book is a new case, although it's always the Twitchers who will solve it. Writing mystery adventures means you can read the books in any order and always be satisfied by the ending of a book. There's a real pleasure in solving the puzzle that's presented at the beginning of a mystery story, that I enjoy as a reader.

4.   Can you tell us about your latest Twitch book, Clutch, and what inspired it?
Clutch is inspired by spring, the season of nesting and laying of eggs. The season gave me the idea that the mystery the Twitchers would have to solve would be catching an evil egg snatcher who is stealing eggs from the nests of Briddvale birds. Egg collecting is illegal now, because many bird populations are endangered or under threat, and yet there are some people who don't care about this and collect eggs anyway. I wanted to explore this in the story.

5.   Why did you decide to focus on declining bird populations in this story? Is egg stealing, which we learn more about in Clutch, a big problem for bird populations these days?
Egg collecting wasn't always illegal. It was a common hobby in the 1950s until it was identified as one of the things responsible for the decimation of bird populations. Sadly, the rarer a thing is, the more valuable it is to an obsessed collector. This means, the more under threat a type of bird is, the more their eggs are worth. A peregrine falcon egg has been known to fetch twenty-five thousand pounds on the black market which makes these precocious eggs a target for thieves.

6.   Where did you go to research issues around bird population decline, and how would you suggest children find out more?
I always start with the internet and reputable sources like the RSPB (Royal Society for the Protection of Birds) and the BTO (British Trust for Ornithology). I am a member of the RSPB and when I visit my local reserve, I talk to and sometimes formally interview the people who work there. They are very knowledgeable. I also read a lot of reference books and newspaper articles to gather information.

7.   Each of the Twitcher adventures focus on a particular bird, and in Clutch we learn about peregrine falcons and spoonbills - why did you choose these birds?
There are lots of birds in each story, but I think it helps the reader for the focus to be around one or two special birds. In Twitch, the focus was on pigeons, in Spark, it was the bearded vulture and in Clutch it is peregrine falcons and spoonbills. I chose these two birds for Clutch because they are rare birds in this country and their eggs are particularly precious. It's also a real thrill if you get to see either bird in the wild. I also like a bird with character and both these birds have plenty!

8.   Jack's detective skills are drawn upon by the Twitchers during this adventure - how did you learn about carrying out investigations and tips like profiling of the 'egger', or egg thief?
I do all kinds of research when I'm writing books. For Clutch I took an online masterclass with Special Agent John Douglas from the FBI who has solved many cases and developed the investigative technique of profiling. I'm really interested in all sorts of detectives, from the fictional like Hercule Poirot and Sherlock Holmes, to the real heroes that catch dangerous criminals.

9.   Do you have many more adventures planned for the Twitchers?
Yes. Right now, I'm writing the fourth and final book in the Twitchers quartet. It is set in winter, and I can't tell you much, but I will say that the featured birds are corvids and the crime the Twitchers must solve is a museum heist!

10.   Have you heard from many children who have been inspired by your books to do more to learn about and help nature?
Yes. I get letters and emails all the time from wonderful children who love beetles and birds, or have discovered the joy of outdoor adventures after reading my stories. It is one of the most rewarding things about doing the work I do. I visited a school where a group of children had spent the whole term fundraising to build a hide in their playing field. It was incredible. A relationship with nature is the single most beneficial thing we can have in our lives. I believe the second most beneficial thing is a love of reading.
MG Leonard introduces Twitch (book 1)
MG Leonard introduces Spark (book 2)
Author's Titles