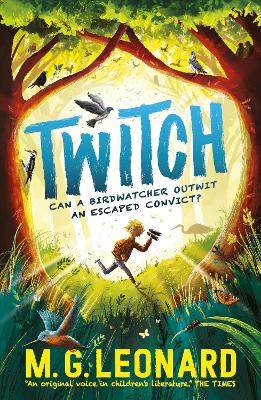 By Author / Illustrator
M. G. Leonard
Genre
Mystery & Detective
Age range(s)
9+
Publisher
Walker Books Ltd
ISBN
9781406389371
Format
Paperback / softback
Published
03-06-2021
Synopsis
From the internationally bestselling author of Beetle Boy and the Adventures on Trains series, comes the first book in The Twitchers, a brand new mystery adventure series celebrating friendship, bravery and the incredible world of birds, starring a birdwatching detective called Twitch!

Can a birdwatcher outwit an escaped convict?  Twitch has three pet chickens, four pigeons, swallows nesting in his bedroom and a passion for birdwatching. On the first day of the summer holidays, he arrives at his secret hide to find police everywhere: a convicted robber has broken out of prison and is hiding in Aves Wood. Can Twitch use his talents for birdwatching to hunt for the dangerous prisoner and find the missing loot?

Praise for Twitch: "Birds, mystery and fowl play! What more could you want?" Gill Lewis.  "A brave and thrilling new adventure from one of my favourite writers. I honestly didn't put the book down until the very last, exciting, page-turn and I'm twitching for the next adventure!" Jasbinder Bilan.
Also available: Spark (book 2).
Reviews
Beverley
Twitch is a loner. Bullied at school, he prefers the company of birds to people, and his main hobby is birdwatching. It's the start of the summer holidays and when Twitch arrives at his hide in the Aves Wood Nature Reserve, he finds that there are police everywhere, all searching for escaped criminal Robber Ryan, who is rumoured to be hiding out there. Soon Twitch is right in the middle of an adventure as he uses his bird-spotting talents to try and solve the mystery unfolding around him.
I loved this book! Twitch is such an engaging character, brave, resourceful and very clever. Bullied at first, he becomes friends with one of the boys who'd bullied him, and begins to flourish and become more confident. We feel his surprise and delight at no longer being alone, and his disappointment when he seems to have been let down by someone he trusted. Beautifully written, we meet a cast of lovely characters, and see Twitch's friendship group grow. I especially enjoyed seeing the relationship between Twitch and Jack, his former enemy, develop and blossom.
The author includes a lot of information about the birds Twitch watches; we learn about their habitats and their songs. It is all seamlessly incorporated into the storyline so that we are learning without realising it. The whole book has a lovely dreamy, summer feel, which makes it a delight to read. There are lots of twists and turns as the story unfolds, so the reader's attention is held throughout. The action builds from a slow beginning to a rollicking crescendo when Twitch and a whole group of his schoolfriends come face to face with a dangerous criminal.
This is a really lovely, exciting story with some important underlying messages; it shows the importance of friendship and of looking after our environment. I felt that, in the concluding chapter, the author was hinting that there may be more adventures for Twitch and his friends in the future, and I really hope this is so as I would love to know what happens to him next. In the meantime, I shall be recommending Twitch to all the school librarians I know!
304 pages / Reviewed by Beverley Somerset, School Librarian
Suggested Reading Age 9+
Jacqueline
Twitch is in Year 7, and he definitely prefers the company of birds to his peers. He has three pet chickens, a swallow's nest in his bedroom and is an avid bird watcher. He intends spending his summer holiday training his pigeons and watching birds in Aves Wood. But then a convict escapes from prison and police think they will be returning to Aves Wood for the money which has never been recovered. The convict, who was jailed for armed robbery and murder, has been seen in the area and they are all the town is talking about. Twitch makes some unlikely friends and together they see if they follow the clues and track down the prisoner.
Twitch is a beautifully written novel, with a love of nature at its core. Twitch is an engaging and likeable hero, who I am glad to say will feature again in future books. It is a mystery and adventure story whilst at the same time full of information about birds and other wildlife. It also features bullying and friendship issues and would make an excellent starting point for a discussion around this topic.
I've not read any of M G Leonard's books before but now the others have been added to my 'to be read' pile.
304 pages / Reviewed by Jacqueline Harris, teacher
Suggested Reading Age 9+
Other titles