Mya-Rose Craig and Sabrena Khadija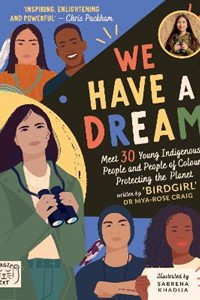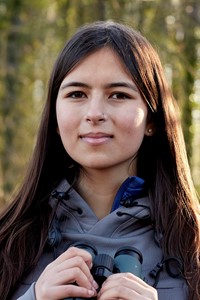 About Author
Mya-Rose Craig's new book We Have a Dream gives a voice to environmental activists from around the world. Also known as Birdgirl, Mya-Rose - is a British-Bangladeshi naturalist, environmentalist and race activist, and has an honorary doctorate from Bristol University, in recognition of her years of campaigning for equal access to nature and ethnic diversity in the environmental sector. She is the founder and president of Black2Nature.  Photo Credit Oliver Edwards. Copyright Dr MC Birdgirl Ltd
Sabrena Khadija from Maryland, Virginia, describes herself as "West African raised, Brooklyn-based Creative, Bibliophile, and Anime Enthusiast". Of her practice, she says, "I am one of the growing number of human beings who seek inclusive and innovative spaces to explore art and creativity in meaningful and impactful ways."
Interview
We Have a Dream  (Magic Cat)
September 2021
Author and 'Birdgirl' Mya-Rose Craig's new book We Have a Dream features 30 young activists who are campaigning for environmental change. With activists drawn from across the world, and focusing on indigenous and young people of colour, it gives a truly diverse look at how this generation is working to make positive changes in their communities and for the planet.
Review: "The tone throughout is informative, non-judgmental and hopeful: a credit to the British-born Bangladeshi author who has already achieved so much in her young life and has evidently found many kindred spirits among her contemporaries. The future is theirs."
Find out more about We Have a Dream
Q&A with Mya-Rose Craig
1. Can you tell us about your bird watching and environmental activities?
I have been birdwatching since I was young and this love of birds has stayed with me through my life, giving me pleasure but also being at the core of my desire to save the planet and everything on it. I run an organization called Black2Nature which coordinates nature camps, arranges nature activities, organizes race equality in nature conferences and campaigns to make the nature conservation and environmental sectors ethnically diverse.
Last year, I travelled to the Arctic with Greenpeace to protest about climate change. It was very exciting on a personal level, but it was also absolutely devastating. When you go that far north, you can see the impact of climate change, the way it's affecting the landscape and the wildlife and potentially how it's going to get worse for the future.

2. Why did you want to write this book, We Have a Dream, about young conservationists? 
I have been campaigning about environmental issues and climate change since the age of 11, but it was years later in 2018 that these became the issues of a generation as activists started receiving recognition in mainstream media.  However, what quickly became apparent was that this narrative neglected environmentalists of colour and Indigenous people, despite their communities being disproportionately affected by the climate catastrophe. So, when I got the opportunity to write an environmental children's book, I knew that I wanted the book to contain interviews with young people that weren't getting that platform from the media.  
The book is a call to arms, featuring interviews with 30 young people of colour and Indigenous environmental campaigners from around the world, and charts their dreams for the future of the planet.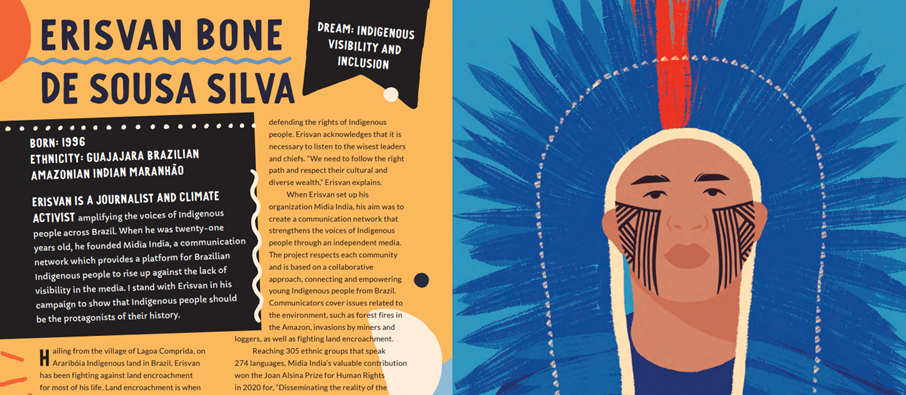 3.  Without books like this, do you feel their voices aren't heard?
Yes, and this was the most hard-hitting thing about writing this book: almost all the interviewees are affected by climate change or other environmental issues in their everyday life - they have to fight for clean drinking water, have to stand up to oil companies trying to put pipelines across their land. They have been aware of these issues and have been fighting since they were young children, and yet their voices still aren't being heard.

4. How did you decide who to include in We Have a Dream?
It was a challenge to track down the young people highlighted in the book as they were so far below the radar - but I chose them all as each was an amazing young environmental campaigner of colour from around the world. They spoke about how their communities are disproportionately affected by the climate catastrophe, the rising number of climate refugees in their region, what their dreams are for the future of the planet, how they are rarely heard or visible in global conversations.  I wanted to include people who were leading the way, coming up with their own ideas for change and really making a difference in their own communities and countries without forgetting what was happening here.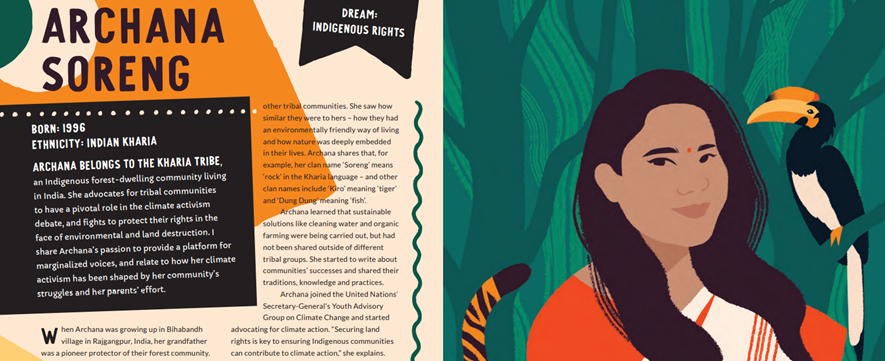 5. Where did you go to find out about their work?
I knew a few of them already as I follow their journey online, but for most I connected with them on social media, after online research, or I found them with the help of international organizations like Greenpeace.

6. Do any of these activists stand out for you for what they have achieved?
All of them! What was fascinating is they are doing different types of activism, which comes from their own life experiences. For example, there's a boy called Lesein Mutunkei from Kenya, where there is a deforestation problem. He is very into football and decided to start a project that combines football and restoring forests by planting trees. So, for every goal he scored he would plant 11 trees, one for each member of the team. The project spread really quickly, different football teams started joining in, and now he's linking up with the Kenyan forestry department.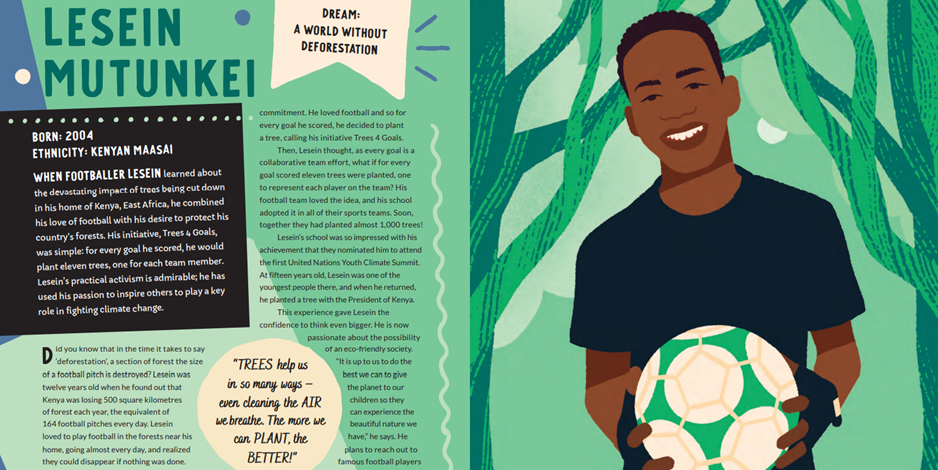 7. What do you think of the illustrations by Sabrena Khadija?
I think that Sabrena is so talented, and her illustrations really took my breath away. They are beautiful, actually look like each environmentalist, brings out their characters and ethnicities as well as conveying the strength of all the campaigners. She also believes in seeking inclusive and innovative spaces to explore art and creativity in meaningful and impactful ways, which was the perfect fit for the book.

8. What do you feel have been your greatest achievements to date?
Becoming a writer with We Have a Dream has been a fantastic achievement and I am incredibly proud of my book; its words, its beauty but also its amplification of the voices of those in the book and their achievements. Going to the Arctic with Greenpeace in September 2020 was also a huge achievement, carrying out the most northern youth strike ever and my photo getting into 600 media outlets worldwide.

9. And what is your dream to achieve in the future?
Tangible action in terms of stopping climate change and biodiversity loss. I think for a lot of young people, climate change is frustrating because nothing is happening and so much could be done. We don't need more empty promises but instead need global leaders to make active steps towards stopping climate change.
Through speaking to diverse groups, we will be able to solve the crisis together. Indigenous communities from around the world have long had sustainable lifestyles and as a result, are often the most engaged with our ecosystems. This means that they are the first and most directly affected by shifts in the natural order - and should be at the forefront of the decision-making process.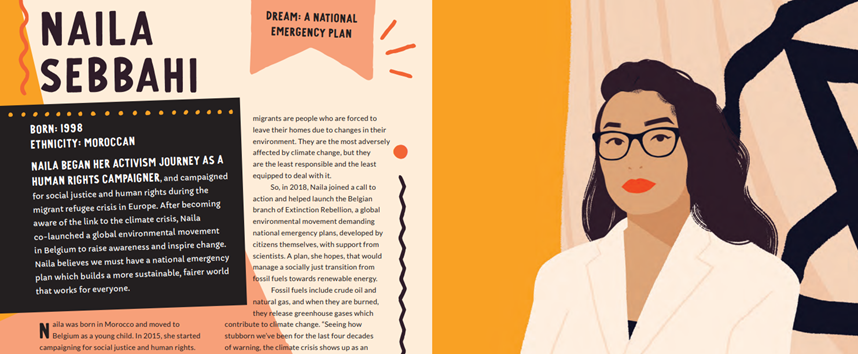 10. How optimistic are you that corporates and governments will change?
Time is running out; governments are far too slow to put in place the policies we need to protect the planet, but I remain hopeful. Corporations only care about their members and so we need them to be incentivised to act. At the moment, most of them care only about profits. Our voices are loud, and I believe the movement has enough numbers, passion and traction to evoke real change.

11. What message do you have for young people who read We Have a Dream?
I hope We Have a Dream shows the way we can all help is through listening to the concerns and dreams from as diverse a selection of people as possible, so that we can authentically amplify their voices in our own conversations.
I also hope children and people feel inspired to find out exactly what it is they are passionate about and channel that into action. If you care deeply about something, it doesn't matter what age or nationality you are, you have the capacity to make a difference. No one is too small or insignificant to enact change in the world.
I also hope that minority ethnic children who read my book will see me as a minority ethnic role model and be inspired by those in the book.


12. Do you have any other books planned?
I have my memoir, Birdgirl, coming out next summer with Penguin Random House, Jonathan Cape.
 
13. Is there one place in the world where you go to escape the anxieties of your work? How do you stay positive for the world?
I live in the Chew Valley in the countryside outside Bristol, and my family home overlooks Chew Valley Lake, which is my favourite place. I also have the Mendips and woods just behind my house. There's a great variety of birds like rare great white egrets.
Looking at birds has a positive impact on my mental health and wellbeing. I believe that once people have access to and so feel connected to nature and the planet, then they will want to join the fight for our planet. First, it is making it relevant to them.
We Have a Dream, published by Magic Cat, is out now (£12.99)
Author's Titles