We Have a Dream: Meet 30 Young Indigenous People and People of Colour Protecting the Planet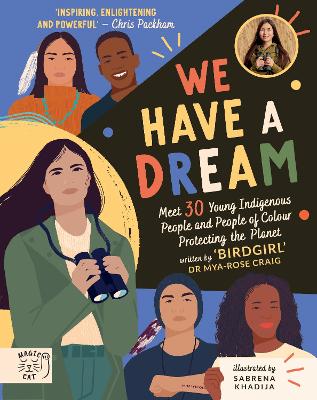 By Author / Illustrator
Dr Mya-Rose Craig, Sabrena Khadija
Genre
Environment
Age range(s)
9+
Publisher
Magic Cat Publishing
ISBN
9781913520205
Format
Hardback
Published
05-08-2021
Synopsis
Indigenous people and people of colour are disproportionately affected by climate change, yet often aren't heard in global conversations. In this book, British-Bangladeshi environmentalist and race activist 'Birdgirl' Mya-Rose Craig speaks to campaigners from around the world about what needs to be done. From wildlife conservation to clean water, air pollution to plastic waste, climate justice to climate strikes, the time has come to listen to a generation of young people of colour demanding urgent change for the world they will inherit.   "Inspiring, enlightening and powerful. We have to make these dreams come true"- Chris Packham
Reviews
Jane
Each one of the 30 young people featured in We Have a Dream is an activist in one or more environmental spheres - politics, education, inclusivity and diversity, cultural recognition, climate activism, habitat loss, resource depletion. In a word, all are concerned with justice. Each is given a double page spread, portrayed on one side using bold, contemporary artwork and on the other with biographical details and a summary of their background and work.
The supporting graphics superbly complement the portraits in their style and colour. The tone throughout is informative, non-judgmental and hopeful: a credit to the British-born Bangladeshi author who has already achieved so much in her young life and has evidently found many kindred spirits among her contemporaries. The future is theirs. It belongs also to those still under-represented in the environmental movement.
Some of the vocabulary might be unfamiliar to primary-aged children, but that's not to say the book won't be of interest or use, especially in classroom settings. It is to be recommended to teachers and KS2/3 students alike for exploring issues in Geography and History, and for discussing current affairs and ethics from a cultural perspective. Maybe this book will help turn more dreams into reality. 
64 pages / Reviewed by Jane Rew, school librarian
Suggested Reading Age 9+
Rhiannon
Highlighting the lack of representation in the climate change battle, We Have a Dream focusses on the stories and aspirations of thirty young, indigenous people and people of colour across the globe. Compiled by 'Birdgirl' Dr Mya-Rose Craig, herself a British-Bangladeshi environmentalist and race activist, stories include a brief bio of each public figure, a more in-depth look at their vision for the world, an impactful quote and a vibrant, full-page illustration by Sabrena Khadija.
From sustainable palm oil to deforestation and indigenous rights, this modern non-fiction book covers many timely topics for a generation interested in activism and includes educational links to inspire future generations of campaigners. Aimed at ages 8-12, We Have a Dream covers a diverse range of issues raised by a diverse range of people and should be made accessible in any school setting, as well as homes everywhere, to spark conversation, ideas and calls to action.
62 pages. Reviewed by Rhiannon Cook, School Librarian
Suggested Reading Age 9+
Other titles