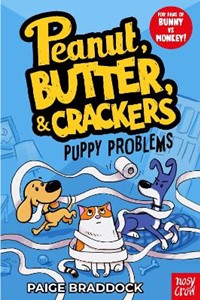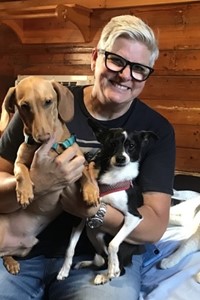 About Author
Comic creator Paige Braddock introduces her new children's graphic novel, Peanut, Butter and Crackers. Paige is the Chief Creative Officer at Charles M. Schulz Creative Associates. She has illustrated several Peanuts children's books. Her other graphic novels for children include the Stinky Cecil series. She lives in California with her wife, Evelyn, and their two dogs and a cat.
Interview
Peanut, Butter and Crackers   (Nosy Crow)
July 2023
Puppy Problems: Peanut, Butter & Crackers Review:  "Graphic novels are perfect for reluctant readers or children who struggle with reading, and I could not recommend this one highly enough."
Read an extract from Peanut, Butter and Crackers
Comic writer and artist Paige Braddock tells ReadingZone how her own pet cat and dogs have helped inspire her new graphic novel series for readers aged six years plus - Peanut, Butter and Crackers - following what happens when a new puppy joins a dog and cat in their previously peaceful home.   Here, Paige Braddock introduces Puppy Problems: Peanut, Butter & Crackers:
Q&A with Paige Braddock
1.   Thank you for answering our questions, Paige. Did you always want to create comics?  What comics did you read as a child?
Yes, I was certain by age seven that I wanted to be a cartoonist when I grew up. I had no idea how, but I was resolved nonetheless.
I grew up in a very rural area with no bookstores or comic shops, so I mostly read newspaper comics. My favourite character at the time was Snoopy from the Peanuts comic strip. I also really liked Garfield when I was a kid. Obviously cat and dog comics were very inspiring to me.

2.    What kind of cartoon character do you see yourself as?
I think if I were going to draw myself as a character I would be a rabbit. (I'm not sure why.)

3.    How did you get started in creating graphic novels, and what kinds of stories do you like to tell?
My first graphic novel for kids was titled Stinky Cecil. It started as a web comic and an editor saw it online and asked if I could turn it into a story. That was a really fun project. Working on that book made me realize I wanted to do the Peanut, Butter and Crackers story.

Paige in her studio with the pets that helped inspire Peanut, Butter and Crackers

4.    How has your career working with Peanuts helped you as a comic creator?
Peanuts is a very character driven comic, meaning... the stories in Peanuts really focus on the personality of the characters more so than the action in the strip. I also really like to create characters. I think working on Peanuts has helped me learn a lot about character development and storytelling. Charles Schulz, the creator of Peanuts, was a hero of mine. It was really special to have the opportunity to work with him.

5.    Can you tell us about your new series, Peanut, Butter & Crackers; what gave you the idea for this cat and dog-based comic - and at what stage did you get the title?
We had two rescue pets... a dog and a cat, but then this little dachshund puppy came across our path. He was named after a Peanuts character, Linus! So I took that as a sign that he should come live with us. Trying to integrate a puppy into our household was at times stressful and at times very comical. I began to imagine a story based on the different experiences of our three pets. And that's where the idea came from. Peanut, Butter and Crackers' adventures are loosely based on my pets' lives, but with any good fiction, I embellish a bit.  The title is basically my favorite snack: peanut butter and crackers.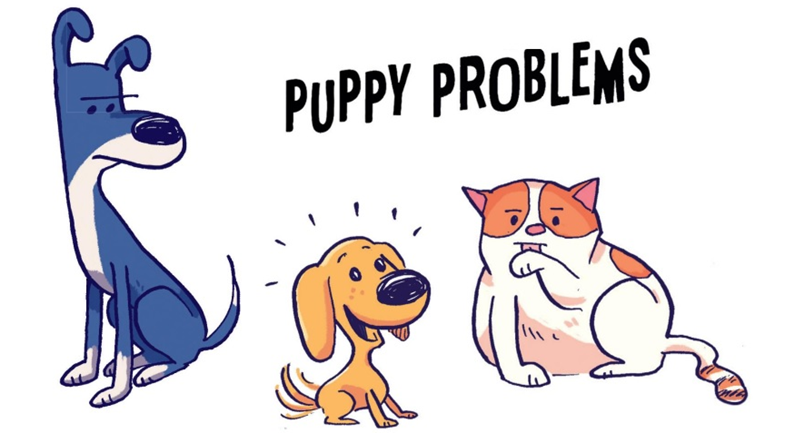 6.    How did you decide what each of the characters would be like, and what they would look like? Did any of your own pets help inspire them?
My own pets definitely inspired the look of the characters. Our cat Otis was the model for Butter. Otis weighs more than 20 pounds! And he once got onto the table and ate an entire stick of butter! Crackers is based on our dog, Buddy Barker, who just like in the story, really hates squirrels. They climb the fence around our yard and taunt him. Peanut is modeled after our dachshund, Charlie (we renamed him when we brought him home). At one point we even nicknamed Charlie "Land Shark" just like in the book because he liked to chew everything!
As a cartoonist it's very important to pay attention to all the life around you. There are so many stories to be told even from your own experiences.

7.    What makes the stories so funny? What kinds of things make you laugh when you write / illustrate them?
I imagine each character's voice in my head and that makes me laugh. I also try to put myself in their place. What would I do if I were a dog or a cat in the same situation? Sometimes I'll redraw a scene more than once to exaggerate it and make it more funny. Having Butter's fur poof out when he's mad or upset is very funny to draw.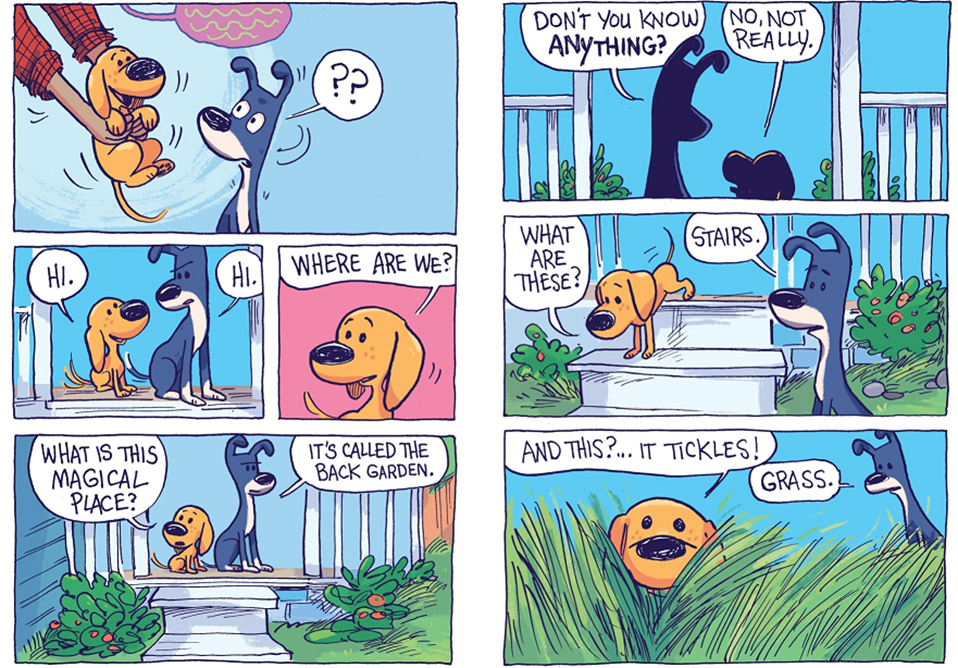 8.    Do you enjoy the writing or the illustrating most? How do you create the illustrations?
I actually enjoy both. That's the great thing about comics... it requires both words and pictures to make them work.
It takes about six months from beginning to end. First I pencil each page and sketch out all the action, then I ink each page with a dip pen. Then sometimes I color the pages digitally, but in this case I worked with another artist, Kat Fraser, who did all the coloring.

9.    What's up next for Peanut, Butter & Crackers?  How many more books do you have planned?
They are going on a camping adventure!!  There are three books so far, but I'm sure these characters could have lots more adventures.

10.   Where and when do you do your most creative work - and what does a favourite day away from the desk look like for you?
I have a shed in my backyard that my Dad converted into a studio for me. It's very nice even though it's not a huge space.
Honestly, I love to draw, even when I'm not working. For some reason, I really like to draw funny animals wearing bow ties, just for fun. My favorite thing is to ride my bike to a local coffee shop, bring a sketchbook, and sit at an outside table and draw. I get a lot of ideas just from watching all the activity around me. It's great to keep a sketchbook. Sometimes I'll return to an idea in a sketchbook that at the time I wasn't sure I would even use. Keeping an active sketchbook is also great practice for becoming a cartoonist.
Look out for further adventures with Peanut, Butter and Crackers

Author's Titles