Puppy Problems: A Peanut, Butter & Crackers Story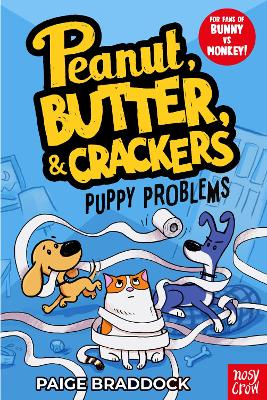 By Author / Illustrator
Paige Braddock
Genre
Comics & Graphic Novels
Age range(s)
5+
Publisher
Nosy Crow Ltd
ISBN
9781839949661
Format
Paperback / softback
Published
06-07-2023
Synopsis
A goofy new puppy turns the lives of two rescue pets upside down in this hilarious graphic novel for pet lovers and fans of The Secret Life of Pets.
Butter and Crackers are rescue pets living their best (and quiet) lives. Butter, a laidback cat, has access to all the butter he can lick and Crackers, a slightly nervous dog, is free to bark at squirrels to his heart's content. With an owner who goes to work every day, they spend their days doing whatever they want.  But when Peanut, a brand-new puppy with big floppy ears, arrives, everything changes. He has no appreciation for the quiet life, no idea how stairs work and he's even afraid of the dark!  Butter and Crackers have had enough - this puppy needs to go! But when Peanut escapes and gets lost, it turns out that home isn't home without the noisy little puppy after all...
A sweet and hilarious story about life seen through the eyes of pets, perfect for newly independent readers, visual readers and pet owners.  This edition contains lots of fun bonus extras, including how to draw, behind the scenes and a short story!
See also: River Rescue: A Peanut, Butter & Crackers Story (Book 1)
Find out more from award-winning author author Paige Braddock
Reviews
Amanda
Puppy Problems: A Peanut, Butter & Crackers Story is the fantastic new graphic novel by Paige Braddock. Butter and Crackers are rescue pets living their best quiet lives. Butter, a determined and adventurous cat, and Crackers, a sensitive, considerate home loving dog, spend their days pleasing themselves whilst their owner is at work. But when their human arrives home with Peanut, a goofy new puppy, everything changes. He has no appreciation for the quiet life, creates a huge mess and he's even afraid of the dark! Will they ever get used to this? Will Peanut learn to fit in? Butter and Crackers worry that nothing will ever be the same again! Just when they think that they have had enough, Peanut does something to make them realise that they do really care about him.
This wonderful graphic knowledge is beautifully designed to look like a chapter book. Older pupils who find reading challenging will love daily reading time with books like this. Younger children will be drawn to the grown up size and thickness of the book. The book starts with simple character descriptions to introduce the reader to the beautiful characters, followed by a map to allow the reader to follow the plot with ease. The fantastic illustrations enable the reader to follow the story with very few words needed. They add detail and emotion to the text with fabulous facial expressions.
This was a pleasure to read and I know it will help so many pupils gain confidence in picking up a book. I look forward to reading River Rescue and Doggy School.
128 pages / Reviewed by Amanda Shipton, teacher
Suggested Reading Age 5+
Lauren
Peanut, Butter and Crackers is a graphic novel about a dog, cat and puppy who get up to mischief. This is the first book of many and I can honestly say it is brilliant as an adult read, not just for children. If you are a dog or cat (or both) owner, then you will love this. Paige Braddock has captured the 'dog and cat life' perfectly and mixed it with some brilliant humour. I was giggling along as I was reading this thinking of my own pets.
This is the story of Butter the cat and Crackers the dog who have a seemingly normal life. That is until 'the human' comes home with a box, as box that contains... Peanut the puppy! Butter and Crackers have to navigate life with a small intruder who just can't seem to do anything. Butter takes matters into his own hands one night and all does not end well…
Graphic novels are perfect for reluctant readers or children who struggle with reading and I could not recommend this one highly enough. It is going straight on the bookshelf for all to enjoy. Brilliant!
128 pages / Reviewed by Lauren Maidman, teacher.
Suggested Reading Age 7+
Other titles