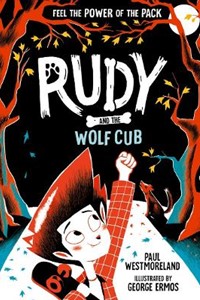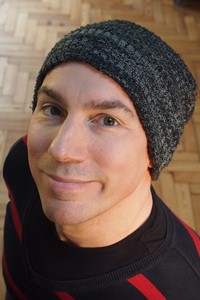 About Author
A born and bred Londoner, Paul Westmoreland has been a professional writer for over 25 years, creating award-winning adverts across TV, cinema, radio and digital campaigns. Now a full-time author, Paul writes from a quiet room tucked away in his home in South London. The launch of the Rudy series marks his foray into children's fiction. Follow Paul on Twitter: @AuthorPaul101
George Ermos is an award-winning illustrator with many of the books he has illustrated picking up several accolades. Recently Firesong, illustrated by George, was chosen by Waterstones as one of the Best Children's Books to Read in 2022. Follow George on Twitter: @georgeermos
Interview
October 2022
Rudy & the Wolf Cub and Rudy & the Monster at School (Oxford Children's Books)
For young readers who like their stories packed with action - and a scare or two - check out the Rudy and the Wolf Cub series by Paul Westmoreland, illustrated by George Ermos. As well as exciting adventures, these stories explore friendship, being kind and problem-solving. Paul Westmoreland and George Ermos tell us more!
Read a Chapter:           Rudy and the Wolf Cub                                            Rudy and the Monster at School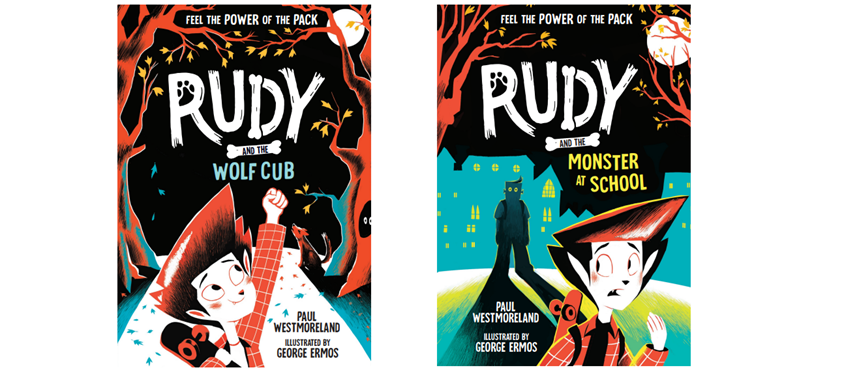 ReadingZone caught up with author Paul Westmoreland to find out about his new Rudy and the Wolf Cub series - and to enjoy this howlingly good read from his new book!

Q&A with Paul Westmoreland
1.   What kinds of stories did you enjoy as a child, and what brought you into writing your own books for children?
I loved stories that were rich in their writing and full of adventure. My favourite books were The Wizard of Oz, The Iron Man, Treasure Island and The Lost World. I also read the Worst Witch series over and over, although there were only three books back then, and there was no Harry Potter, which I would've loved.
I'd been writing other books, very unsuccessfully, for a long time when my dad persuaded me to enter a competition for a children's book. As soon as I started coming up with ideas to write about, I realised that my natural way of writing and storytelling fits with children's books and it's so much fun! You can write about more incredible places and extraordinary characters, like Rudy and his friends in the town of Cobble Cross, than you ever could for adults.

2.   Can you tell us a little about your new books, Rudy and the Wolf Cub and Rudy and the Monster at School?
They both star Rudy and his best friends, Femi the mummy and Edie the ghost girl. They love skateboarding together and always end up in an adventure that sees them solving personal problems and helping each other, as well as learning valuable lessons in the end. Their adventures always take them to exciting places, like the dank and dingy Gnarlybark Forest, or to the dizzy heights of High Crag Castle in the middle of a thrashing thunder storm. But it's always good fun and I'm sure young readers will love joining them on their adventures.

3.   What gave you the idea for a series about a young werewolf, Rudy, and his friends - Femi and mummy and Edie a ghost?
My children love Halloween, even more than Christmas! And I just felt that there hadn't been a series like this that's a bit more for boys than girls. That's not to say that girls won't love Rudy and his adventures - I'm sure they all will.

4.   How did you go about creating these characters? 
I create my characters in two stages, which are equally important for readers and when I'm writing. First, I develop their personalities - who they are, what they're like and how they fit together as a team. Rudy is the main character, he's impulsive and has a lot to learn so he doesn't really think things through as well as he should. Edie is the smart one and Femi is the fun one.
The next thing I work out is what each character brings to the story. This is where their being a werewolf, a mummy and a ghost comes in. So, Rudy has super sensitive hearing and a strong sense of smell that enable him to hear and sniff out things that lead to their adventures. Femi is a bandaged bag of bones, so he can be both accident prone and any injuries he sustains are already dressed! Edie is a ghost, so she's been around a long time, can be the grown up and being about to glide through walls makes her very useful and unbeatable at hide and seek!

5. There are some dark forests and lonely mountain settings in these books - so how do you make the books fun rather than scary?
Making spooky settings fun rather than scary is all about tone. The last thing I want to do is frighten my readers into never reading again! So even when it's late at night, thunder is crashing and Rudy and his friends are scared, I only push the fear factor far enough to create intrigue and a sense of peril. And when the big reveal comes, I make sure it lands with a laugh rather than a scream.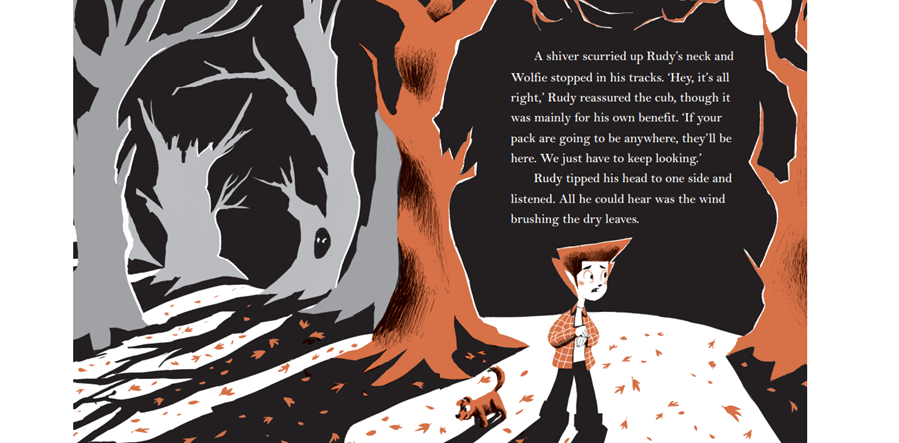 6.   There is lots of adventure in these stories - but is your focus more on the characters' friendships and the decisions they make?
Yes, I do that because I want young readers to build up a relationship and even a friendship with Rudy and his friends, so reading these books feels like they're hanging out with the characters as much as enjoying the stories and adventures. Young readers can also relate to and benefit from the lessons Rudy learns in the end.

7.   What would you like your young readers to take from these stories?
Even though they're short, there are a lot of things in my stories: friendships, lessons, problems and solutions. A rich world drawn with vivid descriptions and fantastic illustrations. Adventures and personal stories filled with heart and humour. Disasters and mishaps, happiness and silliness. All these things are gifts for readers, but above all I hope they develop a love of reading, that leads them to enjoy more Rudy books and all sorts of other books in the future.

8.   So you're planning more stories about Rudy and his friends? 
Yes. Absolutely! There will be six books in the series so far, but since the stories are individual instalments there could be many more to come… The more people like them, the more I'll write, and I really hope they do!  These books are enormously fun to write, and there's always another Rudy adventure waiting to happen.

9.   The illustrations by George Ermos are brilliant - any favourite characters or spreads?
I love them all! My particular favourites are the big ones, where Rudy flips off a ramp at the Skateway, howls at the moon or dives in to rescue Wolfie from the pond in Gnarlybark Forest. When I write the stories, I purposely add in big actions so George can go to town on the illustrations.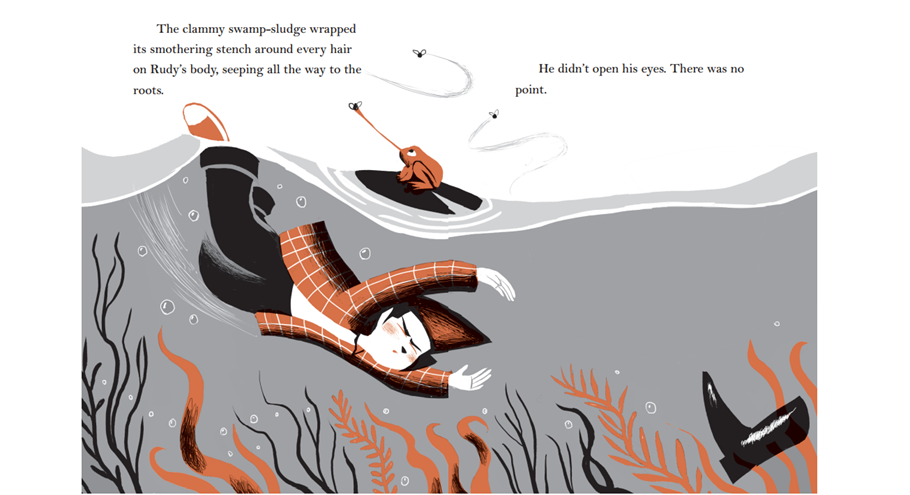 10.   Your characters love to skateboard - is that one of your passions, too? What do you do to relax when you're away from your desk?
A long time ago, I used to skateboard with one of my best friends. We would skate late at night when the roads were quiet! But I don't recommend it. If you want to skate, go to a skate park, even if you're just starting out.
These days, I relax by reading or watching TV. Though I don't get as much time for either as I'd like because I'm having too much fun writing about Rudy!

Paul Westmoreland is the author of Rudy and the Wolf Cub and Rudy and the Monster at School (Oxford Children's Books, ages 5+) publishing 6 October 2022 with more books to follow. 
Author's Titles