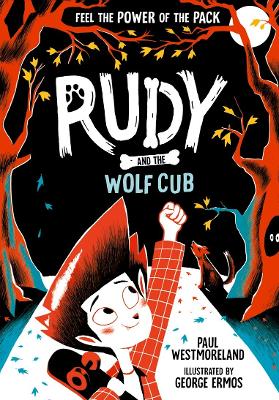 By Author / Illustrator
Paul Westmoreland, illus George Ermos
Genre
Young fiction
Age range(s)
5+
Publisher
Oxford University Press
ISBN
9780192782496
Format
Paperback / softback
Published
06-10-2022
Synopsis
With boundless energy and an impulsive nature, Rudy is always ready to follow the scent of adventure! And with his loyal pack of friends by his side there's nothing he can't achieve.When Rudy finds a lost wolf cub at the skatepark, he knows he has to help him. Rudy tries everything he can think of to find the cub's pack, but they're nowhere to be seen, or smelled, and time is running out. Can a howl in the night change the fate of the little cub? How-how-harrooooow!
Howlingly cool illustrations and an irresistible character finding his way in the world make Rudy and the Wolf Cub the ideal choice for those looking to bridge the gap between picture books and independent reading. See also Rudy & the Monster at School
Find out more from author Paul Westmoreland 
Reviews
Jennifer
Rudy and the Wolf Cub is a great short story for children who are moving from picture books to novels. The mix of pictures and chapters helps the book to feel less daunting. Rudy is instantly likeable and you are hoping all turns out well in each chapter. A great book to introduce responsibility of caring for a pet and what happens when you don't follow the rules. This book would be enjoyed at home or as a class novel.
128 pages / Reviewed by Jennifer Bevan, teacher
Suggested Reading Age 7+
Amanda
When Rudy finds a little lone wolf cub at the skatepark, he knows he has to help him - but Rudy is no lone wolf; he knows the power of the pack and who he can call on for help.
Paul Westmoreland has woven his magic through this carefully written early chapter book: 'Rudy's skateboard was teetering on the edge of the highest half-pipe in the Skateway. His nerves rattled as he stared down at the sheer ramp, which was sloping away like a huge concrete wave'. This fantastic use of vocabulary will draw the reader in and keep them interested until the very last page.  The clearly written character profiles at the beginning and a map detailing the setting ensures that there are huge possibilities for the use of this story in the classroom.
Hugely enjoyable for young readers, Rudy and the Wolf Cub is also a must have for all Year 2 - 4 classrooms. It is a fantastic way to introduce children to a longer story. If you were to use this as a class book you could focus on the themes of responsibility, friendship or family as these are strong threads throughout. The map could be used to track the locations of the story as you read and create descriptions of the different settings.
This series of books is sure to be a firm favourite. I am already looking forward to reading the rest of the series.
128 pages / Reviewed by Amanda Shipton, teacher
Suggested Reading Age 7+
Other titles