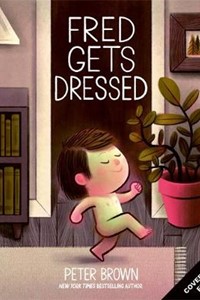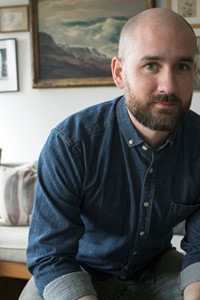 About Author
Peter has always loved telling stories. Growing up in New Jersey, he told stories by drawing characters and scenes from his imagination. As a teenager, he began telling his tales with words. While studying illustration at Art Center College of Design, Peter's love of both words and pictures led him to take several courses on children's books, and before long he knew he'd found his calling.
After graduating from Art Center Peter moved to New York City to be closer to the publishing industry. He was working on animated TV shows when he signed a book deal to write and illustrate his first picture book, Flight of the Dodo. 
Since then Peter has written and illustrated many books for children including New York Times bestsellers The Wild Robot, The Curious Garden, Children Make Terrible Pets and Mr Tiger Goes Wild. 
He now lives in Philadelphia, Pennsylvania.
Author link
https://www.peterbrownstudio.com/; https://twitter.com/itspeterbrown;
Interview
Fred Gets Dressed (Templar Publishing)
May 2021
Inspired by an incident from his childhood, Fred Gets Dressed is a warm and funny story about a curious little boy trying out new clothes, and how his parents respond. We asked author and illustrator Peter Brown to tell us more his work and his new picture book, Fred Gets Dressed:
Q&A with Peter Brown
1. Can you tell us a little about yourself and what brought you into creating children's picture books? 
Most children love to draw, and I was no different. But when I was young, I had an artistic role model: my grandfather. He wasn't a professional artist, but he was a talented painter, and thanks to him I realized that I could spend my whole life making art. I took art classes, I filled sketchbooks with drawings from life and from my imagination, and gradually my artistic skills improved.  While studying art at university, I realized that I loved writing as much as illustrating, and it wasn't long before I knew I wanted to be an author and illustrator of children's books.
One of the real highlights of my career has been working on my new picture book Fred Gets Dressed. It was inspired by an experience I had with my mother when I was a young boy, and I have loved the creative challenge of adapting my own personal story into a book that everyone can enjoy.
2. Can you tell us more about Fred Gets Dressed?
Fred Gets Dressed is about a little boy named Fred who really doesn't feel like getting dressed. He would much rather romp around his house, naked and wild and free. But when he wanders into his parents wardrobe, and sees their clothing, he thinks it might be fun to get dressed, after all. When his parents find him, Fred is dressed up like his mother, and some of her makeup is smudged across his cheek. His parents join him in the fun, and everyone ends up trying on his mum's clothes and jewellery and makeup, even the family dog!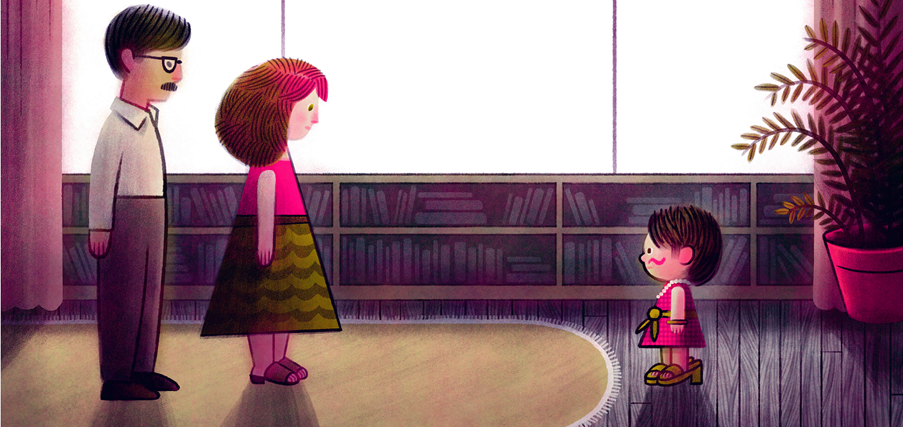 3. Was there one moment or memory that helped inspire the story?
This story was inspired by one of my favourite childhood memories. I was a curious, creative little guy, and one day, when I was five years old, I went into my parents bedroom and began looking through my mother's makeup. When she found me, a while later, I had makeup smudged across my cheek. My mother's reaction was really lovely. She just smiled, wiped my cheek, and then she showed me how to put on makeup. We had a terrific time trying on makeup, together.
On separate occasions I tried walking in her high-heeled shoes, I played with her glittering jewellery, and explored the colourful clothes in her wardrobe. I combined all of those little moments from my life into Fred's story, and we watch as this curious little boy dresses up like his mother.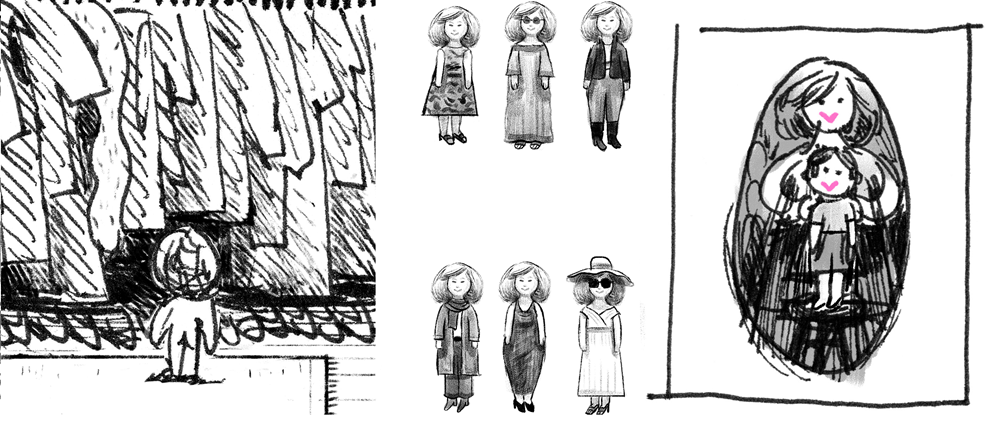 Fred discovers his mother's wardrobe and makeup - early sketches
4. What would you like parents as well as young children to take from the story?
With Fred Gets Dressed, I simply wanted to tell a sweet, fun story that depicted the kind of unconditional love that everyone deserves. We're almost like spectators, watching a boy following his natural curiosity, and watching his parents loving and supporting him, unconditionally. My dream is that, in some small way, this story might help readers love and support the people in their lives, too. But that's a lot to ask of a book. If Fred Gets Dressed can get readers to smile and think and feel a connection with the characters, I'll consider it to be wildly successful.
5. Why did you prefer to write your picture book texts as a narrative, rather than telling the story through dialogue?
Fred spends most of the story exploring his parents' bedroom, by himself. So, for a long stretch of the story it didn't make sense to have any dialogue. In the scenes with his parents, I tried using dialogue, at first, but I found that the dialogue wasn't adding anything meaningful. In some cases, narration wasn't even needed because I could effectively tell the story with only pictures.
My picture book philosophy is to use as few words as I possibly can. So I kept simplifying and editing the text, making sure each word was important and necessary, and eventually I pared everything down to the point where there was only narration...and there isn't even much of that.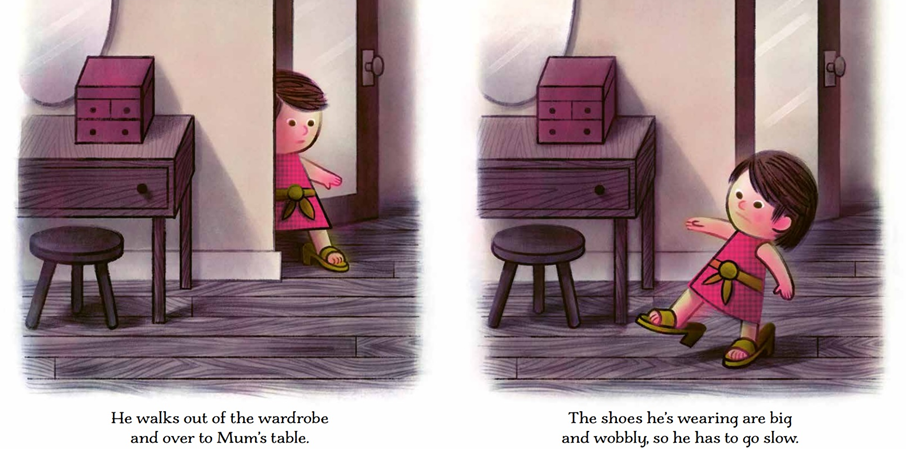 6. Do you have a good idea what the characters and their world will look before you start to draw them? Or is there lots of doodling involved?
There is a TON of doodling involved in my creative process. I experiment with different drawing styles and different designs for characters and settings, and sometimes I'll experiment with new materials. I never know exactly how long that process will take, but over time, through trial and error, I gradually work out the look of the story world for each of my books.
 Early sketches of Fred poses
7. Your settings often involve a lot of detail, why is this important for your picture books?
For a reader to connect with a story, that story has to be believable. If the characters do completely nonsensical things, or if the settings don't make sense, the reader will be confused and they'll probably stop reading. So I spend a lot of time making sure the settings for my stories are believable, and whenever possible, I try to create settings that add to the story experience.
In the case of Fred Gets Dressed, the entire story is set inside Fred's home, and I wanted the home to reveal what kind of people live in it. So I filled Fred's home with art and books and house plants and drapery, to subtly convey to the reader that this is a place inhabited by thoughtful, nurturing people.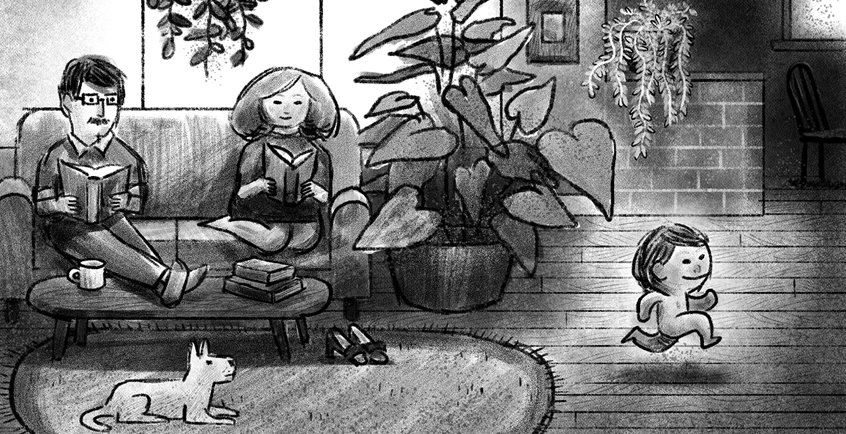 Early sketch of Fred's family and their home
8. How do you create your images and the retro look? What for you is the hardest part of creating the illustrations?
Fred Gets Dressed is the first book that I illustrated completely digitally. There is so much you can do with digital illustration that I had to make a few rules to keep myself from being overwhelmed by all the possibilities.
Out of the thousands of digital paintbrushes at my disposal, I selected three, and used them, exclusively. I also limited my colour palette to pink, green, black and white. But with only three brushes and four colours I was able to create a surprising variety of colours and textures.
With digital art, it's easy to fall into a trap where you just keep making little changes, over and over. And one of the hardest parts of the process is deciding when an illustration is actually, definitely, finally finished.
9. Can you describe your studio for us? What - apart from your computer - couldn't you work without? What are you working on currently?
My art studio is in a big, old building, that once was a secondary school. In its previous life, my studio was a science classroom. It has tall ceilings and big windows and cement floors, and it still has chalkboards and a science table complete with a sink and cabinets underneath. My wife is also an artist, and we share the space: she has her side and I have mine.
We hired a carpenter to build us a large, wooden work table, which sits in the middle of everything. The table is big enough that my wife and I can each spread out our working materials and still have enough room to sit and eat lunch together. That table is where I do most of my drawing. It's probably too big to live anywhere else. Some day, we'll leave this studio, and I'll have to say goodbye to that table, and I will miss it dearly.
At the moment I'm not doing much drawing, I'm actually writing a couple of screenplays based on two of my books, so for now most of my time is spent sitting in front of my computer.
10. What are your favourite escapes from your desk and studio?
Nothing reenergizes me quite like being in nature. Fresh air and beautiful countryside are good for the soul, and I always seem to find story inspiration whenever I'm trekking through the wilderness, which is an added bonus. I'm happy to go anywhere that's natural and peaceful, but I especially love waterfalls. I dream of someday living close enough to a waterfall that I can hear it as I drift off to sleep at night.
Author's Titles