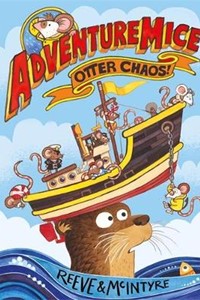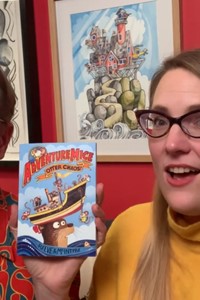 About Author
Philip Reeve has been writing stories since he was five years old but Mortal Engines was the first to be published and went on to win the Blue Peter Book of the Year. He has also written Here Lies Arthur, the Larklight trilogy and his Fever Crumb series.  Philip lives on Dartmoor with his wife and son, and his interests are walking, drawing, writing and reading.
Sarah McIntyre grew up in Seattle in the United States and studied Russian before going on to study Illustration at Camberwell College of Art in London.  Her comics include Vern and Lettuce, and she wrote a regular comic for the Sunday Times called Shark & Unicorn.
When Sarah and Philip met, this sparked the Reeve & McIntyre highly illustrated chapter books, which they think up together. These include Oliver and the Seawigs, The Frozen Pugs of the North and The Legend of Kevin.
Interview
Adventuremice  (David Fickling Books)
March 2023
When a young mouse called Pedro heads off to find an adventure, he meets the Adventuremice and discovers the whole new world of Mouse Islands, which are filled with adventures!  Journey to Mouse Island with authors Philip Reeve and Sarah McInture, and join the Adventuremice as they face up to a hungry otter!
Read an Extract from Adventuremice!
Q&A with Philip Reeve
1.   You're already well known for your series like Kevin and you illustrated adventures, but how did you first start working together?
We met at the Edinburgh Book Festival eleven or twelve years ago and became friends. I was writing fiction for older readers, and Sarah was doing comics and picture books for younger ones, so we decided to meet in the middle and co-author funny adventures. It's ten years since the first, Oliver and the Seawigs, was published.

2.   How do you go about creating your stories together? Do you ever argue?
We sometimes start with one of Sarah's drawings, or sometimes just something that makes us laugh. Then we talk it through a lot, and work out what the story will be. I don't think we've ever argued.

3.   Can you tell us a little about your new Adventuremice series? What happens in Otter Chaos?
Otter Chaos starts with a young mouse called Pedro setting off to seek adventure, and finding it! He makes friends with the daring Adventuremice, a team of brave mice who are busy trying to save the Mouse Islands from a large and hungry otter.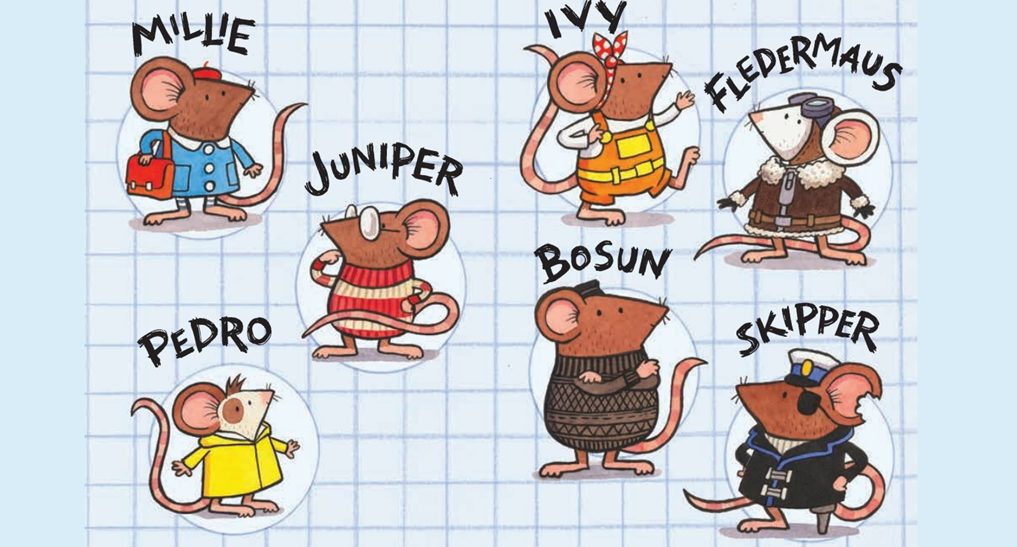 4.   What inspired the Adventuremice, and Pedro's urge to explore?
Adventuremice was inspired by paintings Sarah started doing during lockdown. She has a collection of little model ships she bought from her local market and she started making pictures of them with mice for crews. We knew at once that we needed to learn more about these brave nautical rodents, so the world of the Adventuremice was born. And, of course, we wanted to show it through the eyes of someone who is discovering it for the first time, so we came up with Pedro, a young mouse setting off in search of adventures…

5.   And why mice? Could they have been a different creature?
I suppose they could have been anything, but mice are funny because they're so small, so they can use toy ships and planes and things, and even the smallest wave is a huge adventure for them.

6.   Did you know what your characters would look like before you started writing the story - are you doodlers first?
We knew roughly what the mice would look like from Sarah's original paintings, but as we wrote the book the details of each character developed - Skipper with his eyepatch and missing leg, big, burly Bosun, the dashing pilot Fledermaus.

7.   How did you go about creating the Adventuremice world; the islands, characters and all their different modes of transport? 
I seem to write a lot about the islands - like in Oliver and the Seawigs, or my Utterly Dark books. It's satisfying making up your own island, you should try it! I'm quite pleased with Box Island, which is really big shipping container which has been washed up among the Mouse Islands. The mice delve inside it and find all sorts of things, so it's a good way of explaining where they get they boats and planes from.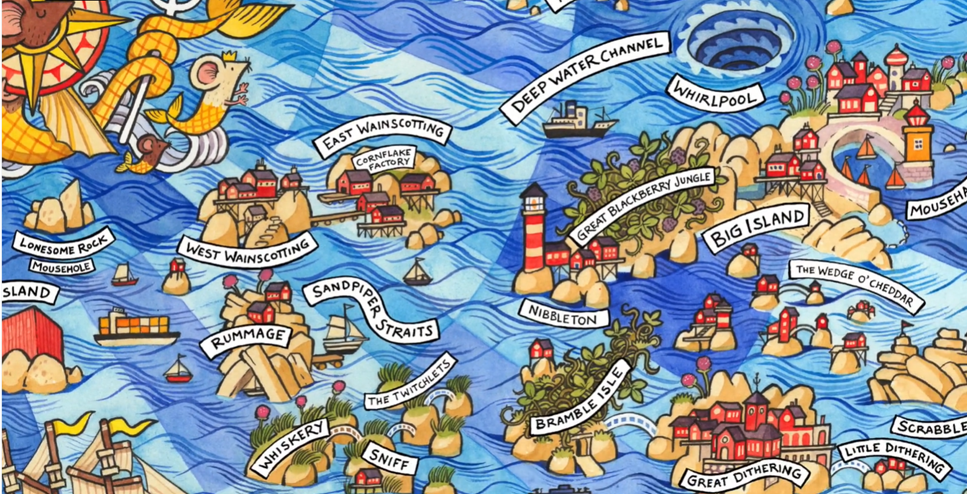 8.   What else do you have planned for the Adventuremice?
All sorts of adventures! What might the mice find when they go under the sea? What would happen in winter if the sea around the islands froze? We have a lot of stories lined up for them.

9.   What has been your own biggest adventure in real life?
Sarah has had all sorts of adventures, but I try to avoid them - except in books!

10.   What kinds of things do you enjoy doing when you're not at your desk?
I like going for walks on Dartmoor, where I live. And recently I've been making a short film - that's been a lot of fun.
Author's Titles