Adventuremice: Otter Chaos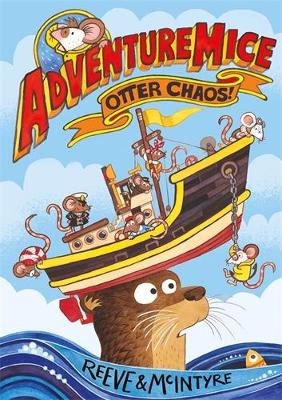 By Author / Illustrator
Philip Reeve, Sarah McIntyre
Genre
Animals
Age range(s)
5+
Publisher
David Fickling Books
ISBN
9781788452670
Format
Paperback / softback
Published
02-03-2023
Synopsis
Meet Pedro. He's tiny, but while looking for a BIG adventure he is rescued by the ADVENTUREMICE - a brave, determined team who keep all the Mouse Islands safe from harm.  Pedro's dream is to show he's heroic enough to join their ranks. And he soon gets the chance to prove himself, when a big scary otter starts causing trouble in the waters nearby. . .
Find out more in this video by Reeve & McIntyre!
Reviews
Amanda
Any adult will tell you that the best way to get a child to do something is to tell them not to do it. This is exactly what happens to Pedro! Looking for an adventure, he sets off on a journey to find the mysterious Mouse Islands. Swept out to sea with his suitcase he tells himself he must be brave. Rescued in the nick of time, he is taken to the very islands that he was searching for. With a boat, a submarine, a seaplane and even a helicopter, there is no end to the daring rescues which can be made to protect the islands.
Adventuremice: Otter Chaos is a beautifully produced book in full colour. It is aimed at the young chapter book reader who is gaining confidence in their fluency. Such a high quality story line and use of language laced with humour is guaranteed to leave them wanting to read more. The beautifully coloured illustrations throughout the story allow the reader to be seamlessly transported into Pedro's world to experience his rollercoaster of emotions. It is these fabulous illustrations that will draw children in as you read the story aloud as well as keeping those reluctant readers hooked. 
If you are looking for a read-aloud story for KS1 or lower KS2 pupils, then you will struggle to find one more engaging than this. It is on my 'must read' list for all pupils including reluctant readers. An absolute joy to read.
128 pages / Reviewed by Amanda Shipton, teacher
Suggested Reading Age 5+
Other titles