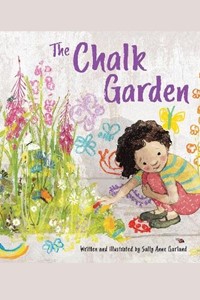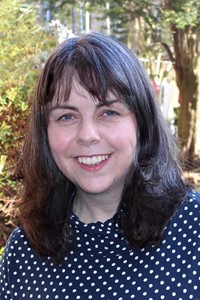 About Author
Sally Anne Garland grew up in the Highlands of Scotland. According to her parents, her first really good drawing, aged four, was a large mural in crayon on the sitting-room wall...
After graduating from Edinburgh College Of Art, Sally Anne Garland worked for a many years as an in-house graphic and print designer before becoming a freelance children's book illustrator. 
When she's not drawing or writing stories, she has fun reading books or watching movies INSIDE, and going on walks OUTSIDE.  Sally lives in Glasgow, Scotland, with her partner and their son.
Instagram @sally_garland_illustration   Twitter @sallygarland14
Interview
The Chalk Garden  (Sunbird Books)
May 2023
The Chalk Garden is a quiet, contemplative picture book that follows a child as her wild garden comes to life through the cracked pavings of her new home. As we see her patience rewarded, with flowers, insects and finally a bird visitor to the wild patch, children are reminded how they can help change and shape the world around them for the better. 
Here, Sally Anne Garland tells us how seeing a 'chalk jungle' created by children in a shared space helped inspire her own story, and how her ideas for The Chalk Garden developed.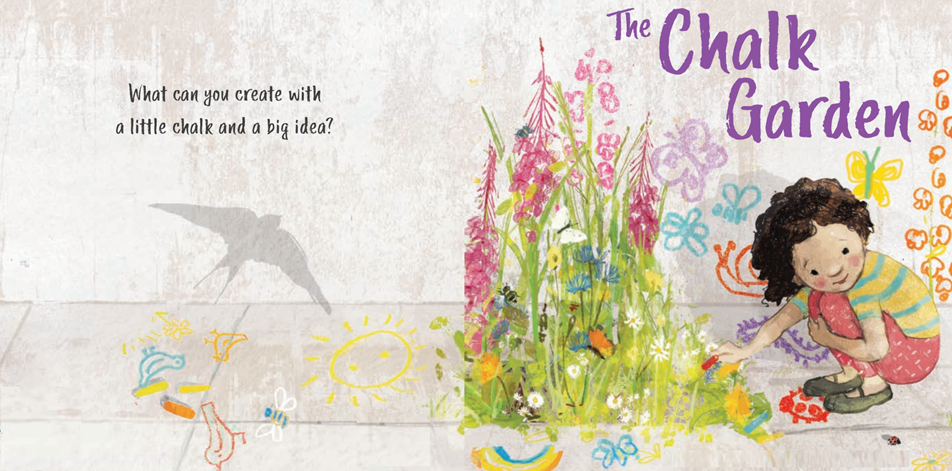 Q&A with Sally Anne Garland
1.   Can you tell us about your new picture book, The Chalk Garden, and what inspired it? Were you a chalk scribbler as a child?
I was more of a crayon scribbler and unfortunately it tended to be my parent's sitting room wall that bore the brunt of my first artistic endeavours.
The inspiration for the book came from some jungle animals, drawn in chalk in the large communal pavement area I share outside my home.  It was clear that the artist of these particular drawings, were endeavouring to change their environment into a jungle by simply using their chalks.
Some of the animals were drawn on the surrounding walls and cleverly interwove with leaves from some neighbouring bushes. I remember particularly a pink giraffe, peering mischievously from the leaves and I thought this could be a lovely illustration, but also a nice premise for a story.

2.   Have you been involved in any activities yourself in terms of transforming a natural space?
Not particularly - my mother has always been a fantastic gardener, so I was fortunate enough to have an upbringing that always had a lovely garden. I think, however, I have managed to absorb enough gardening skills, to help a little with the annual community tidy up of the space outside my home.

3.   Like your earlier book, Stuck Inside, this story shows how a child's imagination can help to transform the world around them. Is it important for you that children in your stories have this level of agency?
It's not a specific agenda but I think it is a repeating theme that has unconsciously come through in my stories. I am perhaps reflecting on some of my own childhood experiences and also I am interested in the role imagination plays in a child's processing of the world.
Apparently, between the ages of three to nine, children's Brain Waves are very active in the imaginative part of their brains and are in a Theta state which resembles hypnosis. The difference between fantasy and reality is more blurred than in adults but it helps children find ways to cope with challenges they may find in reality. When a child draws a chalk jungle in their back court - their belief is such that it becomes a real jungle in their eyes.
Perhaps this is why libraries and bookshops are full of children's books telling stories of make believe, fairytales and silliness: tapping into their readiness to believe.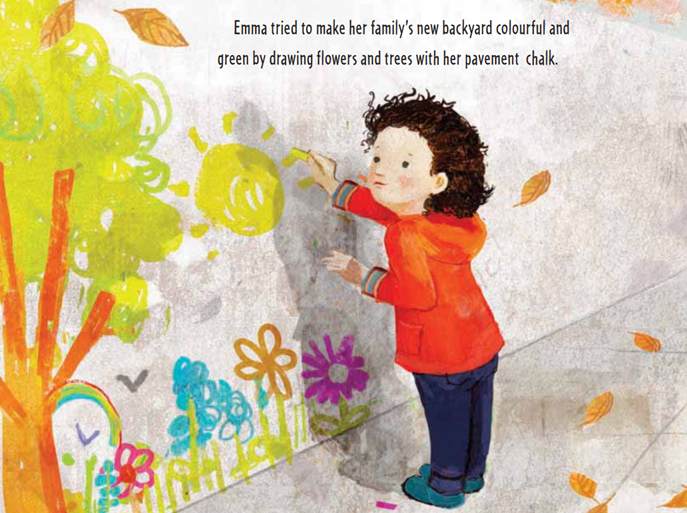 4.   Are you also reflecting on those quieter moments, when children have an opportunity to become engaged in an activity, without adult direction?
Yes, and I think most parents and educators share this view and recognise the importance of these times simply as a chance for children to calm down and regulate a bit so they can focus and think for themselves.

5.   Why did you decide to build the story over time to the moment when the birds appear in the 'chalk garden'? Do you watch for birds in your own garden?
I liked to watch and draw birds when I was young which taught me how to observe and be patient in the same way as Emma in the story learns from her garden.

6.   As the garden grows, we see the child becoming happier - do you feel children need some level of interaction with nature?
Yes, I do - nature is not just a visual experience - it encompasses all the senses. I think the sensory experience of the outdoors quietens the mind and helps it to regulate and focus. Most importantly though, it can be fun. Simply playing in the ground with a stick, is one of the best ways a child can relax and process the world.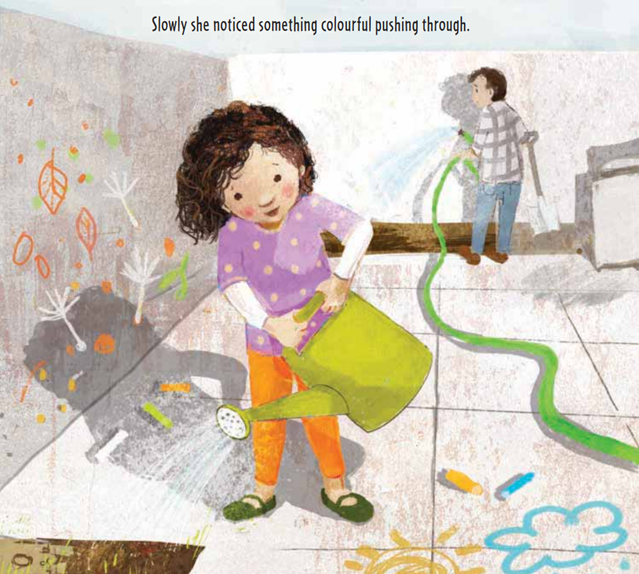 7.   Many children do grow up in concrete environments; do you hope with this story to encourage them to find nature where they can?
I am always mindful of children who are maybe not lucky enough to have easy access to a natural space. I hope this book shows that the natural world is not just huge but also microscopic. Potentially a kid can have the same sense of wonder from a few blades of glass growing out of the crack in a pavement, as they can from a big walk in a forest. The important thing is finding time: time to look and engage in quietness.

8.   How else would you like to see The Chalk Garden being used to encourage children to engage in activities with nature?
The book is simply a springboard for their own thoughts. It is both a story about longing and patience, as well as a general introduction to the growth of a natural ecosystem. Hopefully it might spark a conversation about worms, or maybe why Emma is sad that she has no birds in her garden and that could lead to a wider discussion about climate change.

9.   How did you decide to illustrate the story and to portray the child's observations? What were the main challenges for you in bringing the story to life through your images?
I drew the illustration in the book from differing perspectives. In some images I wanted the reader to feel as if they are sitting next to Emma, closely sharing what she sees.
On other pages, I wanted them to feel as if they are the bird she longs for: watching and waiting for her garden to grow. You don't see the actual bird until the final spread but its presence is felt throughout the book.
I also wanted to show Emma's dad in the background mirroring her own activity. I thought the juxtaposition of Emma's garden growing naturally and her Dad trying to cultivating a garden an interesting one.

10.   What are you working on currently?
I have lots of exciting projects in the pipeline. I am already working on my next book with Sunbird Books based on the true event of when an astronaut took some seeds on one of the Apollo missions and planted them back here on earth to see how they would grow. The story is about one of those seeds.
Author's Titles