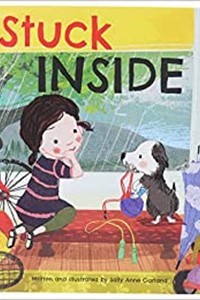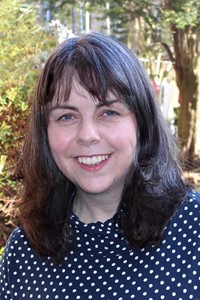 About Author
Sally Anne Garland grew up in a small town called Alness in the Highlands of Scotland. According to her parents, her first really good drawing, at the age of four, was a large mural in crayon on the sitting-room wall...
After graduating from Edinburgh College Of Art, Sally Anne Garland worked for a many years as an in-house graphic and print designer for different retail companies, before becoming a freelance children's book illustrator. Since then she has spent many years illustrating and designing for the children's market.
Her picture book Stuck Inside was inspired by her interest in the small world children inhabit, the way the simplest things can be so new and exciting, and how the best fun often begins when children are at their most bored. When she's not drawing or writing stories, she has fun reading books or watching movies INSIDE, and going on walks OUTSIDE.
Sally lives in Glasgow, Scotland, with her partner and their son.
Author link
https://www.instagram.com/sally_garland_illustration/?hl=en; https://twitter.com/vinegarandbrow1;
Interview
Stuck Inside (Sunbird Books)
May 2021
What can a small girl and her dog do to keep themselves busy when they can't go outside? Stuck Inside is a brilliant picture book for sparking imaginations and encouraging children to create their own indoor activities.
Author and illustrator Sally Anne Garland reads from Stuck Inside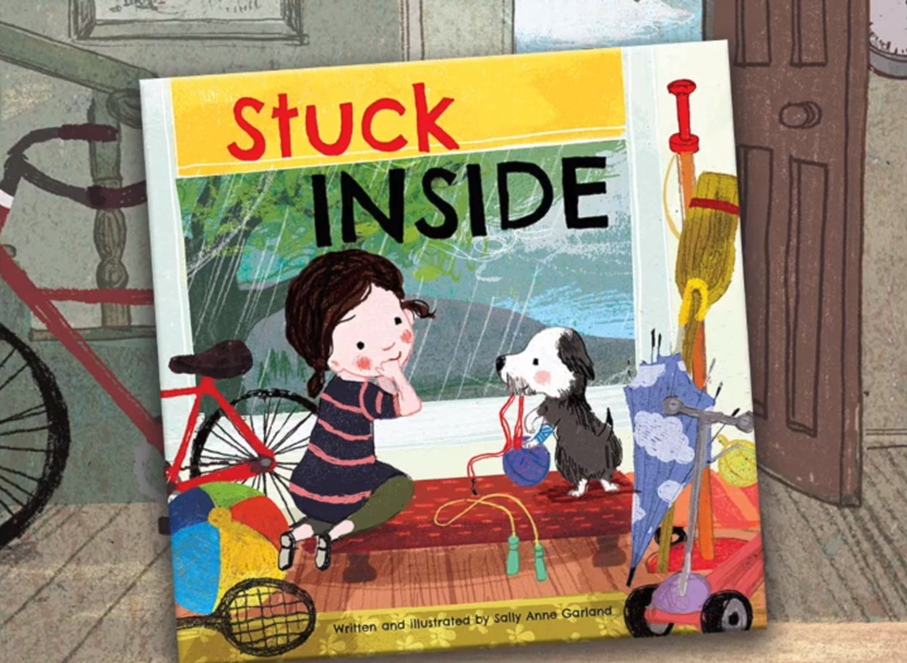 Q&A with Sally Anne Garland
1.  What was your route into writing and illustrating picture books?
After graduating from Edinburgh College Of Art, I worked for a many years as an in-house graphic and print designer for different retail companies. I eventually decided to go it alone as a freelance children's book illustrator and was lucky enough to be signed up with Advocate Art Agency.
2.  Do you prefer to write and illustrate your own books, or do you also enjoy illustrating texts by other people?
I enjoy doing a bit of both. It is always a joy to illustrate someone else's text, however I also really like the process of telling a story using my own words and drawings. I think picture books are a very unique and important genre in children's literature and the relationship of the words and pictures is inextricable, so it is always a pleasure to be the creator of both.
3.  Can you tell us about your new picture book, Stuck Inside?
Stuck Inside tells the story of a little girl called Tilly and a little dog called Toby who are both stuck inside and can't go out to play for different reasons. They are both bored and long for the fun of the outside. When Toby brings his lead to Tilly, it gives her a good idea and they both begin searching in places they hadn't explored, looking for all their outdoor belongings. Eventually, they make a big pile of what they have found and put it all together to create "the most amazing, astounding and spectacular Dog-Walking, Storm-Protecting Machine!" - and they finally realise that all the fun of outside was already inside their minds.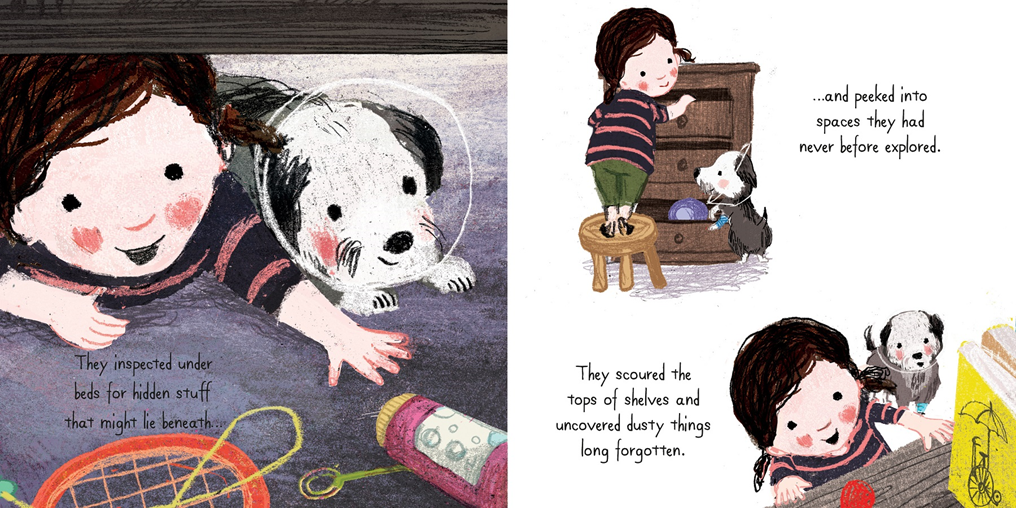 4.  There are lovely themes of exploration and imagination in the picture book, but what was your starting point for the story and how did it develop?
The idea for Stuck Inside first came to me whilst thinking about my own childhood and realising that most of my best experiences were often preceded by a period of wondering what to do next. I have come to realise that boredom, particularly in childhood, is not necessarily a bad thing. The quest to find something fun makes children go looking and find new things, which ultimately develops skills such as creativity, self-reliance, ingenuity and imagination.
5.  Do you remember how you used to keep yourself entertained when you were 'stuck inside' as a child?
I was a child who lived in her head, so if I was having a boring day I would daydream and make up stories - not much has changed there! Like Tilly and Toby, I was also a bit of a snoop and enjoyed exploring and finding things, particularly relating to nature and wildlife. At one point I had ambitions to be a naturalist or something similar, and I remember I had a nature table in my room with all sorts of gruesome things displayed on it. I think this sparked my passion for illustration. I used to draw and catalogue the objects on my table whilst enjoying looking at the pictures in my wildlife reference books.
6.  Why did you decide your main characters would be a girl and a dog for this picture book?
No particular reason other than they were both relatable to me I suppose. Toby is based on a little dog called Toby that belonged to my Nan and Grandad, and who was a bit of a character. He used to spend his day plotting his escape with surprisingly ingenious results. He was a perfect example of how being bored and restless can sometimes produce success!
7.   How do you create your illustrations - do you doodle before you start the story? 
It's funny - I was cleaning out my desk recently and kept finding bits of paper with initial sketches drawn on them which looked like bizarre balls of scribbles with seemingly random words exploding from them. I noticed I tend to do them at the start of a story idea when I'm afraid I might forget or loose the idea - it's a form of quick, shorthand really.
I then start the process of untangling and separating the scribbled word ball into something a child could possibly read. I do this by story boarding and writing a first draft. Interestingly, this process relates to what I said above - that words and images in a picture book are inextricable and often work best when the image and the text have the same voice - or in my case come from the same scribbled word ball.
8.   What media do you use and how did you create that slightly retro feel to these images?
At the moment I am using graphite pencils which are really fluid to draw with and help the process of distilling my initial muddle of ideas. Then, I scan in and digitally colour - by this point, I usually feel a bit more in control.
I think the retro feel is perhaps me unconsciously recalling my own childhood - for example, if I draw a chair, it tends to be one that looks like it belongs in 1979.
9.   Which is your favourite spread?
The sixth spread, where Tilly and Toby are looking down the corridor at all the closed doors. I like that it has a sense of possibility: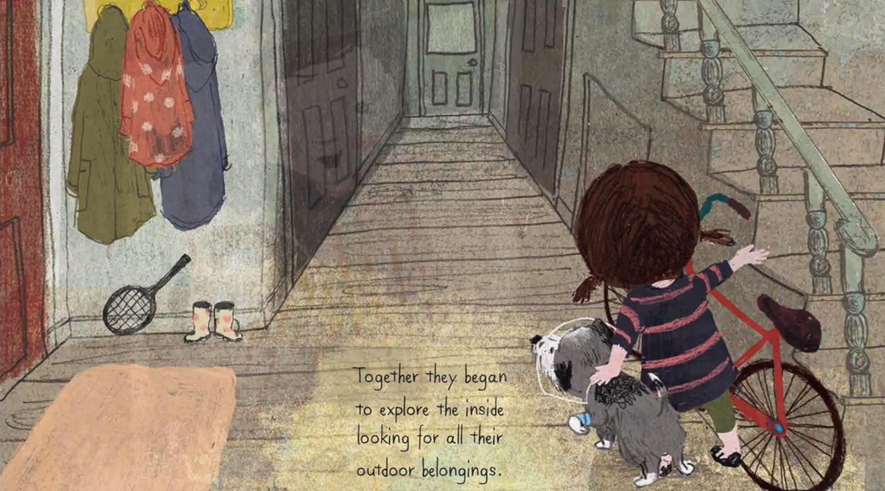 10.    Where do you prefer to work and what are you working on currently?
I'm currently working on a table in the corner of my sitting room. I would love the luxury of my own studio but, like most working parents who have been home-schooling this year, most spaces were taken over and I was left clinging to the edge of the table trying to work!
Right now I am illustrating a picture book for another author and I am currently developing some more story ideas for my agent.
11.  What are the highs and lows of being an illustrator?
The highs are obviously having a career doing something I am passionate about and the lows, like any self-employed person, is keeping the work coming in. In my case I have the support of a really good agency.


12.   Who are your favourite children's book illustrators?
Too many to mention - I just love children's illustration and have hundreds of picture books on my bookcase that even as an adult, I still regularly look at. That is the joy of good illustration and what it can give to children. When a child reads a picture book they are in control of the page turning - they can linger and ponder over a picture for as long as they want to and fully digest the meaning of the words it depicts.
An illustration can also offer up all sorts of questions that are not necessarily related to the story, such as "Why are the monster's eyes yellow?" or "Is the bear lonely - is that why is he chasing them?" Animation and films are excellent story-telling platforms, however the child has to keep pace with the timeline to follow the plot. Illustration, particularly in picture books, can offer a young child the opportunity to learn and develop their imagination, thoughts and opinions, in their own quiet time.
13.  What are your favourite escapes from your desk?
Walking and reading. 
Author's Titles