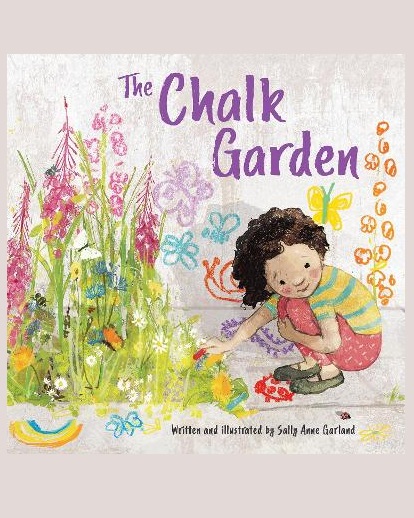 By Author / Illustrator
Sally Anne Garland
Genre
Environment
Age range(s)
5+
Publisher
Sunbird Books
ISBN
9781503768048
Format
Paperback / softback
Published
11-05-2023
Synopsis
What can you create with a little chalk and a big idea? Emma draws a beautiful flower garden with chalk, hoping to attract birds to her family's new but mostly concrete outside space.  As she draws, observes, and waits, she notices the tiny ecosystem developing outside her door and sees real flowers begin to bud and bloom.
Find out how The Chalk Garden developed in this Q&A with Sally Anne Garland
Sally Anne Garland is author of Nook and Stuck Inside.
Reviews
Maria
The Chalk Garden is a moving tale of a young girl, Emma, who dreams of nothing more than having colour and birds in her garden. However, her new garden is grey and full of concrete slabs. Emma tries using coloured chalk to draw the things she dreams of, but each time the rain washes it away. One day she spots grass growing through the pavement cracks. Underneath is life.. roots, worms. With care and love, Emma grows her garden one paving slab at a time. Will Emma succeed in her dream of colour and birds, or will she be colouring the walls with chalk forever?
The Chalk Garden is a fantastic, engaging story encouraging children to think about wildlife and nature, and how we can restrict its growth though building. A great resource with topic links to lifecycles, habitats, colour and the environment.
Picture book / Reviewed by Maria Faithorn, teacher
Suggested Reading Age 5+
Elen
The Chalk Garden is a really lovely picture book, one that supports giving space to wild planting and which encourages children to observe nature and its changes, with patience.
A child's family moves to a new house whose garden comprises concrete slabs. She hears birds singing in neighbouring gardens, but none visit this garden and so she starts creating a 'chalk garden' of colourful flowers to encourage them to visit - but none come.
Seeing some greenery growing between a crack in a slab, she asks her father to remove it, and so begins a process of nature 'rewilding' this part of the garden, while her father creates a more managed vegetable patch alongside her wildflower patch.
In the Chalk Garden, author and illustrator Sally Anne Garland shows us the process of how nature can take over an area, when given a chance, and we see the changes gradually happening, from the first wiggling worms in soil to the green shoots of wild plants, and finally an entire habitat of wildlife developing - even, eventually, the birds that the child so wants to visit.
We gradually see the change in the garden through colour, as the pages move from concrete slabs to an explosion of colour of the real flowers alongside the chalk ones; it is beautifully done, giving us a real sense of the child's observations of the changes in nature.  The illustrations of the 'chalk garden' the girl creates are lovely, and are bound to encourage children to want to create their own patch of chalk flowers.   
The Chalk Garden is a must for any home or class involved in creating a 'wild patch' or starting to develop an area of garden from scratch, or for just a better understanding of how nature develops when given time and space to do so.  It encourages children to look for the slightest change in nature, and to understand that nature needs time to grow, so helping develop their patience in a world where so much happens so quickly.  Highly recommended.
Picture book / Reviewed by Elen Green
Suggested Reading Age 5+
Other titles