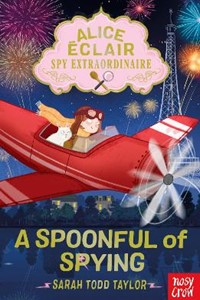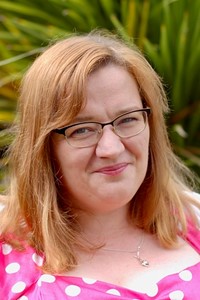 About Author
Join Alice Éclair in her extraordinary spying adventures, A Recipe for Trouble and A Spoonful of Spying by author Sarah Todd Taylor.
Sarah was brought up in Yorkshire and Wales surrounded by books and cats. She discovered the theatre when she was a teenager and was instantly hooked, appearing in over 20 musicals in her hometown as well as helping out backstage. In her spare time she likes to sing opera in wonderful dresses, and she shares her home in Wales with her fabulous husband, two guinea pigs and a hamster.
Interview
Alice Éclair: Spy Extraordinaire: A Spoonful of Spying  (Nosy Crow)
January 2023
Turn back the clock, step into Paris in the 1930s, and join Alice Éclair in her extraordinary spying adventures, A Recipe for Trouble and A Spoonful of Spying.  With mysteries to solve, cakes to make and friends to help, Alice is always on the case!  We asked author Sarah Todd Taylor to tell us more about her mystery series and the latest book, Alice Éclair: Spy Extraordinaire: A Spoonful of Spying!

                                  Read a Chapter from A Recipe for Trouble                          Read a Chapter from A Spoonful of Spying
Sarah Todd Taylor tells us what inspired the stories, why she set these adventures in Paris and what happens in the first two books in this video and Q&A:
Q&A with Sarah Todd Taylor
1.   What inspired your Alice Éclair, Spy Extraordinaire! series?
I have always loved puzzles and codes. When I was about ten, my brothers got a copy of a book about spying for Christmas and I quickly 'borrowed' it (there is a possibility that they tell this story differently) and spent the summer pretending to be a spy and learning about secret codes, disguises and invisible writing.
When I decided to write a series about a girl with a secret life as a spy I wondered about making her an actor or someone working in a fashion house, but I decided to make her a baker as that gave her the opportunity to find her way into all sorts of places where she could look for clues. Because she is invited to so many important places as part of the catering staff, Alice is able to gain entry to places that are very useful for her spy missions. I also wanted to make Alice's life full of beauty and creativity, and I have a lot of fun with her wonderful cake creations.

2.   Did you enjoy reading detective / mystery stories as a child?
I did, very much. I devoured the Secret Seven and Famous Five and then I very quickly fell in love with Agatha Christie, firstly through the BBC's wonderful Miss Marple series that I would watch with my family, and then with her books and short stories. I loved the Sherlock Holmes stories, too, because they always had such wonderful puzzles at the heart of them.

3.   What are the key ingredients for a masterful mystery story?
The ones that I love to read have three things. Firstly - an intriguing puzzle that hooks you in and gets your brain working (I especially love a locked room mystery). The second thing I love is a good cast of characters, including ones that you care about and ones that make you grit your teeth. I always find myself hoping that the nastiest character is the villain so they get their comeuppance when the detective solves the crime. Finally, a really interesting detective is a joy to read. I love it when you can solve the crime along with them, spotting the clues as they do.

4.   Can you tell us a little about the latest book, Alice Éclair, Spy Extraordinaire! A Spoonful of Spying? What is your favourite moment in the story?
In Alice's second adventure she is sent undercover at the World Fair in Paris. The whole world has come to the city to showcase the very best it has in technology, engineering, food and fashion. France's spies and their best scientists are going missing, kidnapped, and there are rumours that the traitor responsible is somehow using the fashion halls as a base for their messages. Alice's mission is to get herself an invitation to work backstage and find out who the traitor is. Along the way, she makes friends with a glamorous fashion model, Eva, who rides a motorbike and has a few surprises up her sleeve, and a talented young engineer called Sophie.
I think my favourite moment is when Sophie takes Alice for a night flight in the tiny plane that she has built herself. They go for a short flight over Paris at night and it was great fun to write and to imagine them flying over the brightly lit city while fireworks go off underneath them.

5.   How did you get Alice Éclair's name? 
Alice was originally called Louise, but I have a very wise and wonderful editor called Fiona who thought that maybe this wasn't quite the right name for her and so we thought about various names and Alice was born. Then, quite by coincidence, I found that there was a real French woman in the First World War who worked as a spy for Britain under the codename Alice Dubois and her actual name was Louise!
Alice is an extremely talented pâtissière with a big imagination and lots of determination. She's very confident about her pastry skills and she should be, because she can create just about anything with cake and spun sugar. She's also a spy, and there she has a little less confidence. She's always worried that she will make a mistake that will cost people their lives, and she's haunted by a few family problems. She has a real determination to do the right , though, even when it looks like everything is lost.

6.   Why did you decide to set your books in the past? Does this make it harder or easier to write Alice's adventures?
I have always loved reading about the past. I studied history at University and even have a PhD in it, so finding out more about the past is a passion of mine. It does make it a challenge because you have to constantly question the smallest thing - from whether a piece of technology was invented in the 1930s to whether a certain food was eaten. It means I go down a lot of rabbit holes looking things up and reading about them, but I love that anyway. The minute I read about the great exposition in Paris I knew I had to set a spy book there as it was such an amazing setting.

7.   And why are the books set in Paris - how well do you know the city? What draws the writer in you to the streets of Paris?
Paris is such a beautiful city with such wonderful architecture and French desserts are the most creative and artistic, so it seemed natural for that to be Alice's home. She gets lots of inspiration from the beautiful city around her for building her pastry and sugar creations.
I've only visited Paris myself once but I long to go back as it is such an inspiring place. Everywhere you turn there is something beautiful to see.

8.   Are Alice's adventures based around real events, such as the World Fair and aeroplane exhibition? Did you need to do much research into these before you start to write?
The Paris Exposition was a real life event that took place in 1937 (I have cheated a little with the timing) and the minute I read about it I just knew that I wanted to set a spy book at an event inspired by the Exposition. The world really did come to Paris, showcasing the best of industry and the creative arts, and the city was buzzing with politics in the various country's pavilions.
Alice's World Fair is a fictionalised version of this, but I drew much inspiration from reading about the Exposition and watching news reel footage. The layout of Alice's Fair is based on the map of the Exposition, which really shows how the buildings dominated the centre of the city.

9.   What do you have planned next for Alice Éclair?
Alice's next adventure is a winter mystery at the palace of Versailles. I adored visiting the palace when I was in France and have wanted to set a book there ever since. I also wanted to set an adventure on a film set, so Alice's third adventure takes her to a film set in the middle of the palace where she has to uncover a secret map while surrounded by fussy actors and, for the first time, she finds her life in very real danger as someone seems intent on harming her and she must work out who they are before they succeed!

10.   Does Alice's love of baking come from your own skills as a baker - or do you just love the eating bit? What are your top writer's snacks?
Sadly not. I do love to bake, but I'm not very good at it other than making a rather good chilli cheese muffin. My husband is an excellent cake decorator, though, and even iced our wedding cake, so I drew a little on watching him for the scenes where Alice is working on her creations.
I am a VERY good cake taster, though, and a huge fan of macarons. They are perfect for when you want an intense burst of flavour but don't want to eat a huge piece of cake. 

11.   Where do you tend to write?
I don't have a study to write in so I mostly write on our sofa, with my two guinea pigs for company (they make very good writing buddies). I like to get out and about to write too, so I do visit cafes sometimes and write there.

12.   What do you enjoy doing when you're not dreaming up new adventures....?
I love singing and being on stage, though I haven't had much time for that lately. I love to sew too and make quilts for friends and family and a lot of that made its way into Alice's World Fair adventure in the fashion halls. I'm not very good at drawing, so 'painting' with fabrics through patchwork is my way of being visually creative.
Author's Titles