Alice Eclair, Spy Extraordinaire!: A Sprinkling of Danger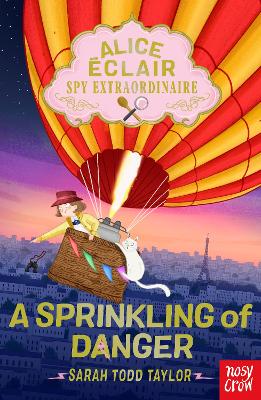 By Author / Illustrator
Sarah Todd Taylor, illus Beatriz Castro
Genre
Mystery & Detective
Age range(s)
7+
Publisher
Nosy Crow Ltd
ISBN
9781839948855
Format
Paperback / softback
Published
14-09-2023
Synopsis
Alice Eclair, Spy Extraordinaire will whisk you away on a fabulous adventure, full of daring action and delicious cakes!  Baker by day, spy by night - Alice Eclair leads an exciting double life!
On a glamorous movie set at the Palace of Versailles, someone is leaking national secrets. Is it the American director with the shady past, or the flamboyant lead actress whose Renaissance wig is full of secrets? Or is it someone so devious, Alice hasn't even noticed them? Whoever it is, this person has a deadly plan...  Armed with a light sponge mix and an airy disregard for danger, Alice Eclair is on the case! And she'll need to use every trick in her recipe book to survive this mission...
A Sprinkling of Danger is Alice's third adventure and can be read as a stand-alone novel, or enjoyed as part of the Alice Eclair, Spy Extraordinaire series. Look out for Alice's other missions, A Recipe for Trouble and A Spoonful of Spying!  
Perfect for fans of Robin Stevens' Murder Most Unladylike series and M.G. Leonard and Sam Sedgman's Adventures on Trains series.
Find out more from author Sarah Todd Taylor
Reviews
Sue
A Sprinkling of Danger finds Alice Éclair on another spying adventure. When an American film crew arrives at the beautiful palace of Versailles, there is great excitement, but suspicions that a spy is amongst them means Alice is once more on the case. Using her baking skills, Alice manages to gain a place on set along with her fellow spy, Pierre. However, Pierre seems to have his own agenda, leaving Alice to face danger on her own. This could be her stickiest mission yet…
There is something very magical about cake and kindness. Every bit as delicious as the two previous mysteries, A Sprinkling of Danger is a brilliant read. Alice remains as resourceful and determined, combining excellent observation skills, a passion for pastries and a nose for adventure as she solves the mission she has been set. In this story, she not only has to contend with solving the case, but is also challenged by the sneering, unhelpful actions of Pierre who is supposed to be working on her side, but is as obnoxious as can be.
Versailles makes a magical backdrop for the tale and the author has done a wonderful job of capturing the beauty and wonder of this stunning location, dropping little nuggets of historical information in every now and then. Against this setting, Alice whips up her fantastic culinary treats, making the reader's mouth water as they try to crack the case.
There are plenty of red herrings to distract and misdirect, but in the end, Alice triumphs, not only exposing the enemy spy, but resolving her questions about Pierre. Perfect for reading as part of the series or as a stand-alone adventure, the story ends with hints about a next mission and I, for one, can't wait to read it! 
224 pages / Reviewed by Sue Wilsher, teacher
Suggested Reading Age 9+
Jenny
A Sprinkling of Danger is the third delightful mystery adventure starring young, talented and creative French patisserie genius and super sleuthing spy, Alice Éclair. I am such a huge fan of these charming and exciting stories! The books can read in order or as stand-alones for those just discovering Alice and her cake-making, crime-solving skills.
Set again in the years before the start of WWII, the reader is whisked into a glamorous Parisian past. This time, the spy mission is centered amidst the grand, decadently luxurious setting of the Palace of Versailles itself. Someone is leaking the map co-ordinates of French spies, positioned secretly in the mountains, to the enemy and all signs are pointing to an American film director working on a film at the Palace with a questionable war past. Luckily for Alice, re-creating the opulent elegance of Marie Antoinette for Hollywood will require cake - the most impressive, intricately piped and exquisitely iced cakes possible - and she finds herself on the film set in the perfect position to observe director Carmine's activities and foil the French enemies once again.
Sarah Todd Taylor creates Alice's pre-war Paris backdrop so brilliantly - the glittering details of Versailles itself are extravagantly crafted as are the delicate, fragile and delicious sweet treats that Alice excels at - and she thinks about her suspects, their alibis and her next moves as she whisks, bakes and assembles gloriously sounding delicacies.
The Alice Eclair books simply ooze sumptuous detail on every page. A Sprinkling of Danger is an enthralling, engaging plot from start to finish - the glossy wealth of a film set pitched against the threat of war looming over France; the cast and crew of the film being stranded in a snowstorm at the Palace; the range of intriguing characters (many with their own skeletons in the closest and secret pasts), just perfect for a detective to add to their suspect list. Add to this the attempts on Alice's own life and there is a real sense of tension, mistrust and nervous energy that builds throughout the story.
Alice herself is as appealing and empowering a character as ever - feisty, clever, often impatient but always courageous and sharply focused. Joining her on another action-packed spy mission was joyous!
224 pages / Reviewed by Jenny Caddick, teacher
Suggested Reading Age 7+
Donna
Alice is on the case again in A Sprinkling of Danger.  This time, she heads undercover onto a film set; the Director is desperate to have her delicious delicacies in shot to lift the film to the heights of splendour that he desires. But Alice is not alone on the set, a fellow spy has also made himself indispensable as hairdresser to the star of the show. Alice was hoping that having a colleague about would be a help, however, it is soon very clear that Pierre is going to do everything he can to undermine her and claim any glory for himself.
Heavy snowfall locks the cast, crew and staff into the house and gives Alice wonderful opportunities to snoop around for clues. But as each day passes, another location is somehow revealed, and another secret spy location is unearthed. Time is running out and Alice must find the culprit before it is too late. The mission takes a dramatic turn as Alice's life is put in danger. Who is trying to kill her? And what are they trying to hide? Alice must battle the elements, unravel the clues and try to stay alive...
A Sprinkling of Danger is another sparkling mystery from Sarah Todd Taylor in her Alice Éclair: Spy Extraordinaire series. The plot throws us straight into the action, leaving readers who already love the series lapping up the familiar style and pace of Sarah's writing.
This is another fabulous story for children who love picking up clues and solving the puzzle as they read. With twists and turns, red herrings and hints, who wouldn't want to read it!   Curriculum links to: trust, problem solving, overcoming adversity, belief, hope and determination.
224 pages / Reviewed by Donna Burkert, teacher
Suggested Reading Age 9+
Other titles