Alice Eclair, Spy Extraordinaire! A Spoonful of Spying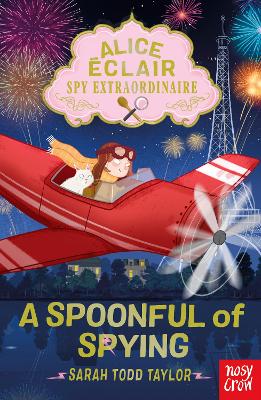 By Author / Illustrator
Sarah Todd Taylor
Genre
Mystery & Detective
Age range(s)
7+
Publisher
Nosy Crow Ltd
ISBN
9781839940972
Format
Paperback / softback
Published
12-01-2023
Synopsis
Alice Eclair, Spy Extraordinaire will whisk you away on a fabulous adventure, full of daring action and delicious cakes!  Baker by day, spy by night - Alice Eclair leads an exciting double life!
Inventors and artists have gathered in Paris for the World Fair. All eyes are on the aeroplane exhibition - these incredible machines will take humanity to new heights! Alice suspects that some of these inventors are in terrible danger, but no one will believe her. Surrounded by enemy spies, Alice will need to use every trick in the recipe book if she's to keep her friends safe and stop France's greatest invention from falling into the wrong hands.   With a half-baked plan and a dash of daring, Alice must foil the enemy's plot before the whole thing boils over...
A Spoonful of Spying is Alice's second adventure and can be read as a stand-alone novel, or enjoyed as part of the Alice Eclair, Spy Extraordinaire series. Look out for Alice's first mission, A Recipe for Trouble!  Perfect for fans of Robin Stevens' Murder Most Unladylike series and M.G. Leonard and Sam Sedgman's Adventures on Trains series.
Find out more from author Sarah Todd Taylor
Reviews
Erin M.
13-year-old Alice Éclair, cake maker supreme by day and spy for the French government by night, is off on a mission. And it's not to buy fresh eggs for her mother's famed pâtisserie, Vive Comme L'Éclair.  In A Spoonful of Spying, we join her in an action-packed scene aboard Le Mistral, Paris' most luxurious event boat, as it sails slowly down the Seine. Alice and senior agent, Claude, are hot on the trail of spies and stolen information valuable to the enemies of France.  Disguised as a waiter, Alice serves, while elegantly dressed Claude, never short of admiring company, mingles with the well-healed partygoers. Both are on the lookout for their suspect.
Suddenly the chase is on, but it goes sour when Alice is faced with a life-or-death choice. And so the villain escapes, but not before she manages to steal a slip of paper from his pocket. Wet and muddy, Alice blames herself. She feels she failed Claude just when she needs to be proving herself. Worse, Claude dismisses the piece of paper. The paper, however, soon becomes the first clue that indicates the plans for prototype French aircraft, code-named 'Daedalus', are to be stolen and passed to foreign agents. And where better for spies to mingle and plans to be passed than the upcoming World Fair in Paris! Under guise of showing off her cake-making art, Alice and her mother get an invite to take a stand at the fair. Of course, for Alice, it means between helping her mum and working as a spy, she gets little chance to investigate marvels from across the globe on display.  After a few days with little to go on and even fewer suspects, Alice gets pushed to what she thinks is a lowly position in the Fashion Pavilion. Claude, however, seems to have taken the best, most glamorous assignment for himself! 
OK, from here on in, clues and suspects start to mount. In fact, it seems there are spies everywhere interested in all manner of things.  Alice's decorating skills get to be unleashed too, as she gets embroiled in kidnapping as the adventure quite quickly takes a high speed, high stakes and high octane race to save friends, families and secrets from dastardly deeds and deadly double-dealing . . . . . persons! And if you are wondering about Casper, the cat, well, he gets far more than he bargains for when he steals a ride to the World Fair!
So, what did we think? After Alice's first adventure, A Recipe for Trouble , I wondered if and how Sarah could pull off another spectacular tale. I am delighted that she has far exceeded my hopes and expectations.  This is an adventure packed with unashamed panache, gusto, bravery and adventure worthy of famed Belgians, Tintin and Hergé.  But this is by no means a copy. It stands tall and proud like one of Alice Éclair's own culinary creations, with layers of mystery to unravel and countless textures and flavours. All this amidst a Parisian backdrop of high fashion, aviation, and a world fair. Truly the only thing Sarah hasn't provided is the smells and tastes of Alices cooking. For that, the only solution is to buy your own. It doesn't shy away from failure and the lessons and costs it brings.
The cast is engaging and highlights that women of the era in real life were also at the forefront of engineering and flight. I am so pleased that we see this in writing, as it is often assumed quite wrongly that women were nothing but models, cooks and housewives. I get a definite sense of an 'upping of the anti' in this second adventure. It is bolder, stronger, and growing with Alice.  It certainly hits all the right notes in all the right places to make it a firm favourite for adventure-loving kids and adults alike. It also sets another high bar for Sarah to clear for the next book.  So, for me, this is a MUST-READ. Sit back and enjoy a rollercoaster of a ride that takes the reader from the glam of the catwalk, up into the skies and along the crowded streets and waterways of Paris!
224 pages / Reviewed by Erin M Watson
Suggested Reading Age 7+
Donna
Alice Éclair is on the case again in Alice Éclair, Spy Extraordinaire! A Spoonful of Spying. This time, her extraordinary skills in patisserie have seen her earn her way into the World Fair. From her position in one of the exhibition halls at the fair, she can continue to work undercover as a spy on the Daedalus project. With direction from her senior partner, Claude, Alice manages to gain entry backstage at the Fashion Pavilion. From this hidden position she can watch the audience and try to work out if anyone is acting suspiciously. There are people going missing and the Fashion show might just give them the answers they need.
In Alice's usual style, she manages to befriend some helpful allies on the way. And when she meets Sophie, the talented young engineer, she doesn't factor in that she might get an impromptu flight on Sophie's self-designed and constructed glider; or that she might get to race around the streets of Paris on the back of Eva's motorbike. And all the while, Alice manages to keep on producing the sugar work that is much admired and rapidly becoming the talk of the fair. But will Alice be able to track down the clues in time to stop the next kidnapping?
Sarah Todd Taylor, author of the Alice Éclair books, has produced yet another page turner extraordinaire in her second book in this brilliant series. Young readers of detective fiction will love this next adventure as much as the first. Alice is a loveable heroine who shows unending skill in problem-solving her way through some tricky situations. I look forward to reading the next adventure.
Curriculum links to: problem solving, friendship, overcoming adversity, believing in yourself, hope, determination.
224 pages / Reviewed by Donna Burkert, teacher
Suggested Reading Age 9+
Sue
As inventors and artists from all nations gather for the World Fair in Paris, Alice and her mother are amongst the exhibitors in the Tastes of the World Pavilion. However, Alice Éclair is not only there to promote her family business - she is there to help unmask an enemy agent who is intent on snatching the plans for a ground-breaking new plane, the Daedalus. This time, she is working as part of a network of spies, but once again, Alice must combine her baking brilliance with her espionage excellence to foil the enemy and save the day.
Once again, Sarah Todd Taylor presents a very entertaining, absorbing story about the uniquely talented Alice. However, clever as this young lady is, the story clearly shows that everyone can make mistakes and that 'failing' is important for moving forwards. Alice's energy, enthusiasm and resourcefulness are infectious, and the reader is swept along with her story, enjoying every moment of the story to its exciting conclusion.
As in the first story, Alice is faced with being judged unfairly by others both for her age and for being a girl, offering plenty to discuss with young readers. The setting is excellent, encouraging curious children to further investigate both Paris and the historical elements of the story. One thing, Sarah Todd Taylor excels at is adding tantalising descriptions whether of food creations, high couture, characters or locations, bringing the story vividly to life.
This series is perfectly pitched for younger readers looking for an engaging and challenging mystery with plenty of panache. Can't wait for the next one!
224 pages / Reviewed by Sue Wilsher, teacher
Suggested Reading Age 9+
Jenny
Alice Eclair, Spy Extraordinaire! A Spoonful of Spying is the second fantastic adventure following young and talented Parisian baking spy, Alice Éclair. This is a delightful detective story, full of intrigue and excitement. As with the first book in the series, the reader takes a step into the past, a couple of years prior to World War II. It is the famous Paris World Fair; a huge event celebrating inventions, art and achievements from across the globe. While promoting her family patisserie, Alice finds that she must also go undercover searching for an enemy spy who may be trying to steal plans about a fascinating, and secret, new type of aircraft (one that could revolutionise military aerial missions).
The multi-talented Alice uses the temptations of her irresistible pastries and delicate chocolates to infiltrate the various Pavilions of the World Fair in an effort to uncover clues, identify suspects and trace the whereabouts of an engineer and fellow agent already missing and presumed kidnapped.
The fast-paced plot twists and turns - from the high fashion shows to the displays of the newest advances in aerodynamics - as Alice follows up leads and finds herself immersed in very different worlds, yet finds both have their own trade secrets, jealous rivals and scheming plots afoot.
I love the lively style of the storytelling - the reader is so completely immersed in the Parisian life of the time; the charm and architecture of its scenery, its culture and polite society manners and hierarchy. It is all richly and warmly described by the author in an enthralling and enticing manner. Alice is an excellent young heroine. She feels like such an empowering female role model for a young reader; she is brave and intelligent but has her fair share of self doubt and moments of impetuousness that make her relatable and likeable as a young woman who is determined to follow her dreams of being a successful spy.
With a icing piping pen in one hand and a secret codebook in the other, she makes a true impact on others along the way! Sophie (the young engineer) and Eva (the young , down to earth model) become great sidekicks in solving the various mysteries within the plot and their growing friendships are a real strength of the story. It is so positive and fun to read about this diverse trio of 1930's modern, bold women. Alice Éclair is a brilliantly bright new series - I really hope for more spy extraordinaire instalments from her. A real joy to read.
224 pages / Reviewed by Jennifer Caddick, teacher
Suggested Reading Age 7+
Other titles