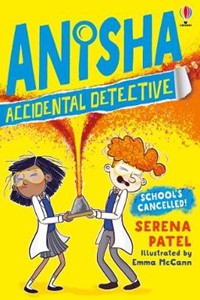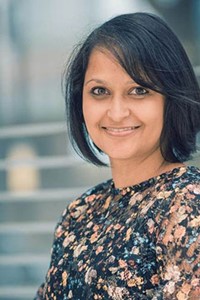 About Author
Serena Patel is a part-time law firm training co-ordinator and mum of two. She was shortlisted for the Asian Writer Short Story Prize in 2017 and was a finalist in the Undiscovered Voices Anthology in 2018. She is also a member of the Golden Egg Academy and SCWBI.
Her debut children's series, Anisha Accidental Detective, secured a multi-book contract with Usborne following a fiercely contested auction.
Serena lives in Walsall with her family.
Image by Tania Morris
Interview
ANISHA ACCIDENTAL DETECTIVE: SCHOOL'S CANCELLED
USBORNE BOOKS
SEPTEMBER 2020

Meet science-mad, wanna-be detective Anisha, her crazy family and best mate Milo in this fabulous detective series - ANISHA ACCIDENTAL DETECTIVE by SERENA PATEL.
Fighting crime but also fighting for justice, Anisha has a big heart and her adventures will be enjoyed by readers aged 8/9+.
We asked SERENA PATEL to tell us more about her first two books, ANISHA ACCIDENTAL DETECTIVE and ANISHA ACCIDENTAL DETECTIVE: SCHOOL'S CANCELLED:

Q: Anisha Accidental Detective was your debut novel - what drew you to writing for children?

A: I loved reading as a kid and when I had my own children I loved reading to them. Children's books can be powerful and magical, they can transport us to different times and places. They can shine a light on lives we haven't lived. They can act as mirrors and validate our own experiences. But what I quickly realised as a mum was that books for younger children with British Indian protagonists didn't exist. So I set out to write one.
I grew up watching Poirot and Murder She Wrote so writing mysteries actually came quite naturally without me realising that's what I was writing. It was my fantastic editors who helped me to shape the story and make it what it is today.
Q: Can you tell us a little about the first book, and what we can expect in Anisha Accidental Detective: School's Cancelled?

A: In the first book we are introduced to Anisha, she is ten and loves reading. Anisha would love nothing more than to escape into her books and be left alone. However, she lives with her rather large, loud and chaotic family who are always getting themselves into trouble.
In this story, Anisha's Aunty Bindi is getting married and Anisha is reluctantly going to be bridesmaid. But, the day before the wedding, disaster strikes and Anisha discovers a note pushed through the door which says that the groom, Uncle Tony, has been kidnapped! Anisha decides she can't tell the grown-ups because Aunty Bindi is already very stressed about the wedding so she runs to get the help of her best friend Milo and together they investigate. Will they get everyone to the wedding on time?
In the second book Anisha with Milo and new friend Govi are competing in the National Schools Science Fair. They really want to win because there is a great prize for first place. But again, disaster strikes and the week before the fair, when the friends are running a test experiment, they accidentally flood the school with foam! Or did they? The head teacher bans them from science fair but Anisha suspects foul play and set out to clear her and her friend's names in the hope that they can still compete. Who has sabotaged them and why?
Q: How did Anisha's character develop?
A: I quite liked science at school and my daughter loves it. When I started writing Anisha I think I was influenced by that. Anisha definitely shares my daughter's determination, too.
Q: Anisha's family plays a large part in the stories - how did her family develop and do you have any favourite characters in there?
Anisha's family are a reflection of my husband's family and some of my own relatives and extended family. I found when I was writing that it made sense for Anisha to have a rather large over-bearing family, I guess it something a lot of people can identify with.
Granny Jas is my favourite by far but I also have a great affection for Milo. He's not Anisha's blood relative but he's definitely part of the family.

Q: You've mentioned the lack of cultural diversity in children's books. How important is it for you that representation in books also reflects varied families and a diverse range of characters?

A: It's so important. Families come in all shapes and sizes. There's no such thing as normal. We should celebrate the differences and the things that make us the same. Families can be found, blended, multi-generational.
To see your story reflected in a book is a validating, empowering gift that books can give. Books are also a tool for empathy and can offer insight to a life different from my own. That too is powerful.
I wanted books my children would see themselves in and it had been a childhood dream to be an author but it had always felt out of reach. I also wanted my children to know that the impossible dreams are possible if you believe in yourself.
Q: The first book follows a family wedding; why did you decide on a school setting for book two?
I thought it would be nice to see Anisha in her school environment as learning is so important to her. Anisha is so used to being a good student, she's even embarrassed by it at times, but when her reputation is spoiled by the sabotage, she realises how important it is to her and she wants to clear her name.
Q: In the latest story, Anisha's volcano project explodes - was this inspired by any of your own chemistry mishaps? How much science research did you need to do for this story to make it realistic?
A: Ha, no, thankfully I never had that kind of mishap but we did try out the volcano experiment at home in my garden. My children helped but sadly our test experiment was a little underwhelming and involved me adding more and more of the ingredients to try and get a reaction - not very scientific at all!
Q: You also help draw the reader into Anisha's life with experiments, recipes and mini glossaries; why did you decide to add these elements to the text?
A: The extra content actually developed as part of the editing process. Both my agent and my editor have been key in making suggestions that have brought the books to life. And they are so beautifully illustrated by Emma McCann, I can't really take much credit at all for those bits.
Q: How hard is it to plan and plot a good detective story? Would you have made a great detective?
A: It can be very fiddly. You have to plant clues and red herrings through the story subtly. It has to be simple but complex enough to fool the reader for a little while anyway.
I love detective movies but my family hate watching them with me because I always guess who did it and I'm annoyingly good at it. However, my biggest real-life case these days is finding something someone in my house has lost like the keys.

Q: What else do you have planned for Anisha and her friend Milo?

A: Well there is a third book coming out next year called Granny Trouble. I can't say too much about it but I think it's my favourite one of the series so far. Oh, and there's a dog in it called Samosa!
After that, who knows! Watch this space.

Q: Where do you prefer to write and how does your writing day go? What are your favourite escapes from writing?

A: No two days are the same here because I'm balancing a day job as well as us all having been at home for the last few months like many other families. I write in the gaps in between and usually on my sofa or upstairs to get some thinking time.
Favourite escapes from writing are probably going for a walk or listening to the radio. Music is a great mind soother.
Author's Titles