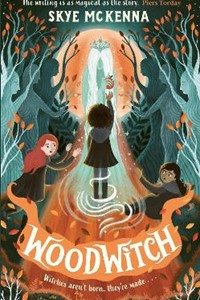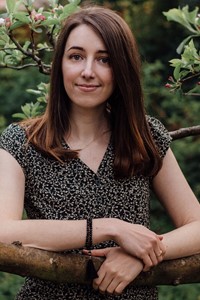 About Author
Look out for witches, goblins and a village with secrets in Hedgewitch, Skye McKenna's magical debut novel, and the follow-up, Woodwitch (Welbeck)
Skye grew in a mining town in the Australian outback. Surrounded by the red dust of the Pilbara, she developed a healthy respect for wild things and wild places at a young age. Seeking adventures of her own, she travelled to the UK and fell in love with the British countryside.  Skye now lives in Scotland and works for a heritage charity, with whom she recently curated an exhibition on medieval magic. When she's not reading and writing, she goes looking for stories in the hills and forest of her new home.
Interview
Woodwitch (Welbeck Publishing)
May 2023
Ordinary life in the village of Hedgely includes rubbing shoulders with imps, buying magical potions at the local stores and learning magic on afternoon sessions with the local coven! We asked Skye McKenna to tell us about Woodwitch, the magical follow-up to her debut, Hedgewitch.
Read a chapter from Hedgewitch (book 1)
Read a chapter from Woodwitch (book 2)
Teacher's resources: Hedgewitch
5* Review  "Children who love magical realms will be captivated by the story and its much-loved characters."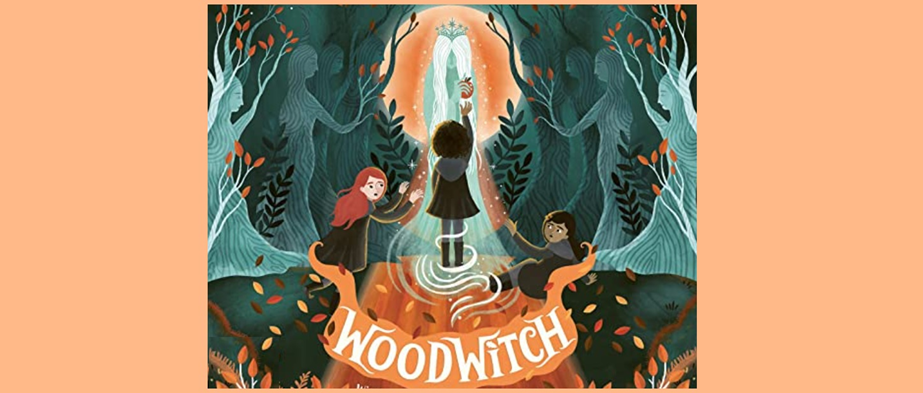 Q&A with Skye McKenna 
1.    How did you become a children's writer, and what do you most enjoy about being a published author since your debut, Hedgewitch, was published last year? 
I've wanted to write books ever since I was a child. I was a huge reader and loved making up my own stories. It took me many years of writing practice to produce something I was happy to submit to publishers, however, and I'm really pleased that Hedgewitch is my debut book because it is exactly the sort of story I loved as a child.
The best thing about being a published author is hearing from readers, whether that is in person at events, or through letters and emails. I'm always interested to hear what the story means to them because every reader brings something different to the book.

2.    What inspired your original world of Hedgewitch? Is the setting inspired by a real place?
I began writing Hedgewitch after I moved to the UK. I was inspired by many of my favourite authors, such as Alan Garner, Susan Cooper, Arthur Ransome and Rosemary Manning, whose books are rooted in the British countryside. On my first visit here I travelled to the locations where those stories were set and found each place enchanted by their words.
Hedgely comes from a love of small English villages full of independent shops, and the Hedge is my dream of a vast wildwood, which is sadly quite rare in England now. They aren't based on a single place but rather the best elements of all the villages and forests I have experienc
I lived in Yorkshire while I was writing Hedgewitch and some of my favourite towns and villages are Whitby, Knaresborough, Pateley Bridge and Haworth. Hedgely isn't based on any of these in particular, but I think they each have their own magic.

3.    Can you tell us a little about what happens in Hedgewitch, and in Book 2, Woodwitch?
In Hedgewitch, Cassie Morgan escapes her horrid boarding school and moves to the enchanted village of Hedgely on the edge of a great forest that forms the border between England and the land of Faerie. There she begins training in the practical skills of witchcraft with her aunt, the Hedgewitch, and meets her two best friends, Rue and Tabitha. Together, they face goblin kidnappers and a dangerous, shape-shifting faery creature.
In Woodwitch, the three friends must solve the mystery of a lost faery treasure and the villagers who have been possessed with the need to find it. They venture deeper into the forest of the Hedge and encounter the ancient beings who haunt it, all while trying to deal with Cassie's cousin, Sebastian, who has a habit of getting himself into trouble!

4.    What was it like returning to Hedgely for Woodwitch? Was this a harder novel to write, or easier as you know the characters and the world?
It was easier in some ways and harder in others. I had longer to write Hedgewitch and the pleasure of introducing the world and characters for the first time. In Woodwitch, it was important to go deeper into that world and challenge Cassie and her friends, testing their skills, friendship and values. I also wanted Woodwitch to be a story you could enjoy on its own, even if you hadn't read Hedgewitch yet, so it needed to have a satisfying ending.

5.   Did any of the characters take you by surprise in book 2?
There is a new grown-up witch called Aoife Early who helps out as the Assistant Coven Mistress. She's from Ireland and has a different way of looking at the relationship between faeries and humans. She was constantly surprising me by providing a new perspective and offering up some rather radical insights on Cassie's problems. She was also quite a bit of fun to write.

6.   Which fantasy character did you most enjoy meeting again in Woodwitch?
It's always a pleasure to meet the bookseller, Widdershin, and I am also very fond of Ambrose (you'll have to read Hedgewitch to learn why). I was secretly delighted to bring back the goblin filcher, Burdock, as he is a lot of fun to write.

7.   Will we ever meet a boy witch in Hedgewitch, and if not, why not?
In the world of Hedgewitch, witchcraft is considered something that only girls do and all the members of Cassie's coven are girls. There is, however, no reason that boys can't do magic, and this is something that will be very important in the third book.

8.   Which parts of Hedgewitch would you visit, if you could? And which shop would you visit?
I would love a chance to explore Hedgely and the Hedge. I'd want to stay in Cassie's magical home at Hartwood Hall, or perhaps take a room at The Pickled Imp. I'd have to start with book shopping at Widdershin's - there are so many books that would help with my faery research, followed by tea at Bramble's and perhaps a bun from Marchpane's to eat while sitting on the riverbank, keeping an eye out for Wendy Weedskin.

9.   If you could bring any of the faerie characters from Hedgewitch back to your own town, what would it be? And what about one of their spells?
Most of the faery characters are a good deal of trouble and not the sort of neighbours anyone wants. However, I wouldn't mind a house sprite to protect my home and help me find things I have lost.  As for a spell - I'd like a potion like Cassie's Enlivening Elixir to give me lots of energy!

10.   What do you have planned for book 3, and beyond?
Book three is called Seawitch and there's a clue in the name as to where it might be set. In Seawitch, we'll get to see a bit more of Cassie's world beyond Hedgely, encounter a different type of magic and meet an important new member of Oak Patrol.
There will be five books in total and the story will continue to follow Cassie as she uncovers the secrets of her own family history while facing a growing threat from the Erl King and his servants.
Author's Titles