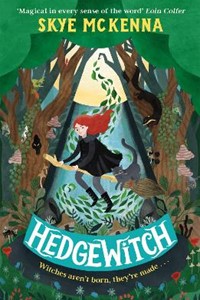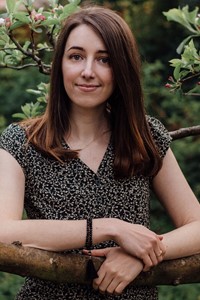 About Author
Look out for witches, goblins and a village with secrets in Hedgewitch (Welbeck), Skye McKenna's magical debut novel.
Skye grew in a mining town in the Australian outback. Surrounded by the red dust of the Pilbara, she developed a healthy respect for wild things and wild places at a young age. Seeking adventures of her own, she travelled to the UK and fell in love with the British countryside.  Skye now lives in Scotland and works for a heritage charity, with whom she recently curated an exhibition on medieval magic. When she's not reading and writing, she goes looking for stories in the hills and forest of her new home.
Interview
Hedgewitch (Welbeck Publishing)
January 2023
Ordinary life in the village of Hedgely includes rubbing shoulders with imps, buying magical potions at the local stores and learning magic on afternoon sessions with the local coven! We asked Skye McKenna, ReadingZone's Debut Author of the Month, to tell us what inspired her novel Hedgewitch - the first in a new series for children, now available in paperback. Book 2, Woodwitch, is out in March 2023.
Read a chapter from Hedgewitch
5* Review  "Full to the brim with magic and mystery."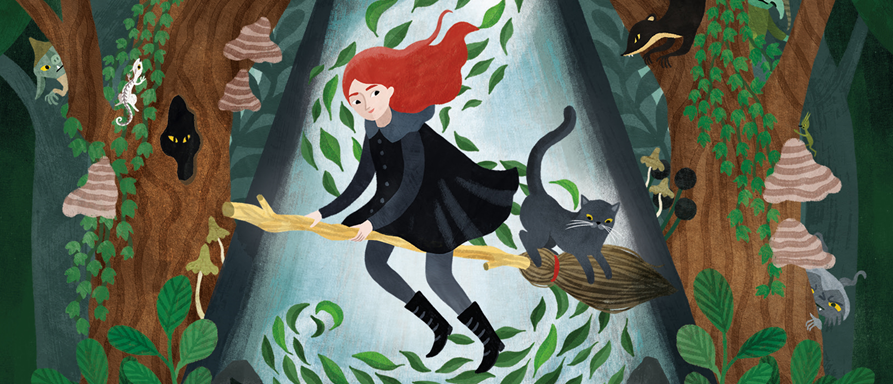 Q&A with Skye McKenna 
1. Have you always wanted to be an author? What other kinds of work do you do?

I wanted to be a writer as a child but it wasn't until I first travelled to the UK and visited many of the locations of my favourite books that I started writing seriously. I took a couple of creative writing modules at university and met some amazing writers, but most of my learning journey has been through practice, trial and error. I also work as a researcher for a charity that helps communities benefit from their heritage.

2. What inspired your first novel, Hedgewitch?

Hedgewitch was inspired by a lifelong fascination with British and Irish folklore. As a child I was introduced to tales of witches and fairies in some of my favourite books and spent many hours 'researching' the legends behind them. My adventures and experiences in the British countryside have fed into the creation of Hedgely, and my time in the Brownies and Girl Guides helped inspire the coven.

3.  As a child, were you a fan of other 'witches in training' books, like The Worst Witch or Harry Potter?

I was a bit obsessed with The Worst Witch as a girl, particularly the TV series with Georgina Sherrington, which is still my favourite adaptation. I think there are a lot of little nods to the books in Hedgewitch and Cassie, like Mildred, isn't immediately brilliant on the broomstick.
Those aren't the only witchy books that influenced me though - there are some other real classics out there such as Bedknobs and Broomstick by Mary Norton, Carbonel by Barbara Sleigh and The Little Broomstick by Mary Stewart. I loved to read fantasy books as a child, but those I liked best had elements of the real world too, like The Chronicles of Narnia and Alan Garner's books.

4. How would you have enjoyed growing up at Hedgely, like the children in your story?
I would have LOVED to grow up in Hedgely. In fact, I'd still like to move there and have my eye on a cottage on Nearwood Row.

5. Can you tell us a little about your main character, Cassie, and how she developed?
Cassie started off as she appears in the first few chapters; bookish and independent. I had always intended her to be observant and resourceful, and to solve problems by thinking outside the box. However, it wasn't until she arrived in Hedgely that I realised how brave and determined she was. It was a great pleasure watching her develop friendships and begin to trust and rely on other people.

6. Did any of the other characters take you by surprise?
Faery characters frequently take me by surprise, often walking onto the page fully formed and full of mischief. Glashtyn, in particular, liked to appear at unexpected moments and has a far larger role than I had originally intended.

7. How did the world of Hedgely and the Hedge develop? What are your rules for magic in Hedgely?
It's hard now to remember which came first: the Hedge, Hedgely or the Hedgewitch - they all seemed to develop organically together. The magic of Hedgewitch is not heavy on rules, the faery folk aren't too fussed with them, you see. But in general, none of the witches have special powers and witchcraft is all about learning to better understand the natural world and use the magic inherent within it.

8. Which magical creature did you have the most fun creating for this story? 

I can't take much credit for creating the magical creatures in Hedgewitch, as most of them come straight out of folklore, although I did change them a little. I'm not sure I'd want to run into any of them in our world, as they're all rather dangerous, in one way or another, but I do have a soft spot for the river hag, Wendy Weedskin, and her fondness for buns.

9. The children learn their magical skills through the Hedgely Coven. Why haven't you included boys in the coven?

In Cassie's world, witchcraft is seen as a women's profession and has excluded men for a long time. We're so used to reading stories about girls who have to fight against gender stereotypes to pursue their goals, particularly in fantasy, that it felt refreshing to put women in charge of the world of magic and have them respected, rather than feared, for their skills. I also feel that when prejudices are reversed in fiction it sometimes helps us understand them better, and Cassie may yet meet someone who challenges this exclusion.

10. There are some great familiars in the story - do you have any favourites? What would your familiar be?

It's pretty hard to go past Montague, who is always a delight to write, but I'm also quite fond of Rue's toad familiar, Natter. I would love to have a fox for a familiar, but suspect I'd end up with something small and fluffy, like a dormouse or a wren.

11. This is planned as a five-book series, so what's next for Cassie and the Hedge?

In Woodwitch, the second book in the series, Cassie will need to use all her training and ingenuity to protect her new-found home, while continuing to uncover the truth behind her mother's disappearance. The newly formed Oak Patrol will be put to the test, and readers will have a chance to venture deeper into the Hedge.

12. Where and when do you do your writing? 

I've just moved to a new house where, for the first time, I have my own writing room! It's got a huge window and I can watch the sparrows building nests in the garden. I mostly write in the early mornings, but sometimes I get a second wind around teatime.
Hedgewitch was a challenging book to write, because I was so determined to make it a satisfying world and story to slip into - but I still enjoyed the process. Sometimes the pleasure in writing comes from overcoming the difficult bits.

13. What do you enjoy doing when you're not at your desk?

Exploring! I live in Scotland where there are so many hills, woods and lochs to discover. I also enjoy visiting places that have inspired other writers and going book shopping in Glasgow and Edinburgh.
Author's Titles