Hedgewitch: An enchanting fantasy adventure brimming with mystery and magic (Book 1)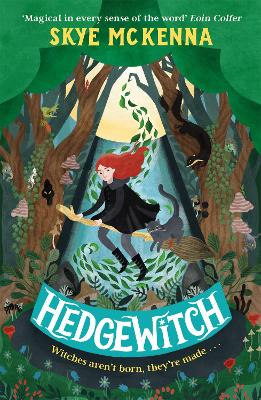 By Author / Illustrator
Skye McKenna
Genre
Fantasy
Age range(s)
9+
Publisher
Welbeck Publishing Group
ISBN
9781801300681
Format
Paperback / softback
Published
05-01-2023
Synopsis
'Magical in every sense of the word' Eoin Colfer.   Step into the magical world of Hedgewitch, where the land of Faerie lies just beyond our own, in this enchanting new series for children age 9+ and readers of Nevermoor, The Worst Witch and The Dark Is Rising.
Cassie Morgan has run away. After seven years spent waiting for her mother to return, she flees her dreary boarding school and sets out to find her. But the world outside her school is full of hidden magic and children have been going missing.  With the help of a talking cat and a flying broom, Cassie escapes to the enchanted village of Hedgely. There she will begin her training in the practical skills of witchcraft with the Hedgewitch, who watches over the Hedge, the vast forest that marks the border between England and Faerie.  Will Cassie discover the truth about her mother? Can she find the lost faery treasures before the wicked Erl King gets his hands on them? And what will it take to save her new home - and Britain itself - from the shadowing magic of Faerie?
'There are only two sorts of fantasy story: the ones that feel fake and the ones that feel real. It's hard to explain the difference but you know the real ones when you read them, and Hedgewitch is one of them' Philip Reeve.  Nominated for the Yoto Carnegie Medal for Writing.  See also Book 2, Woodwitch.
Find out more from author Skye McKenna
Reviews
Hayley
Skye Mckenna's new fantasy story - Hedgewitch - is the first of five books in her new series. It is carefully crafted and full to the brim with magic and mystery. We are first introduced to the main character - Cassie - at Fowell House, a boarding school for children. She was left there seven years ago by her mother, who promised to return one day and collect her. Cassie doesn't have any friends at school and often seeks to escape into the books that she reads about magical beings and Faerie lands. Cassie is under the impression that she has no family and on hearing that her mother is presumed dead, she decides to escape from the grounds of Fowell House forever.
However, on her escape she is cautious as children have started to go missing in London and have not been found. On leaving school, things start to happen to Cassie that are unexplainable and when she meets Montague the cat who can talk, things became a little surreal for her. Montague has been instructed to take her to the village of Hedgely - the land that borders the 'Hedge' where she can meet her Aunt the 'Hedgewitch'. Cassie's life is thrown into turmoil when she finds that she has had a family all these years, which her mother had never mentioned. She soon learns that life at Hedgely is different and her mother was a witch, but her mother's disappearance remains a mystery and is a topic that is forbidden to talk about at Hartwell House.
Magical mayhem is at the heart and soul of this book and when Cassie is introduced to the residents of Hedgely, she realises that the books that she read at school about Faerie folk are real. The Hedge is a dark and dangerous forest and a place full of wisps, imps and goblins that roam freely between the land of Faerie and Hedgely. In an attempt to unravel the mystery surrounding her mother and her disappearance, she unearths a traitor, helps her new friend find her brother and proves herself to be worthy of a witch's highest accolade – the Argent Star.
This book allows you to escape into a fantasy land like no other, it almost feels real. The author has used true to life characters and a plot that draws you in emotionally and physically. Children who read this book will be immersed into the pages and unable to put the book down until they have finished. I would highly recommend teachers in Upper Key Stage 2 use this book as a class story to promote reading for pleasure. This book should be available to children to read in every school library and book corner! 
448 pages / Reviewed by Hayley Summerfield, teacher
Suggested Reading Age 9+
Other titles