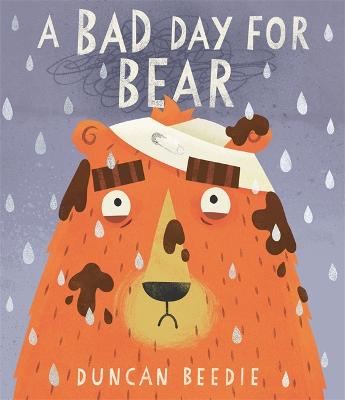 By Author / Illustrator
Duncan Beedie
Genre
Animals
Age range(s)
3+
Publisher
Templar Publishing
ISBN
9781800786219
Format
Paperback / softback
Published
14-09-2023
Synopsis
The lovable hero of Waterstones Children's Book Prize shortlisted The Bear who Stared is getting into more scrapes!

Bear is in charge of the campfire for the forest party. But as he sets out to collect wood, all sorts of BAD things happen: he gets a splinter in his paw, a big bump on his head and falls into a huge muddy puddle. The logs Beaver gives him are now soaking wet - how is Bear EVER going to make the campfire? It's a good job Bear's friend Frog is there to show him that things are never as bad as they seem . . .  A perfect story for children who just sometimes have a bad day!
Reviews
Maria
Oh Bear.. How I feel for you! This amusing tale of Bear will absolutely resonate with everyone, young and old. Some days just don't go the way you want! But, as we all know (but don't necessarily believe at the time), sometimes a big problem is really not so big at all.
Bear wakes in a good mood. It's the day of the forest party, the sun is shining and he has the important job of building the bonfire. He sets off, but straight away problem after problem occurs. With a splinter, a bumped head, wet wood and covered in mud, it's turning into quite a bad day for bear. He bursts into tears. Will friend Frog be able to turn Bear's day around with his wise words and encouragement to see through his problems? Will the forest animals get their bonfire?
A Bad Day for Bear is a great book to use with children of all ages and abilities, and particularly useful for children with anxieties or who lack confidence in their own abilities. The clear story text is engaging and easy to understand. Supported by the lovely, bold illustrations that add to the text's delivery and in aiding the reader in understanding the story of Bear.
Picture book / Reviewed by Maria Faithorn, teacher
Suggested Reading Age 5+
Other titles