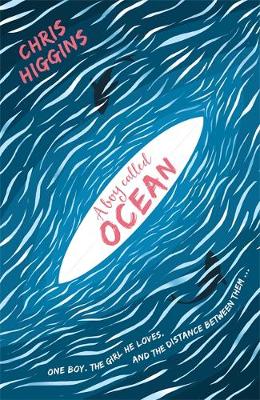 By Author / Illustrator
Chris Higgins
Genre
Adventure
Age range(s)
11+
Publisher
Hachette Children's Group
ISBN
9780340997031
Format
Paperback / softback
Published
14-06-2018
Synopsis
One boy stranded at sea. One girl back on land. One ocean between them. The only thing willing
him to survive is the thought of her. A romance with bite, perfect for fans of Jandy Nelson and Nicola Yoon.
Sometimes you have to lose yourself, to find each other.
Kai has always been best friends with Jen; ever since he and his mum moved to Cornwall when he was small. But now his feelings are deepening. It's ridiculous to imagine Jen would feel the same, especially since she has been hanging out with surf-pro Macca, the guy everyone fancies.
Frustrated by his feelings, Kai makes a snap decision that will put his life in great danger. Stranded at sea, time is running out. With only his thoughts to occupy him, he must face some buried truths about his past. And confront his future with the girl back on shore, if he can reach it ... if the ocean doesn't take him first.
Reviews
Melanie
One night adrift on the ocean with only a stolen wetsuit and his dreams and determination to keep him alive, Kai faces some hard truths about himself and the choices that have led him to the brink of death. The tale is told mainly through the eyes of Kai and his 'will-they-or-won't they' girlfriend Jen who have been best friends since primary school, but we also get the perspectives of Jen's friend Ellie and the lifeguard Jay. It explores who is to blame for Kai's fate: his mother and the secrets behind his troubled upbringing; Jen and Ellie for their games and jealousy; or maybe his boss Oliver for precipitating the crisis? Everyone involved feels some level of guilt as well as anguish, heartbreak and fast-disappearing hope as the night wears on and the tension mounts. Alongside the story of the search and rescue attempt, we have the blossoming romance between Kai and Jen; will they ever have the chance to let each other know how they feel? Kai's backstory is also a very interesting thread and explores how mistakes made by parents impact on the lives of their children and questions how much the children can blame these for their own failings. This is a romance that should fly off the library shelves, but with more depth than most. 304 pages / Ages 11-15 / Reviewed by Melanie Chadwick, school librarian.
Suggested Reading Age 11+
Other titles