A Day in the Life of Big Cats: What Do Lions, Tigers and Panthers Get up to all day?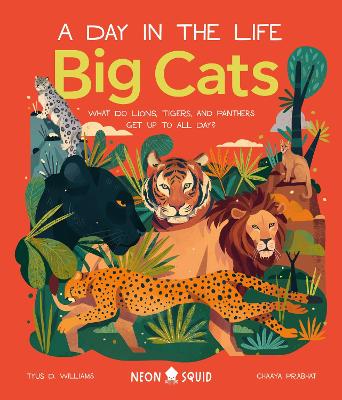 By Author / Illustrator
Tyus Neon Squid, Williams
Genre
Animals
Age range(s)
5+
Publisher
Priddy Books
ISBN
9781838991548
Format
Hardback
Published
05-04-2022
Synopsis
Follow the lives of individual big cats as they roar, hunt, fight, and play their way through the day. Wildlife expert Tyus D. Williams cleverly weaves the story from leopard to mountain lion in the style of a nature documentary, including gentle science explanations perfect for future zoologists. Witness incredible moments including:

• A panther hunting a crocodile
• Cheetah cubs play fighting
• A battle between lionesses and hyenas

Beautifully illustrated by Chaaya Prabhat and packed with animal facts, Big Cats (A Day in the Life) is one of the first titles in an exciting new series of animal books from Neon Squid.
Reviews
Lizi
This is a gorgeous non-fiction book from Neon Squid who are dedicated to publishing information books that make a wide range of topics accessible and intriguing to young readers by using a style that's similar to story telling, combined with the usual features of a non-fiction text.
A Day in the Life Big Cats is all about what tigers, lions and panthers get up to all day; it's written by a Wildlife Scientist who has written a short introduction to the reader that explains what his job is - a great way of introducing is career to young readers! Each page has detailed illustrations by Chaaya Prabhat, that helps to explain the text. There's a contents page, glossary and index as you'd expect - perfect for introducing features of a non-fiction text. The language used in the book is simple to understand but descriptive and the glossary helps to explain any subject specific terminology.
This would be a gorgeous gift, a fantastic addition to a school library and would be perfect as a high-quality text to use within teaching.
Pages 48 / Reviewed by Lizi Backhouse, teacher
Suggested Reading Age 5+
Other titles