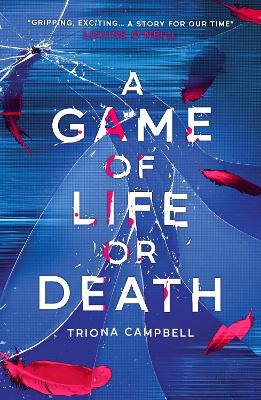 By Author / Illustrator
Triona Campbell
Genre
Suspense & Thrillers
Age range(s)
14+
Publisher
Scholastic
ISBN
9780702317880
Format
Paperback / softback
Published
02-02-2023
Synopsis
An addictive thriller from the most sensational new voice in YA fiction. When 16-year-old Asha Kennedy discovers her older sister Maya's dead body in their home, her world falls apart. Desperate for answers, and to stay out of the hands of the social services she grew up in, Asha turns to her hacker friends for help. Her search leads her to Zu Tech, the hit games studio where Maya was a lead coder. As Asha begins to unravel the riddle of her death, she realises that the only way to uncover the truth is from the inside. Asha ghosts her old life and infiltrates a Zu Tech eSport tournament as they launch 'SHACKLE', the revolutionary Virtual Reality video game Maya was working on - and which hides a monstrous secret...
Perfect for fans of The Hunger Games and A Good Girl's Guide to Murder A guaranteed page turner full of heart, tension and twists you won't see coming! The first book in a major new YA series
Reviews
Louise
I'll be honest... I am no gamer. In fact, my experiences of online gaming are limited to watching others interact with those brightly coloured pixels that are becoming ever-more sophisticated. I was concerned that my lack of knowledge would impede my understanding and enjoyment of A Game of Life or Death. However, Triona Campbell's debut has more than enough intrigue to keep even gaming n00bs (thank goodness for tech-savvy teenage students) absolutely hooked.
After finding her gamer sister Maya dead, hacker Asha must delve into the dark and increasingly seedy world of tech company Zu Tech to discover the truth. What she does find will test your nerves to their limits. Was this an inside job?
A Game of Life or Death will inspire its readers to consider the role of technology in their own lives, including how they access and consume each new breakthrough. How keen should we be to disassociate from reality in favour of a game...? Although set in a not-too-distant future, the book's plot doesn't feel beyond the realms of plausibility - particularly when I think about how far innovations like VR have come within my own lifetime.
A Game of Life or Death has everything every good tech-noir should. A mystery that hooks us from the opening pages? Yep. A shady tech corporation? Tick. A desperate race for the truth? That too. Characters who have learned too much and need to be despatched by unseen forces... well, that would be telling. All you need to know is that there are enough twists and turns to keep any discerning thriller reader more than gripped. Not only that but you will care about the characters, and genuinely hope they get to the bottom of the mysteries that keep piling up. Asha owes that much to her sister, and we root for her from the very beginning.
As a school librarian and former teacher I hope to introduce this book to my students as a means to inspire conversations about gaming, and the damaging effects of our tech consumption when we're not careful. Its characters and world of intrigue are a stepping stone into discussions of cyber safety and industry regulation in particular, as well as keeping tabs on our own gaming habits.
Triona Campbell's world-building is impressive, and I know her words will encourage my students to think about the stories they have to tell. I have some keen gamers in my library, and I know they're going to love A Game of Life or Death. That said, I don't think its readership is limited to gamers; the fast-paced, unpredictable plot will grab the attention of any reader in search of an intense ride. I just know they won't want to wait too long to find out what happens next...
400 pages / Reviewed by Louise Baker, school librarian
Suggested Reading Age 14+
Linda
A Game of Life or Death is the first book in what I can only describe as a gripping, rollercoaster of a ride new YA series. If you like your books fast paced, engaging with lots of mystery, along with great protagonists and creepy villains, then this is going to be the book for you...
Life for 16-year-old Asha is about to change for ever as she comes home to find older sister Maya's dead body. She becomes desperate to find out why she died and to stay out of the way of social services at the same time as she is not going back into care, not after how the sisters fought to stay together. Asha, who has excellent computing skills, has to change her identity and, using CCTV, watches her home from her new location. She gets a few visitors that are clearly not friendly; what are they looking for? So she turns to her hacker friend, Dark, for help. What is the company Zu Tech, who her sister worked for, hiding? Did they have something to do with Maya's death?
In order for Asha to find the answers to her questions, she has to get inside of this company and the best way for her to do this is to play in their upcoming tournament, playing the new game - SHACKLE. However, this is not a game for the faint-hearted; nothing like this has been created before. Are you, along with Asha, ready to play?
This debut novel, with its 'Hunger Games' vibe, is totally suitable for the 13+ reader. It will keep YA readers easily engaged. It would also be a great book for intervention groups and book clubs as there are many opportunities for discussion. I have to admit, as an older reader, I'm not into gaming, but honestly this kept me on the edge of my seat throughout. This author clearly knows how to keep her target audience hooked with the plot twists and turns right up until the unexpected ending. I'm truly eager to pick up the second instalment and see where these great characters take me.
400 pages / Reviewed by Linda Brown, school librarian
Suggested Reading Age 14+
Other titles