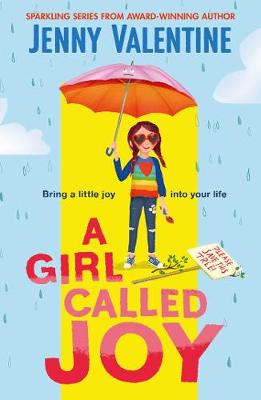 By Author / Illustrator
Jenny Valentine
Genre
Family & Home
Age range(s)
7+
Publisher
Simon & Schuster Ltd
ISBN
9781471196492
Format
Paperback / softback
Published
29-04-2021
Synopsis
For readers aged 9+ comes a sparkling new series about family, friends and finding the joy in life! From the mind of award-winning author Jenny Valentine, this is the perfect series for fans of Jacqueline Wilson, Cath Howe and Lara Williamson!

Meet ten-year-old Joy Applebloom, a girl with a knack for finding the silver lining in even the darkest of rainclouds.  After years of travelling the world with her parents and older sister, Claude (Claude rhymes with bored, which is just about right), Joy and her family move to suburbia - back to school, back to her grumpy, rule-obsessed grandad and back to normality.

Joy soon finds her usual irrepressible positivity and zest for life waning, but when the powers that be threaten to pull down a mighty oak tree, Joy decides to fight back, and realizes that not all magic requires wands and spells, and perhaps the most important sort of magic is the power, resilience and courage that was there all along . . .
Reviews
Emily
In A Girl Called Joy, Joy manages to see magic everywhere she goes, which, in a family that travel the world for her parents jobs, means she sees it all over the world. She knows that ordinary days can be changed just with a hint of the magic you can find all around you.
However, when they move back home to live with her Grandad, she finds her new life a little bit tricky to navigate; it's all a bit more boring than she's used too. School is much more rigid than she is used to her days being, which is taking some getting used to - for Joy anyway. Her sister Claude is enjoying her 'normal' life.
This book is written in a way that will make the reader feel as though they want the best for Joy. With emotional writing giving us an insight into her mind, as well as some funny moments which will have the reader laughing out loud, this is a book that is perfect for a LKS2 classroom and beyond. With themes of friendship and family, this book really highlights how relationships can change and the impact new dynamics can have. Children who read this will really begin to understand how their actions can impact on others - particularly older relations or new children who join the school.
This is a perfect read for any fans of Jacqueline Wilson; it has a similar writing feel as well as the strong, thought-provoking themes. Due to the short length and chapters, this book will be a gateway for readers who have less stamina, or who are just beginning to read independently for pleasure.
224 pages / Reviewed by Emily Weston, teacher
Suggested Reading Age 7+
Louisa
If anyone can find a silver lining in a rain cloud, it will be Joy Applebloom. Her whole life has been spent travelling the world with her adventurous parents. Then, without warning, they return to a nondescript part of England to look after her grandfather. His humdrum life is hidebound by routine and rules and, for the first time ever, Joy is sent to school. This, too, she finds hidebound by rules and routines she doesn't understand.
For the first time ever, she struggles to make friends. For the first time ever, there seems no silver lining to be found. Just as her optimism wobbles, Joy finds comfort in a magnificent old oak tree in the middle of the playground. Then, discovering the oak is under threat, she launches into battle to save it. Unexpected allies emerge and Joy realises that having the courage to fight for what you believe in can work everyday magic.
I loved the way that Joy is absolutely wholehearted in everything she does. Her optimism is infectious. The story is an empowering rallying call to young people who care about their environment, yet, while parts of Joy may remind us of Greta Thunberg, in other respects, she could have stepped straight from the pages of a Jacqueline Wilson novel.
It's a first person narrative and her confidential tone makes her immediately easy to relate to. It's accessibly written but not patronising and not too long: an ideal read aloud for lower Key Stage 2, or even Year 2. It introduces various themes: the importance of the environment, how friendships work - and why we don't welcome people who are different from us. It is also a lovely, feel good read.
I can't wait to recommend A Girl Called Joy to the children in school who enjoy Pamela Butchart and Jacqueline Wilson. If you know children like that, I heartily recommend it to you, too.
224 pages / Reviewed by Louisa Farrow, teacher
Suggested Reading Age 7+