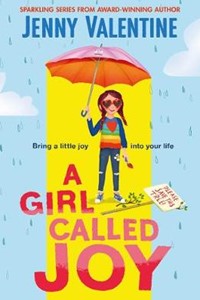 Biography
Jenny Valentine grew up on different army bases in Germany and Cyprus. She studied English Literature at Goldsmith College adn married a singer/songwriter. She worked in a wholefood shop in Primrose Hill for 15 years and the people she met there sparked ideas for her first novel, Finding Violet Park, which won the Guardian Children's Fiction Prize in 2007. Broken Soup is her second novel. She now lives in the West Country, in Hay-on-Wye.
Interview
A Girl Called Joy (Simon & Schuster Children's Books)
May 2021 
In A Girl Called Joy, we follow Joy as her family moves from the colour, freedom and warmth of their home abroad to England to stay with Joy's grandfather, where Joy struggles to find true happiness.
In this video, author Jenny Valentine introduces A Girl Called Joy and its themes of friendship and making a difference in your community, together with a short reading:
Q&A with Jenny Valentine
1.  Can you tell us a little about your new book, A Girl Called Joy?
A Girl Called Joy is the first in a new series of books about an optimist. It's about family and friends and real life, every-day challenges. There are no wands but it's not without its own kind of magic.
2.  Did you enjoy writing this book?
I LOVED writing this book. It is sunny and uplifting, start to finish, and that made it a delight. I wrote it in various patches of sun in my house. I tend to follow the light around from room to room.
3.  Did Joy's name or character come first?

I think they kind of arrived at the same time. I knew she was going to be good at seeing the bright side, and her name was a natural fit. I tend to realise things about my characters as I'm going along, but once I learn a thing, it's like I always knew that about them. As if they exist fully formed in my imagination and I have to work them out.
4.  Joy is ten years old and is facing a big change in her life - coming to England. Are there any big changes that you remember as a child?
Oh we moved a lot when I was young. Every two years, like clockwork. I got used to being the new face somewhere. Joy and I have some of that in common.
5.  Despite her natural optimism, Joy struggles with school when she comes to England. What would you like children to take from Joy's journey?
Joy has everything she needs to make the best of her situation. She is positive and resilient and imaginative and determined. It's not a book of spells and it doesn't mean her life is easy or perfect, but it is a kind of superpower. I think I want everyone to know they have that superpower too.
6.  There are some great supporting characters in the story - who did you enjoy creating the most?
Thomas E. Blake (Joy's grandfather). 
7.  Joy's family depends on her to see the silver linings in their situation. Are you a silver linings kind of person or do you need to know where the clouds are?
Oh well you can't have one without the other! I've learned to see the good in things. But you have to see what the thing is first. I think Joy and I are teaching each other on that one.
8.  What have you got planned next for Joy?
She is juggling some big things in Book two. Book three is just cooking now. I think she needs a bike.
9.  Joy's family has done a lot of travelling; where are your favourite travel destinations?
I love the sea anywhere. There is a jade green lake in the Alps I am very fond of. The countryside in Central India took my breath away. What I like best is being on the move, especially if it's on a train. New places. There are so many.
10.  Where and when do you do your best writing?
Mornings. Especially ridiculously early. I do have a study now, but I'm quite portable. As long as it's quiet. I'm rubbish if there's music or other people. I am very easy to distract.
11.  What do you have on your writer's desk, always?
Water. Half a cup of cold tea. Too many notebooks. A list of parts for a model of the human heart. A paperclip. A badge that says CAPTAIN and a small wooden artist's mannequin who holds my chargers when I don't need them.
12.  Do you read children's books; any favourites if so?
YES. Arabel's Raven by Joan Aiken. Clever Polly and the Stupid Wolf by Catherine Storr. I'm reading a lot for my new YA book at the moment though.
13. What are your favourite escapes from work / writing?
Writing is secretly the best kind of escape. But when I'm not doing it I might be watching a film or reading a book or trying to learn French or making brownies (I'm very good at them apparently) or going for a walk or listening to music (often both at once) or practising yoga or talking rubbish on the phone.
Author's Titles