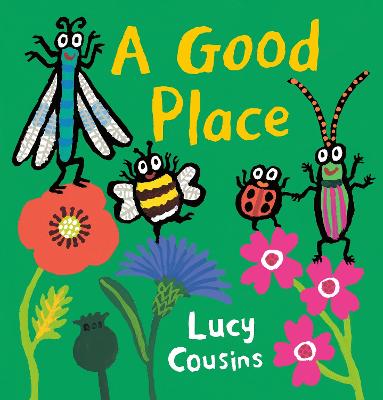 By Author / Illustrator
Lucy Cousins
Genre
Environment
Age range(s)
3+
Publisher
Walker Books Ltd
ISBN
9781529501254
Format
Hardback
Published
03-03-2022
Synopsis
Follow four adorable insect friends as they look for a good place to live. A delightful new picture book from the award-wining author and illustrator Lucy Cousins.  Four insect friends are looking for a place to live - one that has flowers for Bee, leaves for Ladybird, a pond for Dragonfly and dead wood for Beetle. But - oh no! - with dangers all around, a good place is not so easy to find.
This brand new picture book from internationally acclaimed author-illustrator Lucy Cousins sees new depth and contrast to her familiar vivid colour palette. This story brings the natural world to joyful and vibrant life for young readers, inviting them to consider what they can do to help make our planet a good place for all living creatures
Reviews
Maria
Insect friends Bee, Ladybird, Beetle and Dragonfly are all looking for a good place to live. As they explore a variety of common settings - flowers, ponds, dead wood, and green leaves - they are met with a range of problems; feet, cars, litter and Bug Off spray! Feeling sick and tired and looking very defeated, they are close to giving up until a lovely butterfly comes and saves the day. She has a possible solution! A little boy has a beautiful garden, but will this garden provide the much needed flower, leaf, pond and wood habitat they are all looking for?
A Good Place is a beautifully illustrated story about four insect friends and their quest for a new place to live. The illustrations are cartoon styled but are clear and very engaging. This is a brilliant story to introduce insects and habitats to young children. With examples of how environments can become dangerous for living creatures, children will be focused on thinking about how their actions can affect the world around them. A perfect starting point to a living things topic, and will most definitely result in a wildlife garden or bug hotel being made!
Picture book / Reviewed by Maria Faithorn, teacher
Suggested Reading Age 3+
Other titles