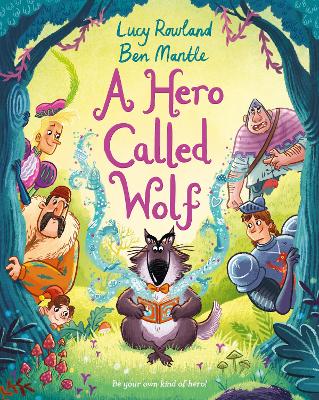 By Author / Illustrator
Lucy Rowland, Ben Mantle
Genre
Fairy Tales & Folk Tales
Age range(s)
3+
Publisher
Pan Macmillan
ISBN
9781529003680
Format
Paperback / softback
Published
06-01-2022
Synopsis
A feel-good, rhyming picture book, with a positive message about being the hero of your own story!

Wolf loves reading. There's just one problem. The more he reads, the more he starts to realize something. . . Every book has a hero; the heroes are handsome, tough and strong; and most importantly, the heroes are never, ever wolves.  But when a giant comes stomping into the library one day, can Wolf find the courage to speak up? Because maybe heroes don't have to be handsome, tough and strong. Maybe true heroes are kind and brave - just like Wolf!

A Hero Called Wolf is an uplifting story set in a magical fairytale world. From Lucy Rowland and Ben Mantle, the creators of Little Red Reading Hood, and The Three Little Pigs and the Big Bad Book.
Reviews
Wendy
Wolves can't be heroes, can they? Well this little Wolf is a reformed character. He gave up being naughty when he got into reading but he's dismayed to realise he can never be the hero of a story because all the wolves in books are bad. While he's worrying about this, he's interrupted by visitors to the library who all need help; a woodcutter with a blunt axe, a knight whose horse's feedbag has been stolen and a prince whose hat is looking less than perfect. Wolf finds them each a book that can help, then finally helps the giant who has read all the stories in the world. It's time for a new story to be written and so our new hero sits down to write all about 'A Hero Called Wolf...'
This charming picture book reminds us we can all be everyday heroes and that books hold magic to solve many problems. The short rhyming text is bouncy and easy to read and will keep children engaged and eager to know what happens next. Perfect for a birthday gift or as an addition to the school library or classroom bookcase, it's also a great assembly read to remind children that if you read books and have confidence in yourself, anyone can be a hero.
Picture book / Reviewed by Wendy Kelly, teacher
Suggested Reading Age 5+
Elen
A Hero Called Wolf is a gorgeous picture book about stories and how enticing stories can be. It's also about seeing yourself as the hero in your own story.
Wolf loves reading and choosing books from the library, but in every story he reads, the wolf is always the Bad Guy. Why can't he be the hero? The librarian has a suggestion - he could write his own story. But until Wolf proves to himself that he can be a hero, he doesn't feel able to write a story with a wolf as the Good Guy. Fortunately, the visitors to the library help Wolf discover that we can all be heroes, in our own way.
This is a great story with a subtle message about how we see ourselves that can also be used to start conversations about being kind to those around us; that is what a true hero is.
Like the other 'Big Bad Wolf' stories by Lucy Rowland, illustrated by Ben Mantle, this book also encourages reading with Wolf turning to stories once again as the answer to his problems and, also in this book, making up and writing our own stories.
See also Little Read Riding Hood; The Three Little Pigs and the Big Bad Book.
Picture book / Reviewed by Elen Green
Suggested Reading Age 3+
Other titles