A Midnight Dark and Golden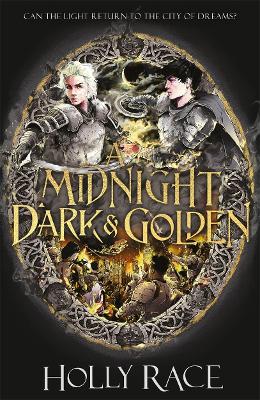 By Author / Illustrator
Holly Race
Genre
Fantasy
Age range(s)
11+
Publisher
Hot Key Books
ISBN
9781471411199
Format
Paperback / softback
Published
23-06-2022
Synopsis
The gripping final instalment of the acclaimed fantasy trilogy... In a darkening city of dreams, can the light return? For Londoner Fern King, Annwn is her second home - the dream mirror of London, the city she loves. An astonishing world, a world where Dreamers walk in their slumber, their dreams playing out all around them. And Fern, along with her twin brother Ollie, is a Knight, a trusted guardian and protector of those Dreamers - and every night is spent in Annwn, fulfilling that previously only-imagined destiny to guard those who sleep. But Fern is struggling since the loss of her extraordinary powers - and her nemesis Medraut, who seeks to control and to ruin Annwn is gaining ever more control. Annwn is a dangerous place to be for the Knights, with Dreamers recruited to be Medraut's personal army, the Knights' stronghold Tintagel starting to crumble and the last of the Fay slowly being lost. Fern, and the Knights', only hope is to retrieve Excalibur, and find the Grail - but will Fern find herself equal to this, and can she save the world she loves and see hope, imagination and wonder restored to Annwn?
See also: Midnight's Twins (Book 1); A Gathering Midnight (Book 2)
Reviews
Linda
A Midnight Dark and Golden is an explosive and gripping finale for The City of Nightmares trilogy. This well written, imaginative author gives her audience a rollercoaster ride of emotions from the beginning to the very last page of the book. The ending will leave you breathless...
Annwn Is the second home for Fern and her twin brother Ollie. This city is the dream version of London, where dreamers walk as they sleep, their dreams playing out around them. At the end of book two, A Gathering Midnight, Fern lost her extraordinary powers as they were transferred to her twin, Ollie, who is now struggling to control them.
Her nemesis Medraut is gaining even more control and will soon be in a position to destroy the dream kingdom. Fern, with the help of the Knights has to find the Grail, but will its power take even more from her? Can Fern save the world that she loves? What will be the personal cost to restore Annwn and destroy Medraut?
This wildly imaginative fantasy adventure will keep any reader of 12+ engaged as it's so full of drama, tension, trust, lies and a dash of romance. A little warning here... the story does contain a fair amount of violence, gore, fear and nightmarish danger that happens while we are dreaming, so it's not a book for sensitive children.  However, it is such a well written fantasy that would be a great addition for book clubs and intervention groups as there are many avenues for discussion. I have fully enjoyed all books in this trilogy and I'm sad that it's ended, but what an ending it is. It's an easy recommendation. Try it, you will not be disappointed.
372 Pages / Reviewed by Linda Brown, school librarian
Suggested Reading Age 11+
Other titles