A Storey Street novel: Superhero Street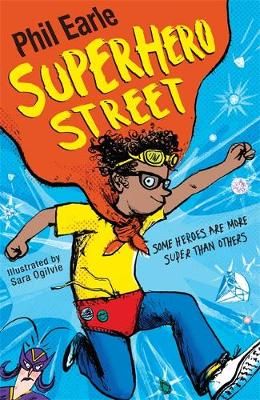 By Author / Illustrator
Phil Earle, Sara Ogilvie
Genre
Adventure
Age range(s)
7+
Publisher
Hachette Children's Group
ISBN
9781444013887
Format
Paperback / softback
Published
25-02-2016
Synopsis
'A laugh-out-loud read full of capes and japes! If you like Superheroes this is right down your Street!' - Danny Wallace, presenter and bestselling author.

Illustrated by Waterstones Children's Book Prize shortlisted artist, Sara Ogilvie, this is the second book in Demolition Dad author Phil Earle's children's series, Storey Street. Perfect for fans of Roald Dahl, Liz Pichon and David Walliams, each book in this laugh-out-loud series focuses on a different neighbour.

Mouse is desperate to be a superhero. To find that power that will make him stand out in the crowd. But his every attempt ends in failure. He can't even get any attention at home as his five brothers (triplets AND twins) take every second of mum and dad's attention.

When mum foils a bank robbery while on duty as a lollipop lady, she and Mouse are lauded as superheroes. Joining forces with Mouse are The Z List - a group of unlikely crime-fighters. But in their midst is a traitor hell-bent on revenge.

Will Mouse be super enough to spot this danger, and is he brave enough to do anything about it?
Reviews
Sue
Mouse longs to be a superhero - to have some special super-power that would make him stand out in the crowd. However, with both twins and triplets at home, his parents are fully occupied and don't seem to notice him. Things go from bad to worse as his magician dad disappears and the school bully notices that Mouse is wearing a cloak (yes, a superhero cloak) under his school clothes, just in case it was needed. However, when his mum accidentally foils a robbery and is thrown into the spotlight, Mouse takes the opportunity to tell everyone what a superhero really is - with surprising consequences! From the same street that gave us 'Demolition Dad', this is an equally heart-warming story about believing in yourself and finding an individual's strengths. Although in the familiar setting, this can easily be read and enjoyed as a standalone title. The illustrations by Sara Ogilvie are very appealing and really capture the spirit of the story, adding to the humour and sense of fun. The story itself is a very light hearted, amusing read, but with very satisfying characters. We want Mouse to find his powers; we sympathise with and admire Mum as she juggles nappies, babies and working; we admire the Z-List for having a go and making a difference. I can't wait to find out what's in store for Floss! 192 pages / Ages 7+ / Reviewed by Sue Wilsher, teacher.
Suggested Reading Age 7+
Kerra
Superhero Street is the second novel from author Phil Earle, his first was Demolition Dad. Illustrations by Sara Ogilvie really bring the action to life with hilarious accuracy. Fans of Roald Dahl, Liz Pichon and David Walliams will love this! In the story, Michael J Mouse is so desperate to be a superhero that he catches spiders in the hope that one of them will bite him with their radioactive teeth. Unfortunately, no matter how many comic books he reads, he still hasn't developed any powers and remains an awkward 10 year old who wears glasses. Life at school is miserable as Mouse is plagued by bullies and it isn't brilliant at home either. His parents are both too busy working and looking after his five younger brothers (yes five! One set of twins and one of triplets) to pay him any attention. Mouse retreats to his attic room and draws superhero adventures that he wishes would come true for him. To make matters worse, his dad literally disappears in the middle of his magic show leaving a note to explain that he is too tired to continue to be a part of the family. It is shortly after Dad disappears and whilst on duty as a lollipop lady, that Mum (accidentally!) foils a bank robbery and both she and Mouse leap to fame on the local news. Mouse announcement that 'sometimes being normal can be extraordinary and people should stand up, be proud and unite' brings a number of unlikely superheroes to his front door and the Z List are formed. Little do they know that one of their group is seeking revenge for their meddling..... This is most definitely a laugh out loud book and would make a great class read in KS2 schools. I loved all the characters and will definitely seek out Phil Earle's other books now. 192 pages / Ages 7/8+ / Reviewed by Kerra Dagley, school librarian.
Suggested Reading Age 7+
Other titles