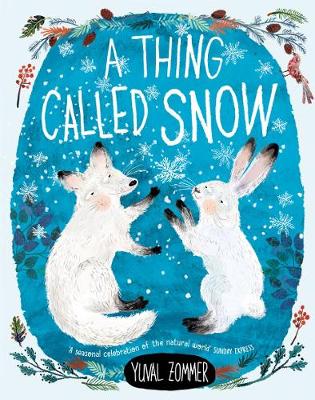 By Author / Illustrator
Yuval Zommer
Genre
Animals
Age range(s)
5+
Publisher
Oxford University Press
ISBN
9780192769831
Format
Paperback / softback
Published
02-09-2021
Synopsis
A gorgeous Christmas picture book that's destined to become a festive classic. Fox and Hare were born in spring, grew up in summer, and were best friends by autumn. When winter comes, they can't wait to jump, leap and, bounce in this thing called snow. But what exactly is snow? Join fox and hare on an Arctic journey as they ask all their friends to help them find out.
This is a charming and classic-feeling Christmas picture book with a heartfelt message about seeing the wonder of the natural world. Families will love sharing the story and talking about kindness, community, and the true meaning of Christmas.Award-winning author of books such as The Big Book of Bugs and The Big Book of Beasts, Yuval Zommer puts the living world at the heart of his powerful storytelling.
Reviews
Sharon
A Thing Called Snow unfolds as the hare and the fox grow up and await their first winter with this thing called snow. Charmingly illustrated by the author, the pictures really capture the joy of the first realisation of what snow is. My children actually aww-ed at the end when I read it to them. It is very sweet. This could tie in with a seasons topic or as an introduction to life cycles. There is also a mention of migration which again is a popular topic in key stage one.
Picture book / Reviewed by Sharon Porter, teacher
Suggested Reading Age 5+
Other titles