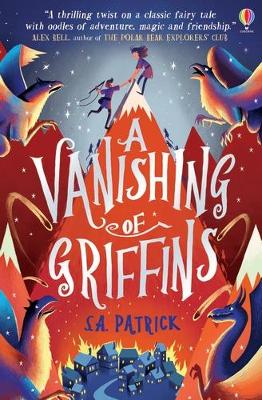 By Author / Illustrator
S.A. Patrick
Genre
Fantasy
Age range(s)
9+
Publisher
Usborne Publishing Ltd
ISBN
9781474945684
Format
Paperback / softback
Published
07-01-2021
Synopsis
For fans of How to Train Your Dragon and The Hobbit the sizzling, magical fantasy adventure that began with A Darkness of Dragons continues...Brave friends Patch, Wren and Barver are no strangers to danger. They take peril in their stride as they seek out their deadly foe - the evil Piper of Hamelyn. But trying to stop his quest for power may end in a battle that will tear the three young heroes' world apart. It has "All the ingredients of a perfect fantasy adventure." Kieran Larwood, author of The Legend of Podkin One-ear.
Book One:  A Darkness of Dragons   Book Three:  A Thunder of Monsters
Reviews
Jacqueline
A Vanishing of Griffins is book two in the Songs of Magic series, which started with A Darkness of Dragons. A Darkness of Dragons was one of my favourite fantasy books, so I was greatly looking forward to this, particularly as it has been a long time in the making.

Patch, Wren and Barver are back in the continuation of their adventures, fighting against the evil Piper of Hamelyn. The Piper is ever present but only in the background, as the trio's adventures take them across the country, working out the problems left from the first book and encountering greater problems still. At the start of the book Wren is still a rat, transformed by a sorcerer, with seemingly little chance of ever changing back into a child. They must try and help Wren change back and also alert everyone to the danger the Piper poses.

There are all sorts of links that are brought together as they adventure on, and I only guessed one of the plot strands. That is one of the best things about these books - you think you know where it is going and then it has another plot twist you just didn't see coming. The world is so rich and fleshed out that you feel real despair at the destruction that is wreaked on one of the places and joy at the library in another. The only thing I wanted more of was the world of the Pipers, which was so wonderfully described in the first book.

Children who love fantasy, swords and dragons, will enjoy this book and I think it would make an exciting read aloud, particularly if it is read after A Darkness of Dragons.

Do I want to read the next instalment? Of course, I do! I have to know what happens next, even if it means another long wait.
Suggested Reading Age 9+
Other titles