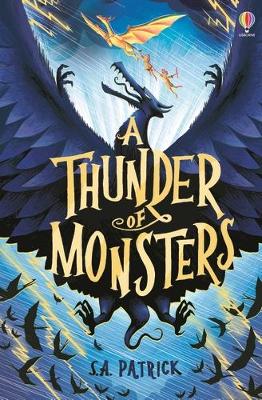 By Author / Illustrator
S.A. Patrick
Genre
Fantasy
Age range(s)
9+
Publisher
Usborne Publishing Ltd
ISBN
9781474995528
Format
Paperback / softback
Published
06-01-2022
Synopsis
Return to a world of dragons, song-spells, pipers and battles.... Patch Brightwater and his friend Barver, the dracogriff, are trapped on a mysterious island full of monstrous beasts. Their shapeshifting friend, Wren, is being held prisoner by the Piper of Hamelyn, but she's working hard to escape. 
Clad in his suit of magical black armour and with dragons and a growing army on his side, the Piper of Hamelyn seems destined to bring chaos and destruction down on the world. Can anything stop him? Three accidental heroes versus one legendary villain...the epic adventure that began with A Darkness of Dragons comes to a thunderous end.  
Book One:  A Darkness of Dragons     Book Two:  A Vanishing of Griffins
Reviews
Jacqueline
Patch, Barver and Wren are back in A Thunder of Monsters, their final adventure in the trilogy that began with A Darkness of Dragons. The end of the second book, A Vanishing of Griffins, finished with a real cliff hanger and the adventure picks up here with a little reminder about the past events. Patch and Barver have accidentally been sent with their allies, to a mysterious island. Barver's father is being held hostage there and it seems impossible that they will ever be able to get off the island as it is guarded by fierce magical creatures. Wren, who saved them by sending them away from the Piper's army, is now a prisoner of the Piper of Hamelyn, who is a most terrifying villain, clad in armour made from the bones of dead dragon children. Patch and his friends have to try and stop the Piper from enslaving them all.
The story starts with rush and the pace never lets up the whole time. It is a breathless race to defeat the Piper and the adventure carries you along. I loved the previous books and I had high hopes for this one; I was not in the least bit disappointed. It is a story of bravery and friendship, and the monsters are not only real monsters but also some of the people. The devices and the creatures that make up this world are so imaginative and intriguing and the plot full of great world building detail. Once again there is a fabulous and striking cover from George Ermos.
This is a book that does need to be read as part of the trilogy - I'm not sure how much sense it would make if you haven't read the other books- which are well worth reading anyway. Whilst aimed at upper KS2 children, my son, now in secondary school, saw this book and wanted to read it straight away. The previous books were so good he wanted to know what happened next.
Readers who love adventure and excitement can't help but be captured by this series and I'm very sorry it is at an end. But what an ending!
400 pages / Reviewed by Jacqueline Harris, teacher
Suggested Reading Age 9+
Other titles